Drive for Defibs: Campaigning to save golfers' lives
Join our Drives for Defibs campaign and help to save lives
Cardiac arrests are one of the biggest killers, but few golf clubs – or golfers – are equipped to help save a person's life. We believe every club has a duty of care to its members and visitors, which is why we've teamed up with Motocaddy – whose electric trolleys and app can pinpoint defibrillator locations – to launch Drive for Defibs, and make every club in the UK heart safe.
There are more than 30,000 out-of-hospital cardiac arrests in the UK every year, with a survival rate of less than one in ten. Even more worryingly, they are most likely to occur between 6am and 11am, and the golf course is one of the most common places for them to happen.
Despite that, only a third of golf clubs in the UK currently have a registered defibrillator – a crucial piece of kit which can save a life – on site.
What the statistics say
Every 60 SECONDS without CPR and defibrillation reduces the chance of survival by up to 10%.
CPR and AEDs used within five minutes increases the chance of survival from 6% to 74%.
7,600,000 People in the UK living with heart and circulatory diseases.
38% of UK adults have never undertaken any form of CPR training.
ONE IN NINE men will experience a sudden cardiac arrest before the age of 70, compared to about ONE IN 30 women.
The average ambulance response time for a cardiac arrest is SEVEN MINUTES in urban areas and 11 MINUTES in rural areas.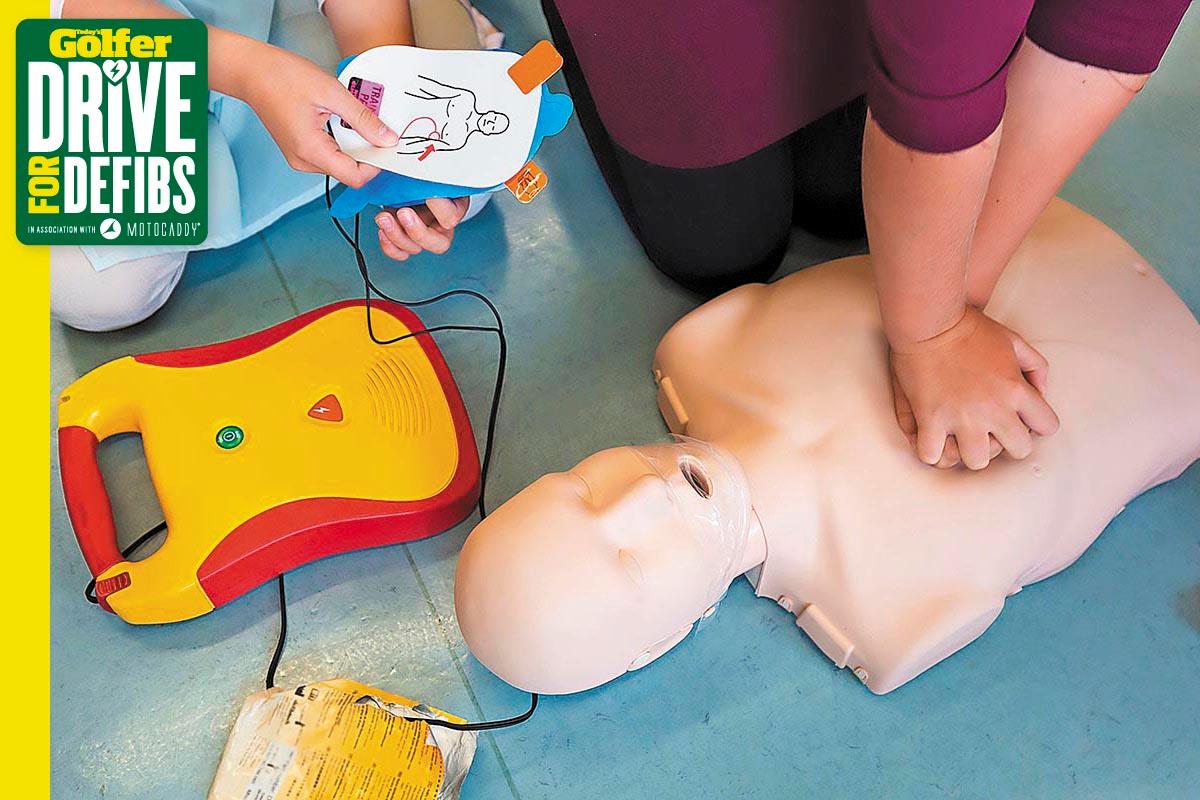 The aim of our Drive for Defibs campaign
We will provide clubs and golfers with the tools, support and CPR training to help build an army of lifesavers on the golf course. We won't stop until every golf club in the UK has installed and registered at least one defibrillator with The Circuit, a new national database that connects defibrillators to NHS ambulance services in case of emergencies.
We are committed to making golf courses as safe as they can be, which is why we will have content in every issue to help you and your club join our campaign – and potentially save lives.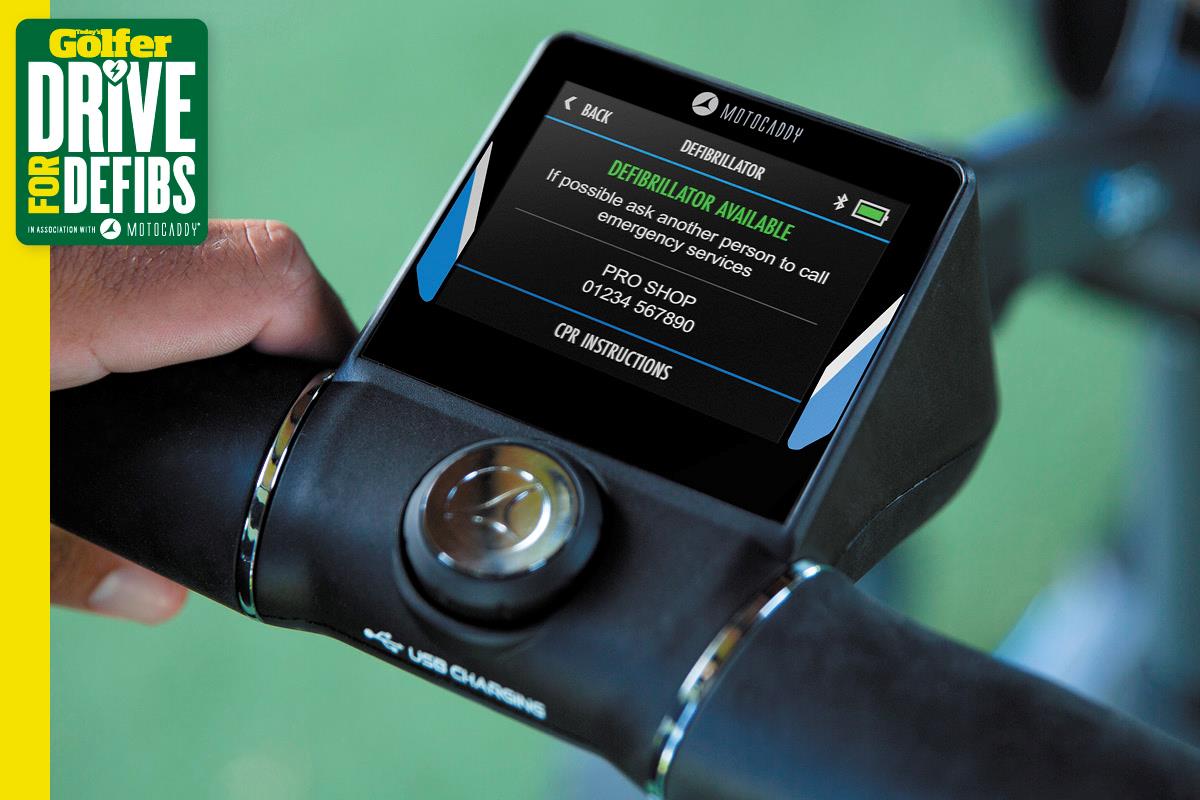 Why Motocaddy is supporting our Drive for Defibs campaign
Motocaddy's GPS app and electric GPS trolleys ensure golfers have access to rapid medical assistance if someone is taken seriously ill out on the course, providing CPR instructions, AED locations and emergency contacts.
The app features a simple six-step guide on 'How to Perform CPR', which is easily accessible within the main menu and via a red heart logo on the app's 'Play Golf' screen.
Should an AED be available at the course, the app's 'Play Golf' screen will display an AED logo, which features emergency phone numbers to call for help. Instructions on how to access the AED will be shown, plus it will provide an indication of your location through the phone's GPS.
ALREADY GOT A DEFIBRILLATOR? REGISTER YOUR CLUB HERE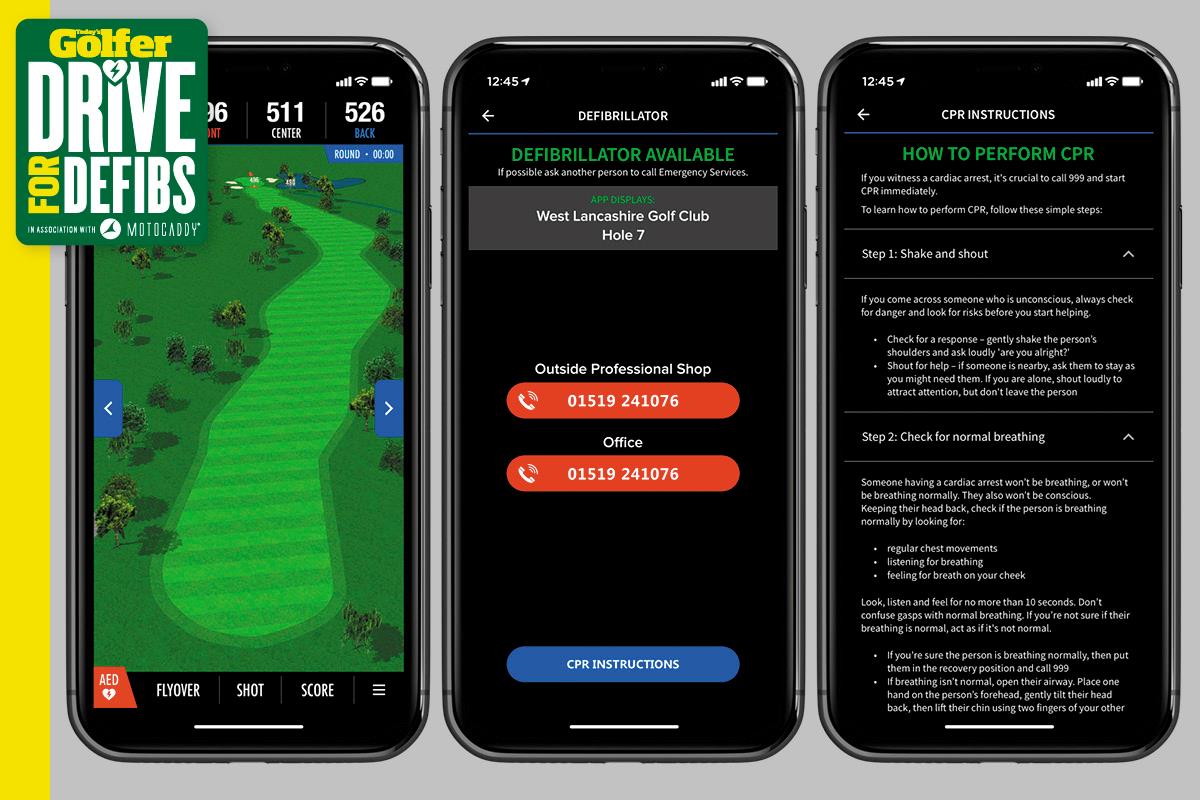 What Motocaddy say
"The importance of having and knowing how to use a defibrillator and CPR instructions is vital given the high-profile sporting incidents recently, but also very personal to us as a brand," Oliver Churcher, Motocaddy Marketing Director, tells us. 
"We've all been touched by the effects of cardiac incidents, and it was brought into sharp focus when a family member of the senior management team sadly passed away due to a sudden cardiac arrest back in 2016.
"Our First Aid function was added to our free GPS app the following year to provide golfers with access to vital medical advice if taken seriously ill out on the course. It's grown from there with more than 120,000 UK downloads to date.
"We subsequently integrated the feature into our touchscreen GPS trolleys, so golfers are now able to see the availability and location of on-course AEDs and are provided with CPR instructions to administer to anyone suffering a cardiac arrest. The feature has been proudly supported by Heart Research UK, with more than 700 golf clubs across the UK now registered.
"We have a long way to go before every golf club has access to a defibrillator, but we're really excited to be supporting Today's Golfer in their Drive for Defibs campaign to deliver such an important message that has the potential to saves lives and make a real and significant difference."
More than 700 golf courses are currently listed on the Motocaddy Defibrillator Register. To add your clubs details to the database, email defibrillator@motocaddy.com
Motocaddy's GPS app is free to download on iOS and Android devices from the Apple App Store and on Google Play.
RELATED: Which Motocaddy Trolley is right for you?
Get in touch
If you've got a story that you'd like to be told, you're hosting a fundraising event inspired by our campaign, or you are at a golf club that has recently installed a defibrillator, get in touch with us, here.