Best Golf Deals 2023
Published:
To save you scouring the shops and internet for the best golf deals for 2023, we've done the hard work for you, finding the very best savings on everything from golf clubs and balls to shoes and GPS devices.
To help you find the very best deals we've broken down all of the offers we find into categories and will add new items every day.
Golf Deals By Type
► Club Packages  ► Drivers  ► Fairway Woods  ► Irons  ► Wedges  ► Putters 
► Golf Balls  ► Golf Bags ► Golf Trolleys  ► Rangefinders/GPS  ► Shoes 
► Clothing  ► Headwear  ► Accessories  ► Practice Aids  ► Gifts & Lifestyle
Golf Deals By UK Retailer
► Amazon UK ► Scottsdale Golf ► American Golf ► Online Golf ► Discount Golf Store
► Sports Direct ► Nike ► Under Armour ► JamGolf ► M&M Direct
Golf Deals By US Retailer
► Amazon US ► PGA Tour Superstore ► Dick's Sporting Goods ► Rock Bottom Golf
► Worldwide Golf Shops ► Fairway Golf USA ► Golf Galaxy
Whether you're looking to treat yourself to some new golf gear or stock up on gifts for the golfers in your life, we've found some amazing bargains, including TaylorMade's Stealth driver! Please be aware that these deals change and sell out quickly, but all products are in stock at the time of publishing.
And don't forget to check out our guides to all of the best golf equipment for even more deals and offers along with detailed tests and reviews of products.
EXPLAINED: How we test golf equipment
Best Golf Deals
Golf Deals: Club Package Sets
Callaway Mavrik 22 Golf Package Set
£1,499 £1,099 | VIEW OFFER
Although there are cheaper golf package sets available, even given the heavily discounted price, this is a genuinely premium offering.
You get a Callaway Mavrik driver, 3-wood, 4-hybrid, 5-SW irons, and an Odyssey O-Works #1 Putter. They're clubs that will suit beginners right through to good golfers, meaning you could easily take up golf with them and keep them for many, many years.
Cobra King Speedzone-S Golf Package Set
£1,499 £769 | VIEW OFFER
A premium package set that could easily last you many years, the Cobra King Speedzone-S package set features a driver, 3-wood, 4-hybrid, 5-SW irons, and a putter.
The clubs come with Lamkin Crossline Grips and a one-year guarantee.
The clubs are perfect for beginners and improving golfers, and there's a choice of regular or stiff shafts.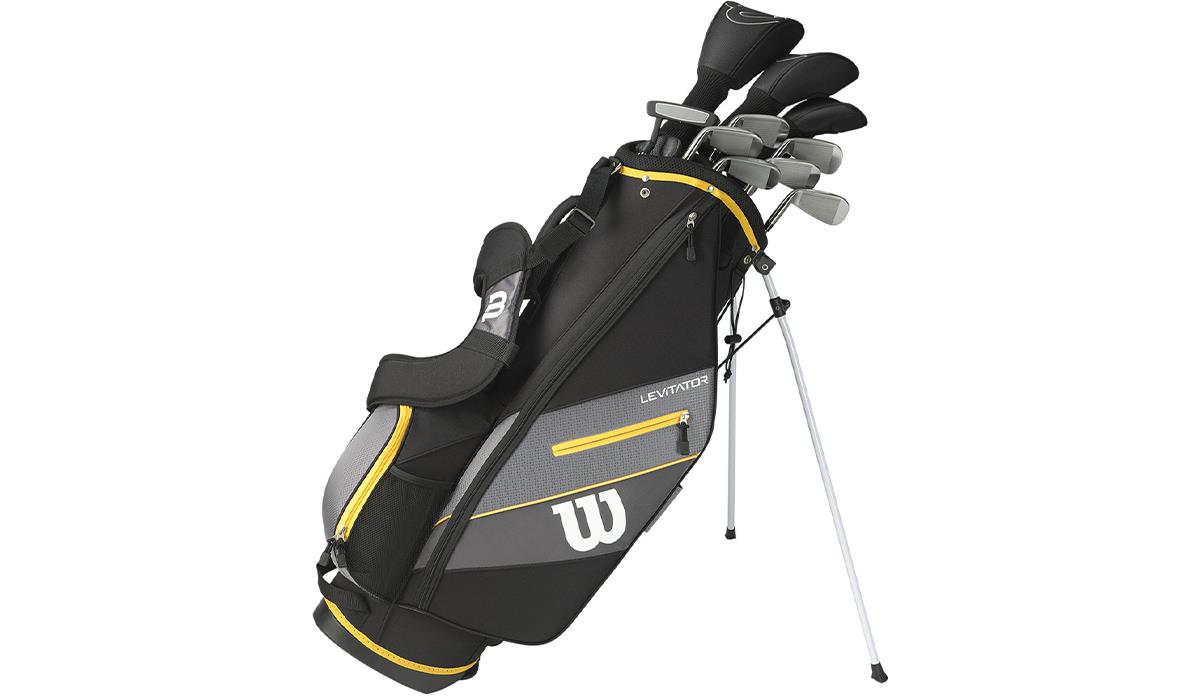 Wilson Ultra XD Steel Package Set
£470 £299 | VIEW OFFER
This fantastic package set from one of the most successful golf brands of all time offers performance straight out of the box. It is ideal for the first-time golfer and provides all the equipment you need to get about the golf course.
Designed to help you get the ball in the air easily, you get an easy-to-hit driver, fairway wood, hybrid, 6-iron, 7-iron, 8-iron, 9-iron, PW and SW, along with a lovely heel & toe weighted blade putter and a stylish stand bag, all for less than £300.
RELATED: Best Golf Deals on Amazon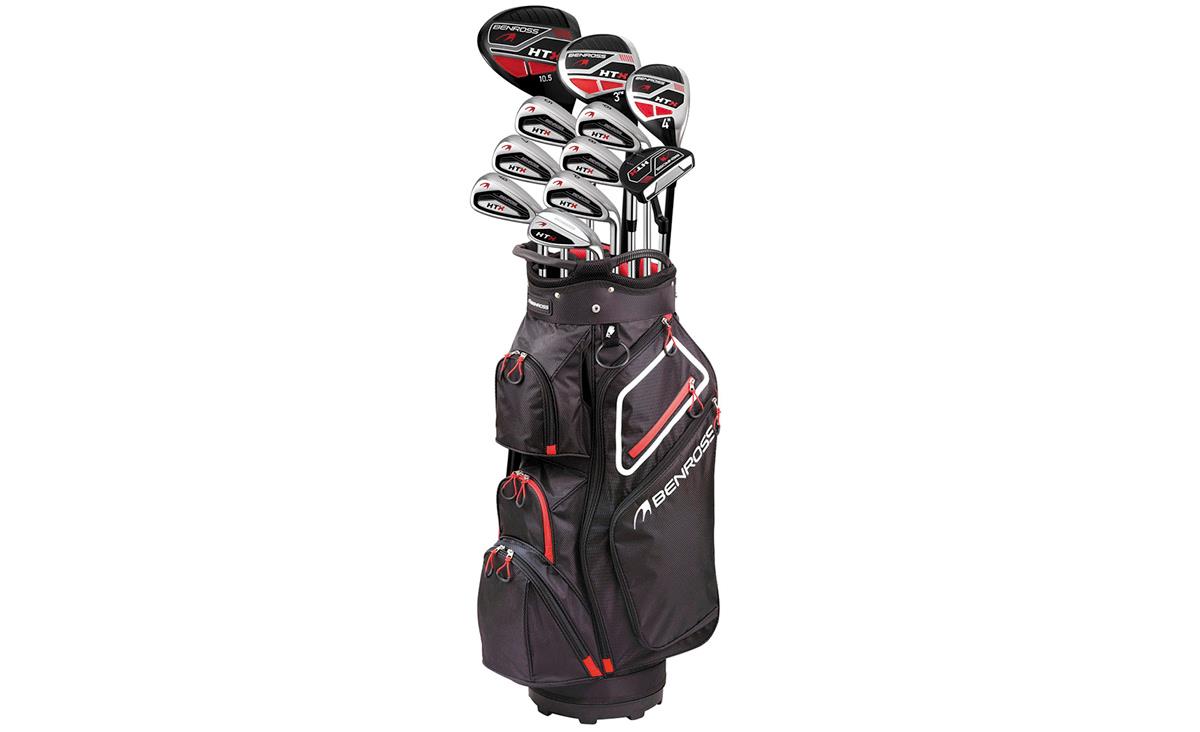 Benross HTX Package Set
£749 £399 | VIEW DEAL
Benross are renowned for their value-for-money products and this 16-piece set of clubs/bag is ideal for those starting out in the game.
It comes with driver, 3-wood, #4 hybrid and seven irons (5-PW) plus a mallet putter. Also includes a premium cart bag and vintage-style headcovers.
The woods have been designed to help high handicappers. Lightweight shafts – Benross has long been a maker of excellent golf shafts – and larger sweet spots should aid the transition from beginner to the mid-handicap range as long as you put in the hours.
RELATED: Best Deals at American Golf
Best Golf Deals: Drivers
TaylorMade Stealth Driver
£469 £399 | VIEW OFFER
TaylorMade's headline-grabbing 'Carbonwood' is 2022's must-have driver and we were amazed to see it among the best golf deals.
Its revolutionary 60-layer carbon fibre red face proved incredibly powerful in the hands of our pro and it is a very forgiving model as shown in our test of the year's best drivers.
Check out our review of all three Stealth driver models to find out if this is the right model for you, but be quick as we don't expect this deal to be available for very long.
Mizuno ST-X 220 Golf Driver
£449 £299 | VIEW OFFER
Mizuno drivers are seriously underrated and, at less than £300, the ST-X 220 is a fantastic deal.
A confidence-inspiring, draw-biased driver which sees a heavy 20g weight applied to the heel section of the club head, and it is the ideal choice for the golfer than often struggles with too much slice spin on their drives.
Aimed at the middle to higher handicaps with moderate clubhead speeds, the ST-X 220 driver produces more spin and allows these styles of players to launch the ball higher and maximise their distance off the tee. In a market dominated by lower spinning heads, the average golfer would actually be better served by slightly higher spin on their drivers, especially those that swing at slower speeds. 
The adjustable hosel on all Mizuno drivers allows loft adjustments of 2.25° degrees both up and down, giving golfers the opportunity to fine tune their launch and trajectory. 
The Mizuno ST-Z driver is also available at the same price.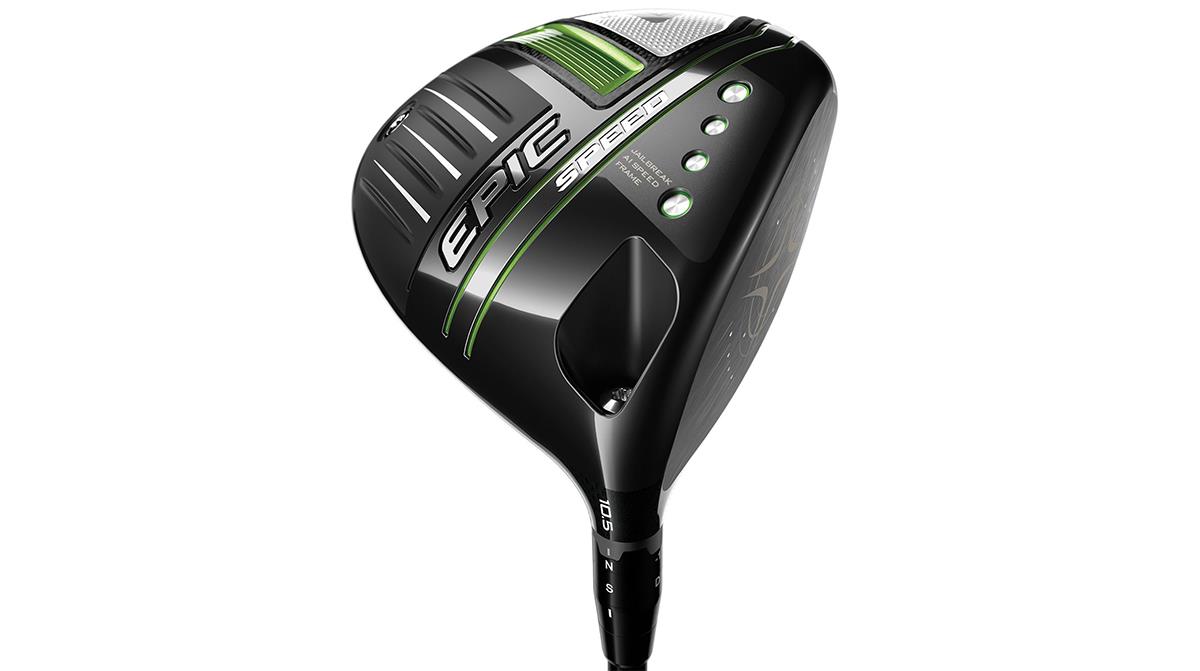 Callaway Epic Speed Golf Driver
£499 £249 | VIEW DEAL
Thanks to its aerodynamically shaped sole, the Speed is the fastest of the three 2021 Epic drivers. Callaway say it's 0.8-1.5 mph quicker than the other models, which translates to more ball speed, and therefore distance.
There's a moderate draw bias and a forward centre of gravity like the Callaway Mavrik, but this time you get more MOI thanks to a bigger carbon crown and new toe section. Expect similar spin numbers to Mavrik, but with higher launch.
The Callaway Epic Speed isn't a traditional forgiving driver; spray shots around the face and you will be better off with the more forgiving Epic Max. But for golfers who make reasonably consistent impact, the Callaway Epic Speed is a fast and long driver, with decent levels of forgiveness. Read our full review, here. 
Head over to our best drivers test and most forgiving drivers pages to see how it performed.
RELATED: Best Golf Drivers
Cobra King LTDx Golf Driver
£399 £329 | VIEW DEAL
Cobra's LTDx driver is one of the best drivers in 2022, Scottsdale Golf have reduced the driver by £50! you can get all three variations at this price the LTDx, LTDx LS and LTDx Max in right-handed or left-handed with a choice of shafts.
The first driver to have zero CG along with a high MOI. The LTDx is aimed at golfers who want maximum ball speed and distance, but also value forgiveness and a straighter ball flight.
The 460cc head is slightly oversized in profile. There's 19g of weight positioned within a 'PWR-COR' behind the face to lower spin and promote high launch; an additional 15g fixed back weight is there to aid balance and stability.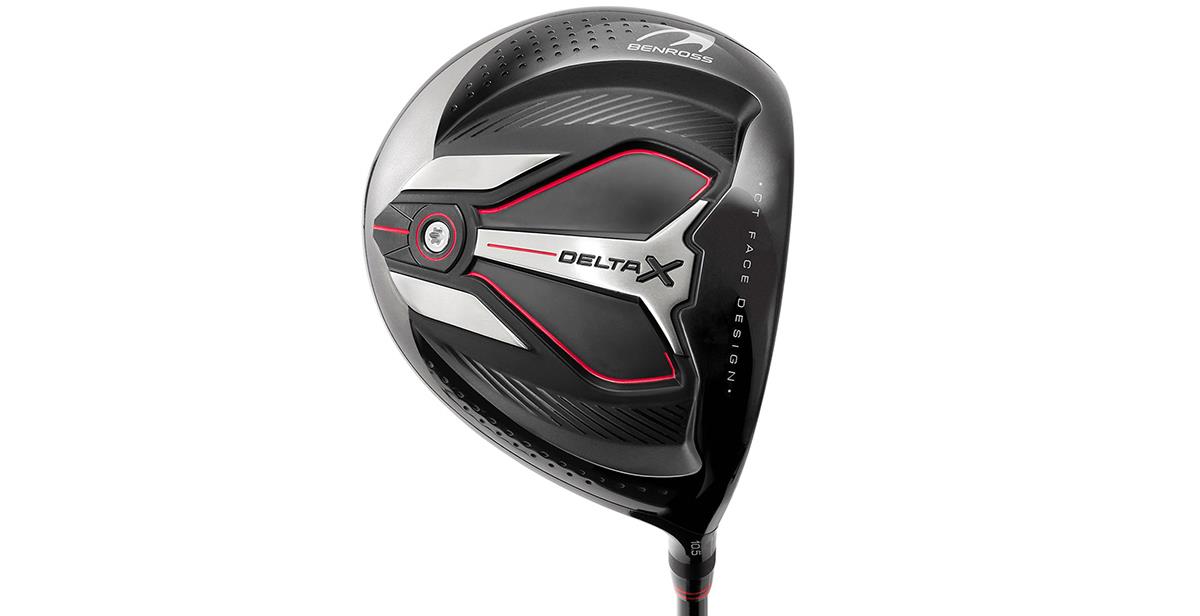 Benross Delta X Driver
£229 £169 | VIEW DEAL
Benross are now owned by American Golf, which means there's no margin for a manufacturer and bigger savings for the consumer.
The Delta X is a pretty good looking driver and although it is not as long as the premium-end driver, it is a highly consistent performer. It uses the Fujkura Ventura shaft and is available as a 10.5° and a 12° model with stiff or regular shaft flex.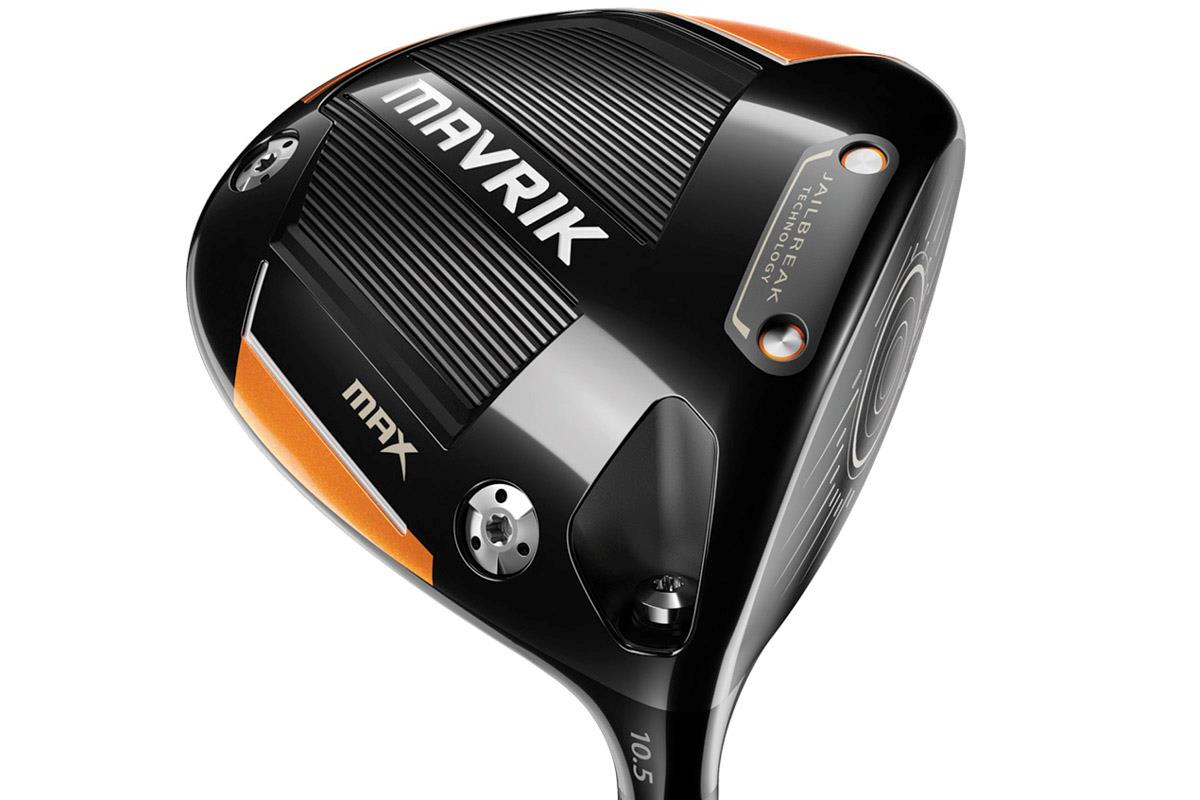 Callaway Mavrik Max Driver
£469 £249 | VIEW DEAL
The most forgiving of the Mavrik driver family, the Max looks bigger than its 460cc and inspires plenty of confidence at address.
It was the first Callaway driver to feature their new AI-Designed Flash Face, which produces impressive ball speeds.
The Mavrik Max is ideal if you are looking to straighten up a fade or a slice, making it perfect for mid-high handicappers and even beginners. It has interchangeable weights in the sole to help increase draw bias or forgiveness.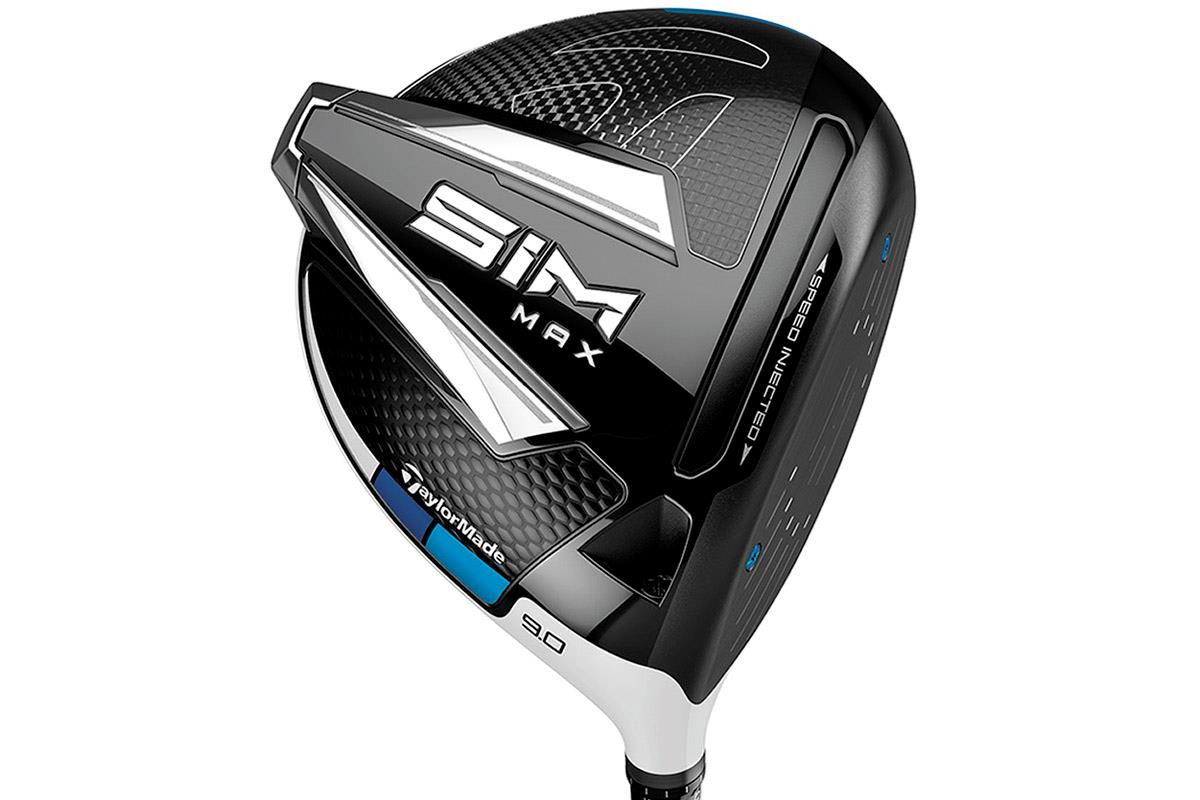 TaylorMade SIM Max driver
£449 £249.99 | VIEW DEAL
TaylorMade's SIM drivers were comfortably among the best of 2020 and they remain a brilliant option, especially for less than £250.
The SIM Max is slightly more forgiving that the standard SIM but it is not aimed specifically at higher handicappers and is playable for all.
The Shape-In-Motion aerodynamic design increases clubhead speeds and the Speed Injected TwistFace tech that was introduced in the M family remains.
 It was one of the fastest and longest drivers in our test and we loved the sound it produces.
If you'd prefer to buy a newer driver then head over to our Best Drivers guide for the latest deals.
Best Golf Deals: Fairway Woods
Callaway Rogue ST Max Fairway Wood
£299 £239 | VIEW DEAL
If you are looking for a fairway wood that is as good as money can buy, then the Callaway Rogue ST Max fairway wood would be an excellent choice with a saving of £60.
Available in Right and Left handed, and a range of lofts Scottsdale Golf gives golfers a chance to customise their fairway wood.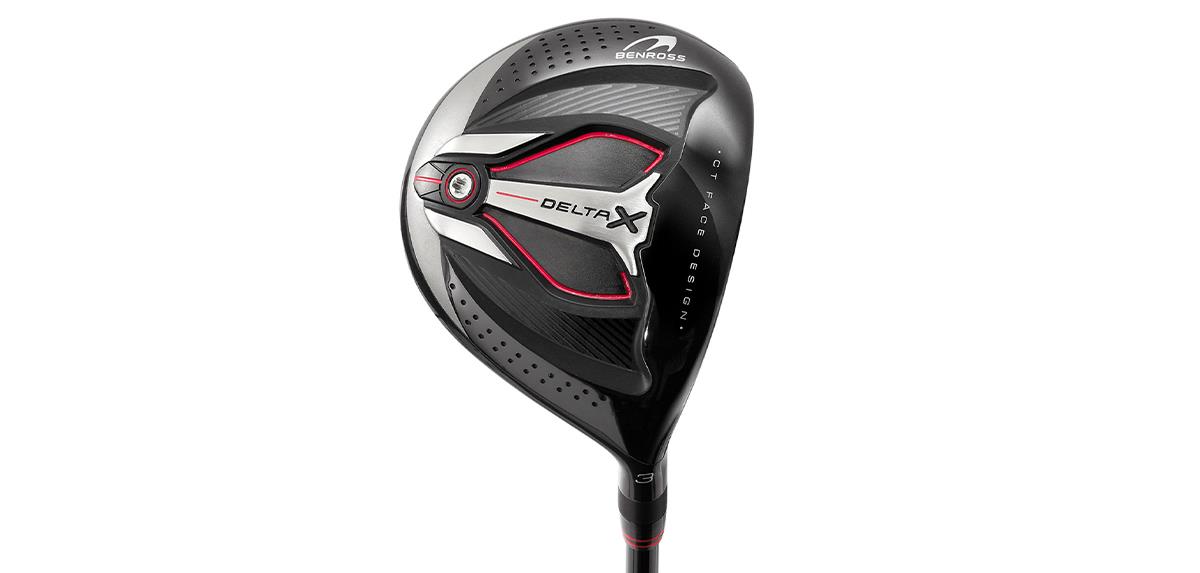 Benross Delta X Fairway Wood
£149 £109 | VIEW DEAL
There is so much to admire about the Delta X fairway wood and a lot of thought has gone into making it a reliable performer, whatever the lie.
The really interesting stuff is on the sole of the head where an intricate layout should promote a clean strike whether you have a good or heavy lie.
There is also a 'stability bar' which the makers claim will maximise energy through the centre of the club.
RELATED: Best Fairway Woods
TaylorMade SIM Max D golf fairway wood
£269 £169 | VIEW OFFER
The TaylorMade SIM Max D fairway wood is perfect for golfers looking for maximum forgiveness and some help hitting a draw (or at least minimising a fade/slice). And now, with £100 off the original price, it's a great option for budget-conscious golfers too.
It was selected as one of our best fairway woods in the year of release and still has plenty to offer now.
PXG 0341 X GEN4 Golf Fairway Wood
£335 £189 | VIEW OFFER
You can save almost 50% on this fantastic fairway wood, and there's a choice of three shafts available to get it suited to your needs.
PXG have been making some fantastic clubs for several years now and recently offering some major discounts – take advantage and get this excellent fairway wood at a bargain price.
COBRA Ladies F-MAX AIRSPEED Fairway Wood
£189 £119 | VIEW OFFER
The F-MAX AIRSPEED is Cobra`s lightest and most forgiving fairway wood. It is focused on weight savings to deliver more clubhead speed for players with moderate swing speeds.
There's a carbon fibre crown, an offset hosel to help stop shots flying off to the right, plus back and heel weighting for stability and forgiveness. A low profile and shallow face make it easy to launch, even from the deck.
Best Golf Deals: Golf Irons
PXG 0311ST Golf Irons
£4,080 £849 | VIEW OFFER
At £849 these irons are less than 25% of their retail value, which is over £4000. At this price, the PXG 0311ST Milled Irons are an absolute bargain!
The 0311ST are PXG's Tour blade, aimed at better golfers. That said, this triple forged, CNC milled iron is designed to be easy to hit and incredibly consistent.
PXG have developed the 0311 ST irons to deliver lower launch, higher spin and give golfers more control over their shots. If you're in the market for this type of iron, you'll struggle to find a better deal anywhere else.
Cobra King SZ Speedzone One Length Irons
£819 £369 | VIEW DEAL
We were huge fans of the Speedzone Irons when we first hit them (read our review) and, with a massive saving, we like them even more.
They aren't the current generation of Cobra irons, but they remain a brilliant set of irons for higher-handicap golfers.
Available as 5-GW, they'll help you launch your approach higher and hit them further, with plenty of forgiveness when you don't catch them out of the middle.
These are the One Length version, the idea being you can use the same setup and swing with every shot and club.
Take a look at our guides to the Best Golf Irons and Best Mid-Handicap Irons for even more reviews and deals.
TaylorMade 2019 P790 Irons
£999 £649 | VIEW DEAL
TaylorMade's P790 range look amazing and they are packed full of innovations, designed to translate every ounce of power into distance and control.
The ultra-lightweight head is weighted with 46g of tungsten to help generate higher and more penetrating ball flights.
The 2019 P790 has been replaced by a newer model but this version still has a lot to offer and is fantastic value at this price point.
If you want more options check out our best irons and best mid-handicap irons features.
Tour Edge Exotics E722 Steel Golf Irons
£549 £479 | VIEW DEAL
Tour Edge Exotics E722 range is a collection of forgiving golf clubs to help golfers gain distance while still getting the feel they deserve. 
Extreme toe weighting gives the club a bigger sweet spot for off-centred strikes and the irons are designed with a lower and deeper CG for lower spin rates and longer distance. 
You get 5-PW in this package and can choose from regular or stiff shafts.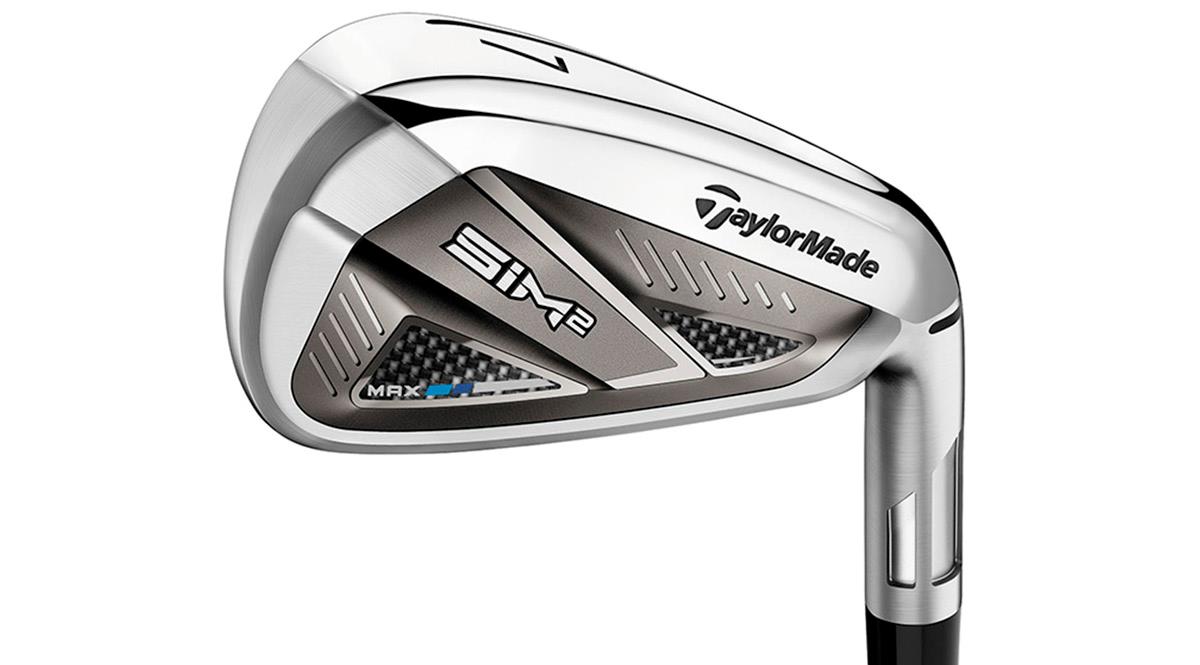 TaylorMade SIM2 Max Irons
£899 £599 | VIEW DEAL
The TaylorMade SIM2 Max iron offers cavity-back forgiveness to distance-orientated mid and high-handicap golfers.
Essentially it has a hollow head design, but rather than the head being entirely made from steel, like a traditional hollow body iron, there's a lightweight polymer "cap" covering the back of the iron. TaylorMade say the idea helps secure the topline and increases rigidity for maximum ball speed.
This is a really attractive and looks great sat behind the ball. Performed well in our test of the year's best irons and best mid-handicap irons.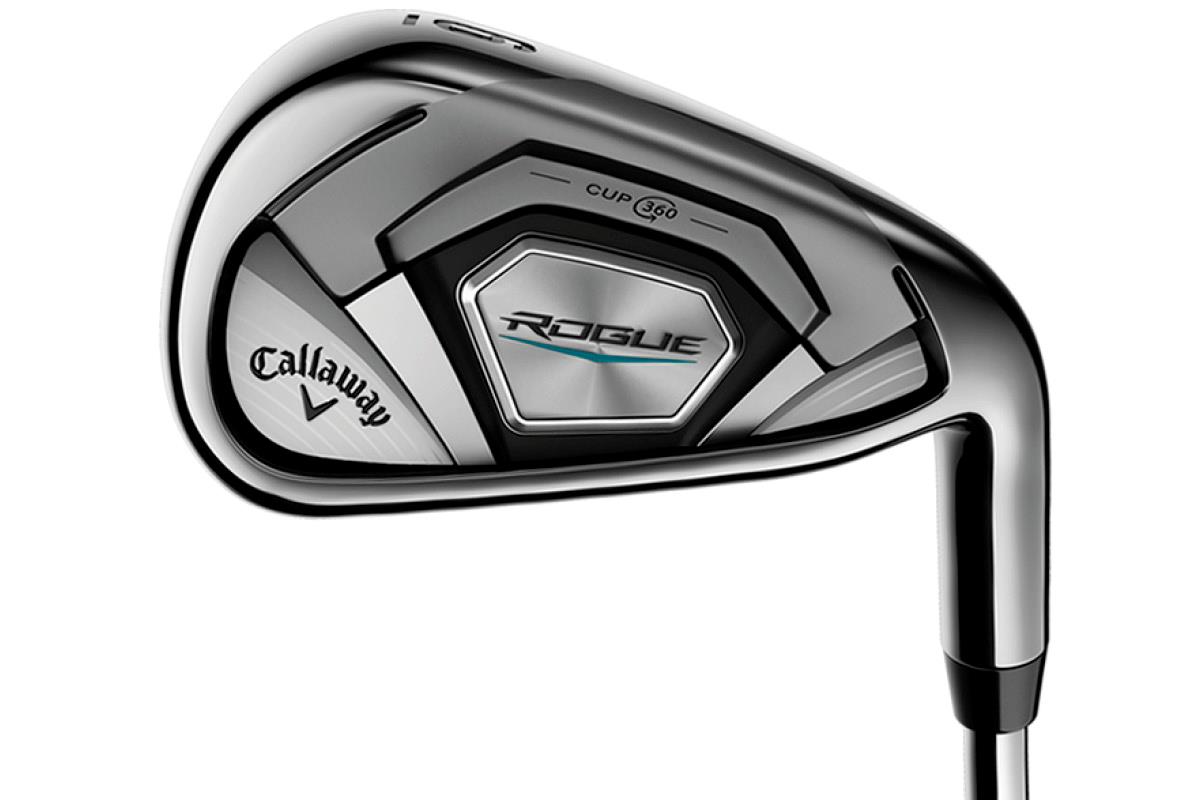 Callaway Rogue irons
£849 £309 | VIEW OFFER
The Callaway Rogue irons were £849 at launch, so being able to pick up a good-condition used set for less than half of that constitutes a great deal.
Designed for the everyday golfer, they are packed full of forgiveness thanks to Variable Face Thickness and Cup360 technologies.
It had the hottest iron face Callaway had ever created at the time of launch, with the same levels of flex as a driver. The microsphere material in the internal cavity, meanwhile, acts like a sponge, offering improved sound, feel and feedback in a cavity-back iron.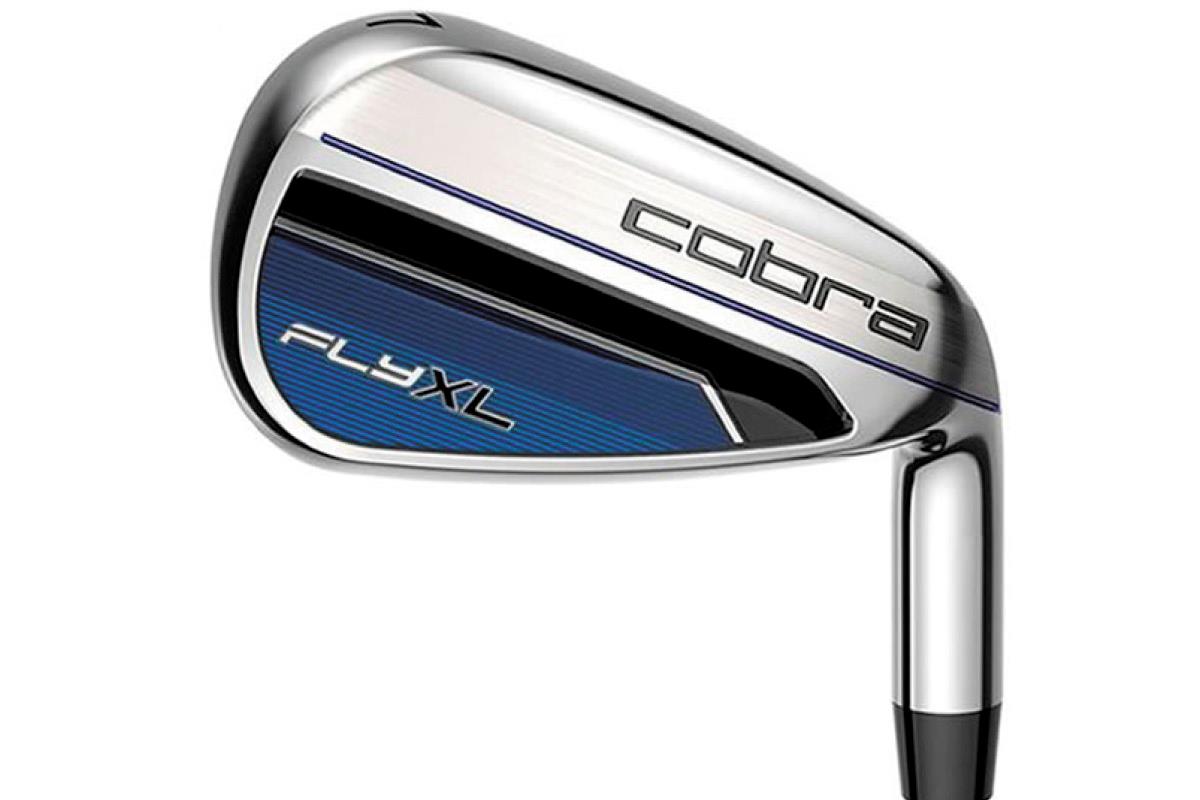 Cobra 2021 Fly XL Irons
£399 £299 | VIEW DEAL
If you're a beginner of high-handicapper then these Cobra irons are the bargain you've been seeking.
For less than £300 you'll get seven irons (5-SW) that are designed to be extremely forgiving, high launching and long from a brand that is known and respected throughout the golfing world. Ideal for players with slower or moderate speed swings because the ultra lightweight shafts allow players to generate more clubhead speed without extra effort.
And if you want a driver to match then be sure to check out our guide to the Best Drivers for Beginners and High Handicappers.
Golf Deals 2022: Wedges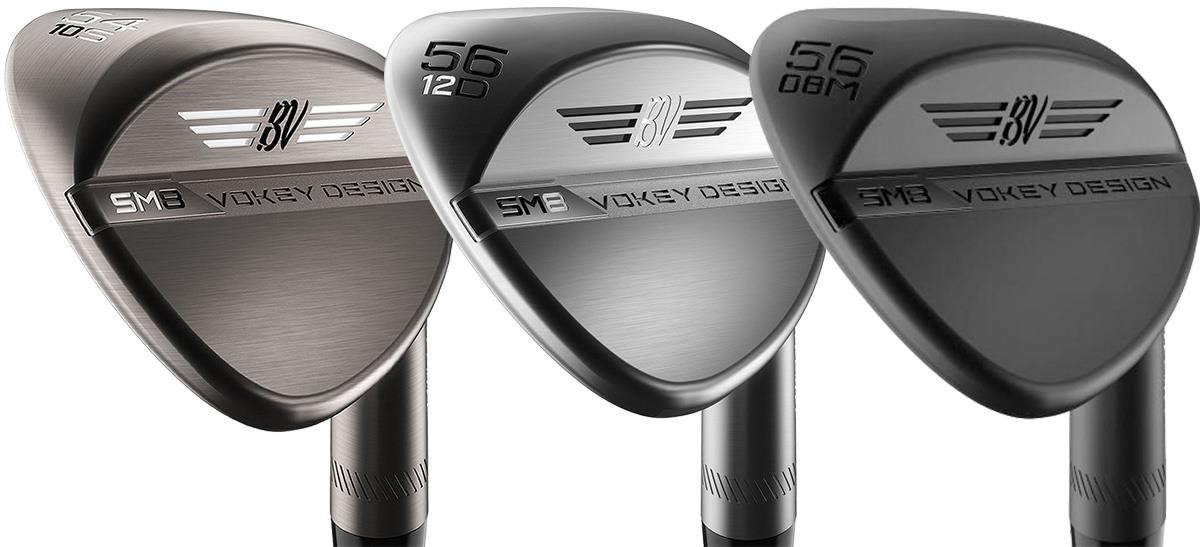 Titleist Vokey Design SM8 wedge
£159 £109 | VIEW OFFER
The Titleist Vokey SM8 wedges are an excellent tour-level blade style wedge, and they're just as popular today as they have been for the last 20 years. For the first time, Titleist Vokey have really focused all of their attention on forgiveness, adding tungsten toe weights to the SM8 wedges to increase MOI by 7%. 
We've tested the Titleist Vokey SM8 wedges a few times now (read our full review, here) and they're always well up any ranking we've compiled for spin and control, not just from perfect lies, but also from rough and when hitting half shots, too. If you insist tour level blade wedges are the best option for your game, the Vokey SM8 wedges should definitely be pinging your radar.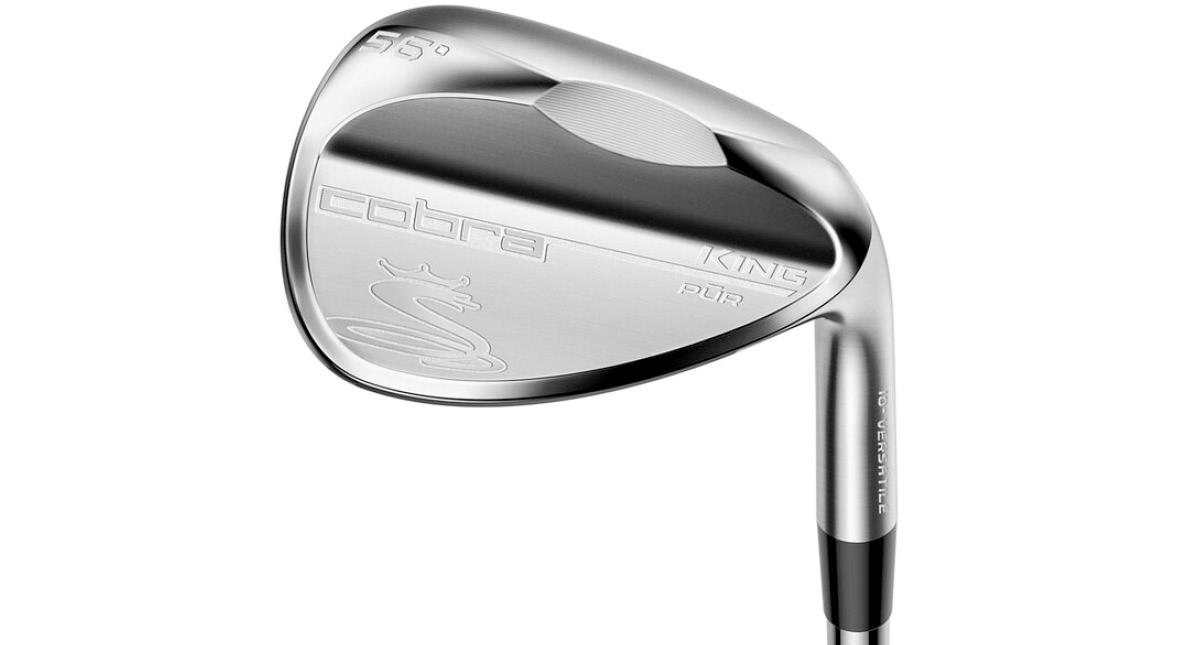 Cobra Golf King PUR Wedges
£158 £79 | VIEW DEAL
These Cobra wedges have grooves that are right on the legal limit, offering maximum spin.
They're available in 52, 54, 56, 58, and 60-degree lofts, meaning you could easily create a three-wedge setup.
They come with a one-year guarantee.
Check out our feature on the Best Wedges for further options.
TaylorMade Milled Grind 2 Golf Wedge Tiger Woods Edition
£175 £99.99 | VIEW DEAL
TaylorMade's MG2 wedges are so spinny, they come with a warning sticker when you buy them! The "Raw Face" design features sharper, deeper and narrower grooves and a sharper radius, with a rougher surface from the laser etching between the grooves to help generate greater greenside spin.
It was one of the best-performing wedges on test and is a brilliant option for golfers who love straight leading edge wedges (especially in the lower lofts) and narrow tour soles.
The unique grind on each sole was designed by the artful hands of Tiger Woods. The 56° wedge is a dual sole with heavy heel relief, while the 60° has an extremely high bounce on the leading edge with a shaved heel. This makes it possible to open the face for flop shots, while still providing relief on the leading edge for better performance on tight lies. Designed for ultimate versatility, this setup allows Tiger to take on any shot, on any course, anywhere in the world. You can give it a bash too, although we can't guarantee Tiger-level results.
J Lindeberg LTD4 Satin Golf Wedge
£249.99 £129.99 | VIEW OFFER
If you're thinking that J Lindeberg are better known for golf apparel than clubs, you'd be right. But they have partnered with premium Japanese forging house, Vega, to produce a limited edition range of irons and wedges (there are only 50 available).
The J Lindeberg LTD4 Satin wedge has three soft grind ports and distinctive cut backs in both the heel and toe which are designed to help the wedge cut through the rough without snagging.
The leading edge is perfectly straight, designed to help nip the ball clearly off tight lies, while the face is reverse CNC milled to create great feel and spin.
The sweet spot has been located in the true centre of the head.
The wedge is available in a choice of lofts and lie angles, plus shafts and grips.
TaylorMade Hi-Toe Raw Wedge
£159.00 £99.00 | VIEW DEAL
The TaylorMade Hi-Toe RAW Golf Wedge is used extensively on both the European and USPGA tours with players such as Colin Morikawa choosing to put these wedges into play. 
The Hi-Toe helps with consistent strikes across the face thanks to the full-length grooves.
The design features sharper, deeper and narrower grooves and a sharper edge radius, with a rougher laser-etched surface between the grooves, which TaylorMade say will help generate greater greenside spin. 
Best Golf Deals: Putters

TaylorMade Spider X Hydro Blast Flow Neck Putter
£279.00 £199.00 | VIEW DEAL
The Spider X has been a big success for TaylorMade over the last two years. Many will like the fact it is more streamlined than the Spider Tour that took Dustin Johnson and Jason Day to world number 1.
The Hydro Blast finish looks great, while the head retains its heavy steel frame and lightweight carbon core so expect good forgiveness although you don't get the Fluted Feel shaft like the other new Spider models.
If you like TaylorMade's range of putters you can get the full lowdown on all their options in our Which TaylorMade Putter Is Best For Me feature. For even more putter options check out our Best Putter feature.
For a full list putter deals visit our Best Putter feature.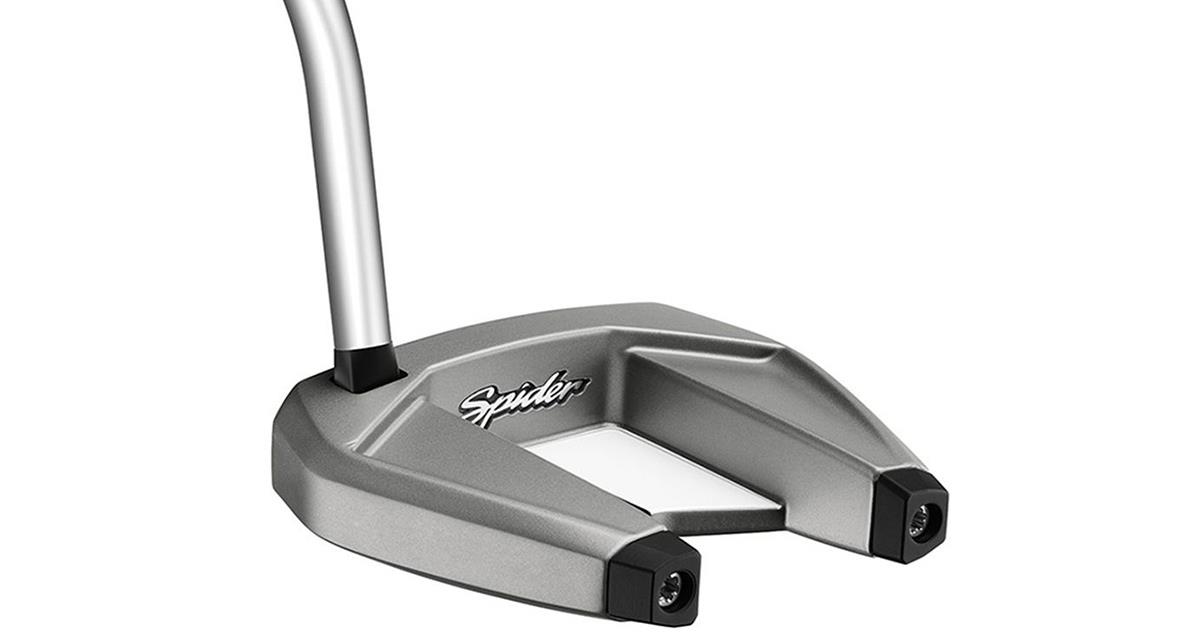 TaylorMade Spider ER Single Bend Golf Putter
£269 £179 | VIEW DEAL
TaylorMade Spider putters have played a huge role in convincing tour pros to ditch their blade putters for more forgiving MOI and mallet-style models since 2008.
The SR Single Bend features wing back weights which have been optimised according to the length of the putter. The shorter the shaft, the heavier the weight to help with that all-important feel. 
If you like TaylorMade's range of putters you can get the full lowdown on all their options in our Which TaylorMade Putter Is Best For Me feature. For even more putter options check out our Best Putters feature.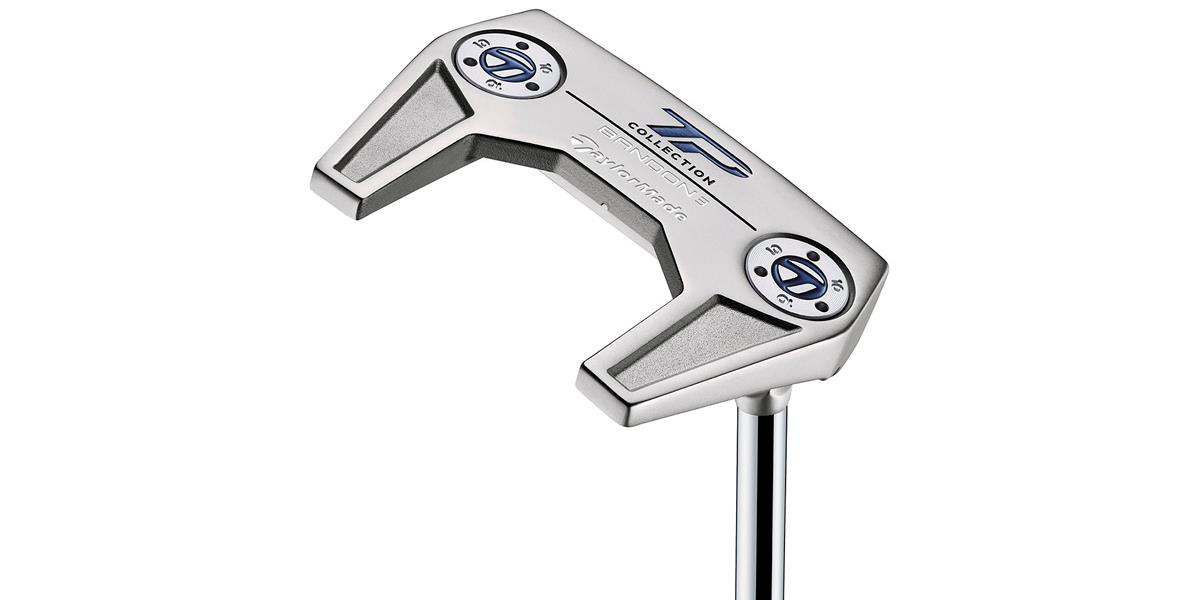 TaylorMade TP Hydro Blast Bandon 3 Putter
£199 £188.90 | VIEW DEAL
Precision Milled from 303 stainless steel, the Bandon has a White Roll Insert for a softer feel. The grooves are angled at 45 degrees to produce better roll and feel.
Moveable sole weights can be changed to adapt to different conditions and the Bandon includes a stepped shaft, Lamkin Sink Fit Skinny Pistol grip, matching headcover and a two-year warranty.
Find out which model suits your stroke in our guide to Which TaylorMade Putter Is Best For Me?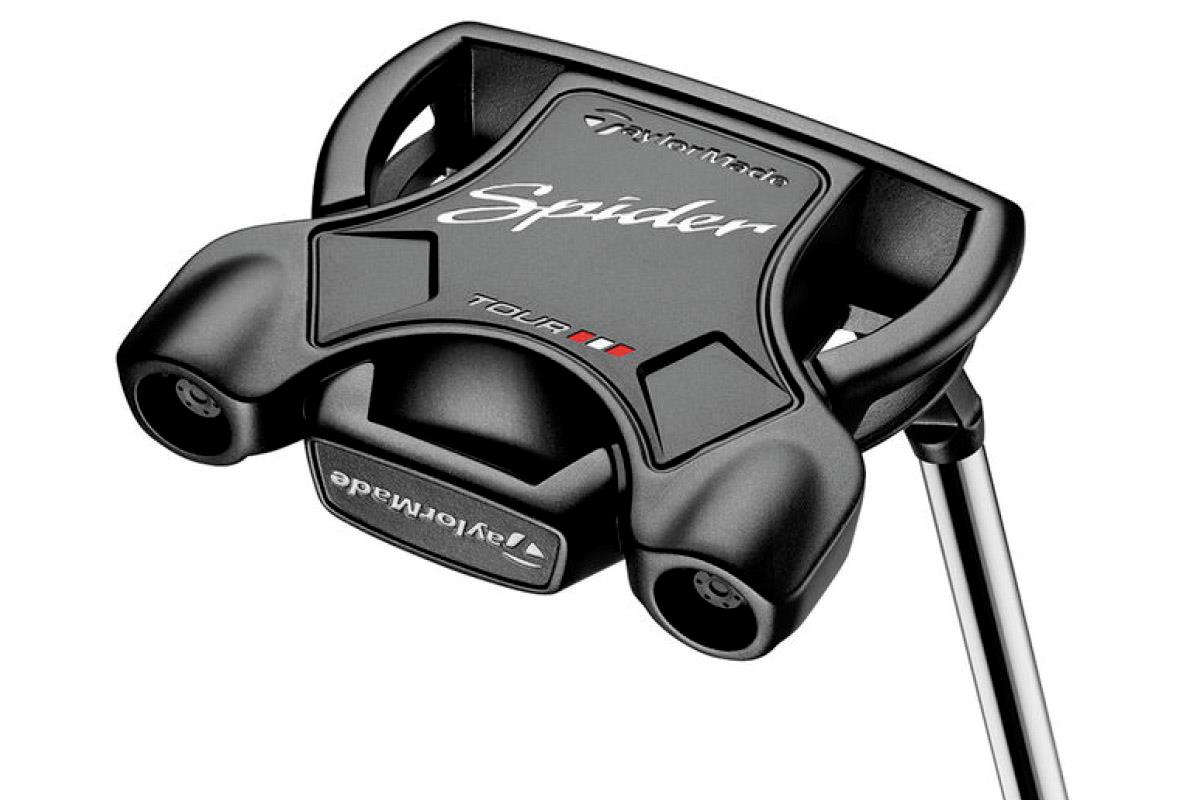 TaylorMade Spider Tour Black putter
£269 £169 | VIEW DEAL
World No.1 Dustin Johnson's putter of choice, the Spider Tour builds on the success of the original red model that was designed for Major champion Jason Day.
It offers more stability, more top spin, and a square shape look, while TaylorMade's Pure Roll Technology improves roll and helps your ball stay on its line more consistently.
Even at £269 we still had this as one of the best putters out there, but for £169 it's an absolute steal.
Head over to our Best Putters page for even more offers.
Best Golf Deals: Golf Balls
Callaway 2022 Chrome Soft X
£49.99 £38.95 | VIEW DEAL
One of golf's leading premium balls, the 2022 Chrome Soft X is used by Major champion and Ryder Cup star Jon Rahm.
It delivers high levels of greenside spin and has a firmer feel than the standard Chrome Soft which, together with the new Hyper Elastic SoftFast core, helps to produce more driver speed than its predecessor. It also benefits from their New Tour Aero technology which produces a powerful, consistent ball flight with lower drag that will cut through headwinds.
This is a great ball at a great price, but if you want to save even more money then you can get them for just £35 per dozen if you buy three boxes or more.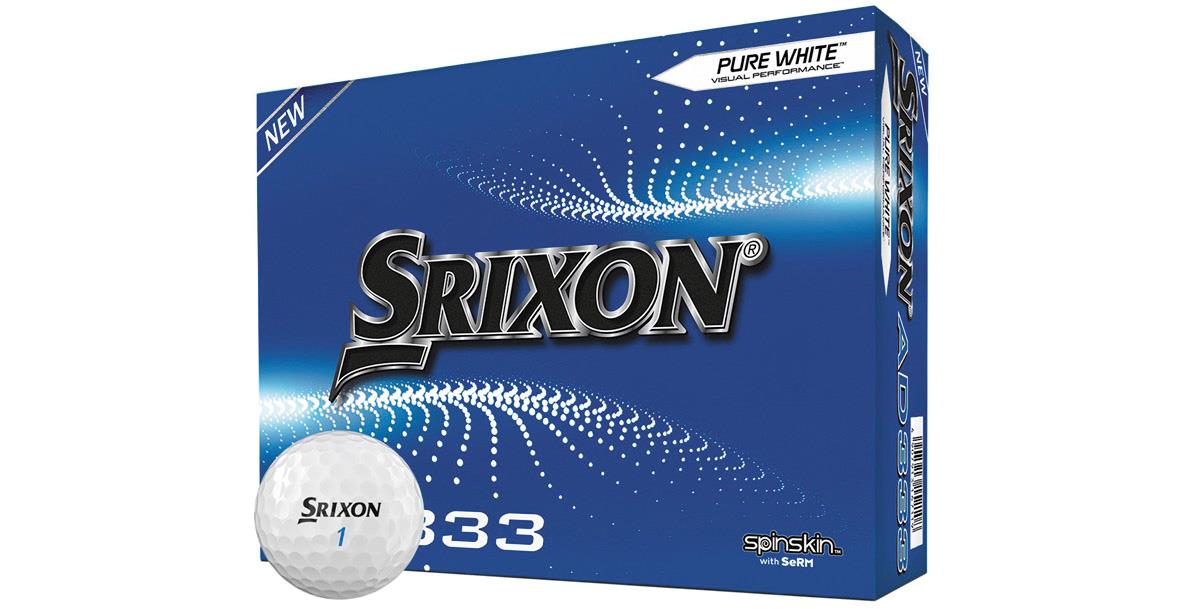 Srixon AD333 Golf Balls
£26.99 £19.99 | VIEW DEAL
The AD333 has been held up as an excellent all-round value proposition for club golfers since hitting the market in 2006 (full review, here).
It uses a lot of the tech you'll find in the brand's premium Z-Star balls and gives more distance and forgiveness than previous versions.
The 72 compression is a good fit for golfers swinging over 75mph and gives good levels of greenside spin thanks to a unique flexible molecular bond coating on each ball.
One of our favourite winter golf balls and features in our guide to the best golf balls.
TaylorMade Tour Response Golf Balls
£39.99 £33.60 | VIEW DEAL
There's now a whole batch of softer, urethane-covered balls on sale that are optimised for average club golfers who swing between 85 and 100mph with a driver (93mph is the average). TaylorMade's Tour Response is one of our favourites (and our No.1 Winter Golf Ball), and at less than £30 for a dozen it's a steal.
The softer 70 compression combines low driver spin with high wedge spin and great feel – our testing has shown it's very comparable to the much more expensive Titleist Pro V1. It's also available in high-vis yellow, making it easier to follow and find.
To check out the full range of options check out our feature on the Best Premium Golf Balls.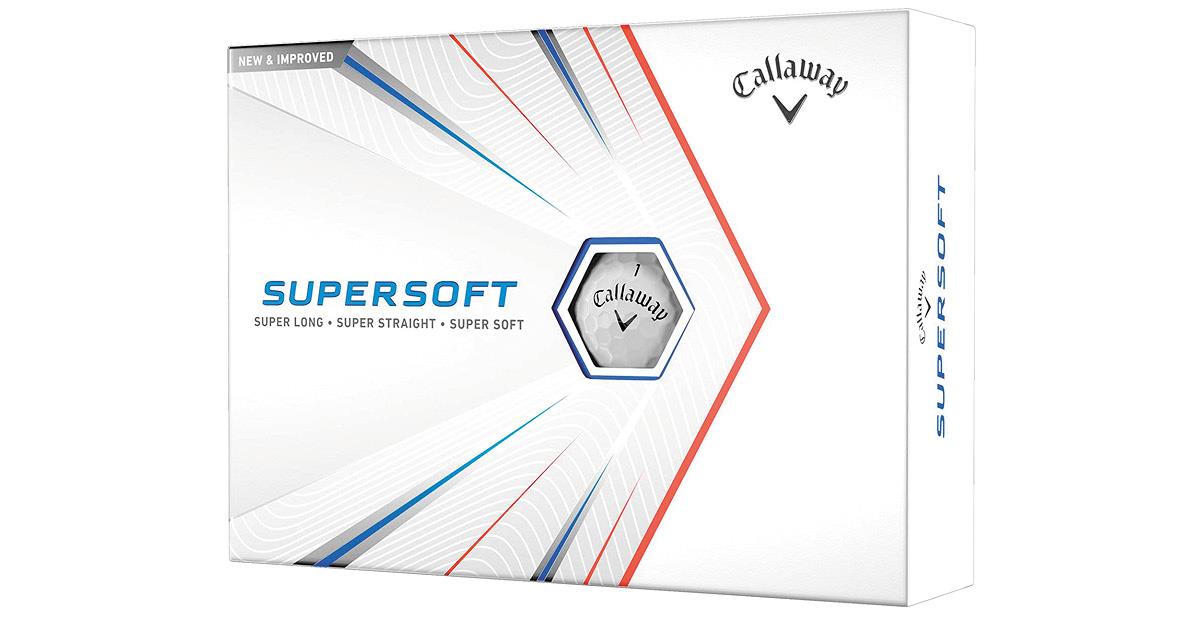 Callaway Supersoft Golf Balls
£22.99 £19.49 | VIEW DEAL
The Supersoft golf ball has been one of the most popular balls with amateurs for years. The 2021 balls has seen a number of significant changes from the the 2019 model, including a new Hybrid Cover made with a Paraloid Impact Modifier from Dow, which Callaway say provides long distance, great spin, outstanding feel and short-game control.
The Compression Core is engineered to create maximum ball speed along with an excellent combination of high launch and low spin in your longer clubs.
Finally, the two-piece Supersoft's HEX Aerodynamics pattern reduces drag for enhanced launch and optimised trajectory.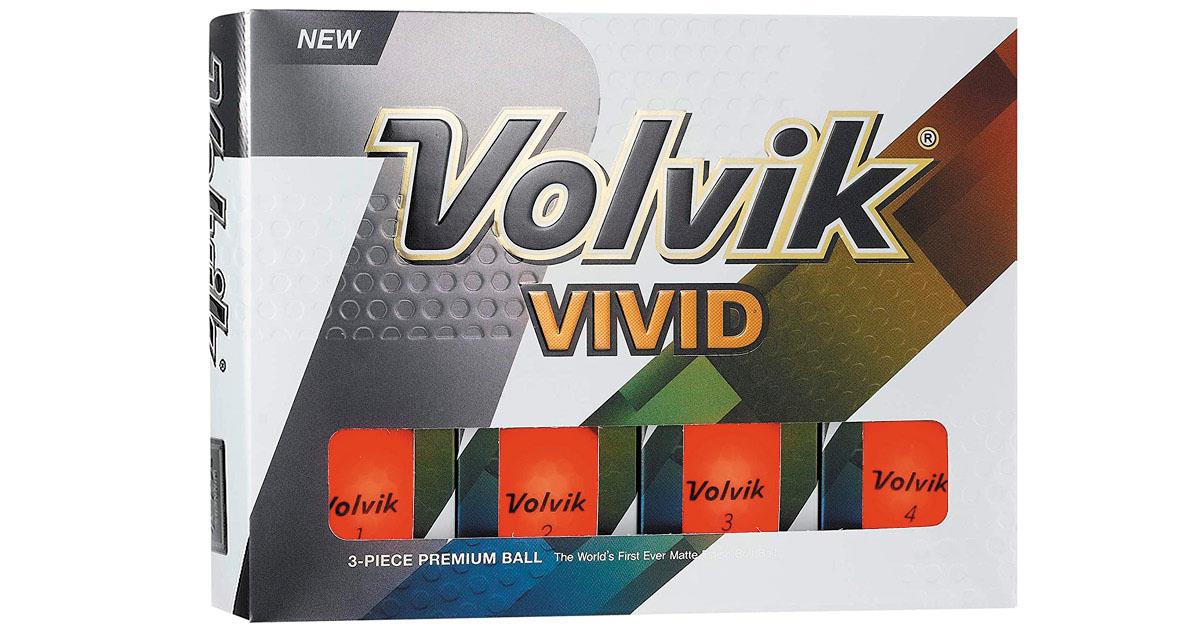 Volvik Vivid Golf Balls
£39.99 £19.99 | VIEW DEAL
The extremely bright and stylish Vivid three-piece ball provides longer distance for golfers with slower swing speeds and those looking for a softer feel and more consistent flight. It comes in six different colour options of Red, Orange, Pink, Yellow, Blue and White.
It was the world's first-ever matte finish golf ball and provides better visibility to help you locate it more easily.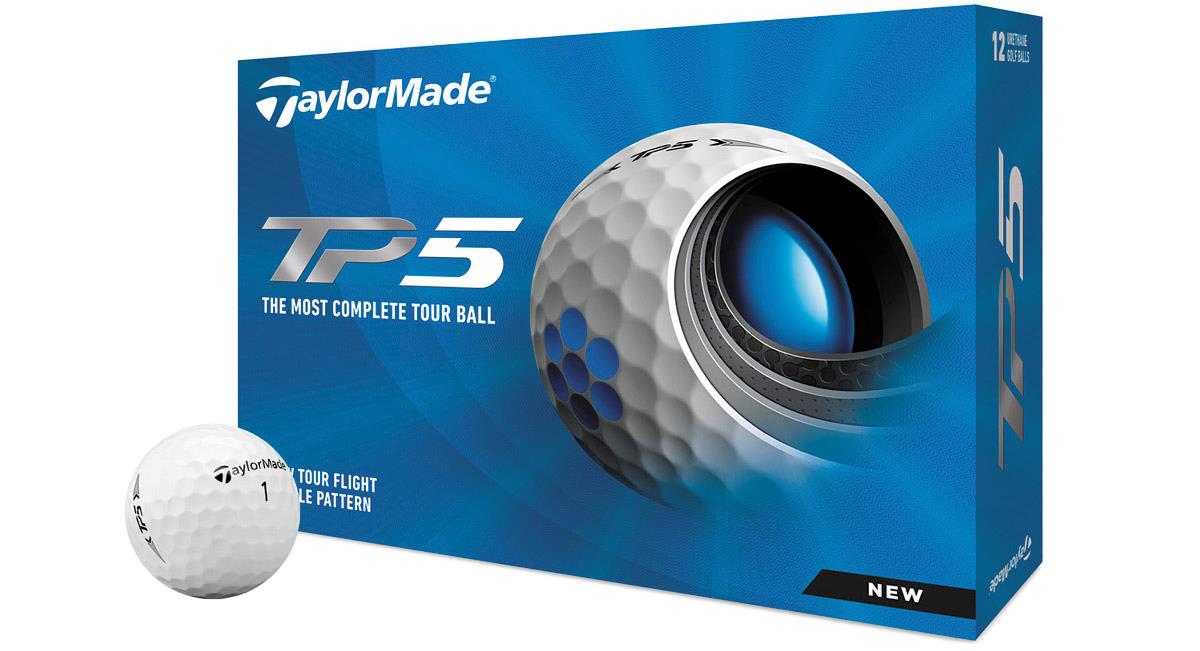 TaylorMade TP5 Golf Balls
£49.99 £37.95 | VIEW DEAL
We've made no secret about our love for TaylorMade's brilliant five-piece ball and it has always back it up by performing brilliantly on test.
The 2021 ball has a larger, more reactive core and uses an all-new Tour Flight Dimple Pattern, taking aerodynamics and carry distance to a new level for golfers at every level (read our full review here).
You can pick up a dozen for less than £40, a saving of more than £10, with both the TP5 and TP5x included in the deal. The choice between the two comes down to feel; golfers wanting a softer feel should play the TP5, and those who do can expect a little more spin around the green than the TP5x.
Find loads more deals on our Best Golf Balls, Best Premium Golf Balls and Best Winter Golf Balls pages.
Wilson Duo Soft+ Golf Ball
£65.97 £43.98 (54 balls) | VIEW DEAL
Wilson call this the "world's softest and longest" two-piece golf ball and it's undoubtedly one of the very best options for high-handicappers, especially if you're a year-round golfer. 
The Duo Soft+ is designed to produce more distance and accuracy using Velociticor technology and shows the lowest compression value (35) of any soft ball on the market. 
This is one of the best balls value golf balls and perfect for beginners and high handicappers. American golf have it on a 3 for 2 offer in their deals, working out at less than £15 a box. 
Best Golf Deals: Golf Bags
TaylorMade 2022 Stealth Tour Staff Bag
£379.99 £219.99 | VIEW DEAL
It's not often that we amateurs get a chance to feel like pros, but now you can for less than £220! TaylorMade's 2022 tour bag has been used throughout the year by their staff players, including Rory Mcilroy and Colin Morikawa.
With a whopping 12 pockets for all your belongings, a built-in umbrella holder and a six-way divider for your clubs there is more than enough room for every golfer's needs.
TaylorMade's logo is embroidered into the side panels of the bag which features the red and black colour scheme of their revolutionary Stealth range of clubs.
Cobra XL Cart Bag
£139 £109 | VIEW DEAL
If you can't get all your golf gear into this huge golf bag then you really need a serious clear-out. That jumper you stuffed in there three years ago might need a wash.
The 14-way divider system keeps everything very neat and tidy and there are six pockets, two of which go the full length, there's so bags of space for every bit of apparel.
Check out our Best Golf Cart Bags feature for further options.
Callaway Golf Chev C Stand Bag (2022 edition)
£119 £79.95 | VIEW DEAL
If you're after a compact golf bag to fit all your essentials then look no further, because the Chev C provides a lightweight and comfortable alternative to many of the bigger bags on the market.
Its all-terrain base makes it ideal in all conditions and it has three full-length dividers along with a pocket for valuables. The soft mesh shoulder and back padding make for a comfortable and ergonomic fit.
Ideal for use as a bag for nine holes, summer, and practice rounds, a superb bag for all seasons so don't miss out on this great deal!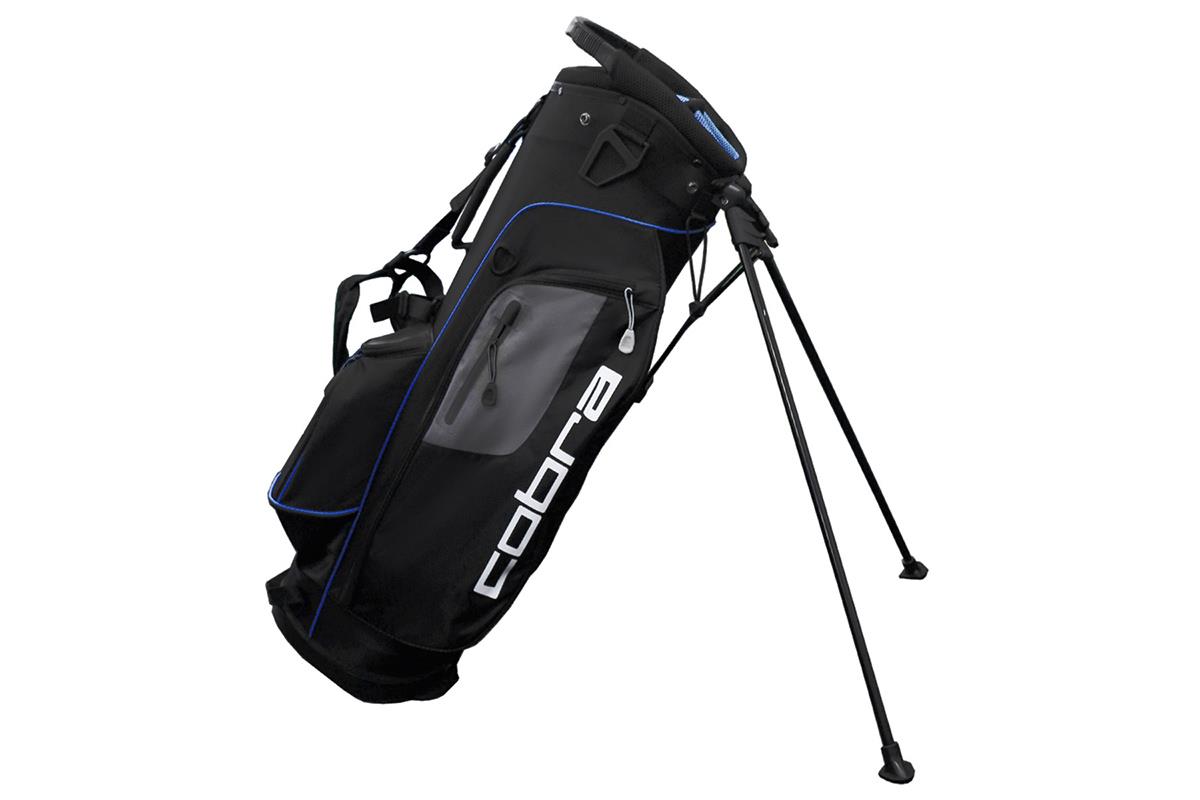 Cobra XL Stand Bag
£129 £99 | VIEW DEAL
Stand bags don't get much bigger than this and the seven-way divider makes it straightforward when it comes to arranging your clubs in just the right order.
Five pockets are more than enough space for valuables, balls, apparel and waterproofs and the pen holder and towel clip are well placed to serve their purpose.
Check out our Best Golf Stand Bags feature for further options.
Stewart Golf Staff Pro Cart Bag
£229.00 £183.20 | VIEW DEAL
Stewart Golf's glitch event is not around for long with 20% off products site-wide including this great Stewart staff bag.
It's an ideal bag to partner with their selection of trolleys on offer too including the X10 and Q follow trolleys that are on the list for our best deals.
The bag has 14 Full-length dividers with a front handle and ten forward-facing pockets including a valuables pocket, Ball pocket and cooler pocket all easily accessible while on the golf course.
PXG Fairway Camo Lightweight Stand Bag
£349.99 £199.99 | VIEW DEAL
Enjoy a huge saving and carry PXG's army style to the course. We love the desert camo finish and the way it contrasts with the black trim and carbon fibre legs.
The bag sports a spacious four-way divider with plenty of storage pockets, including a dedicated place for your umbrella and an insulated pocket for your drinks.
A padded back panel and a fully adjustable single and double strap will give golfers the comfort needed to take to the links.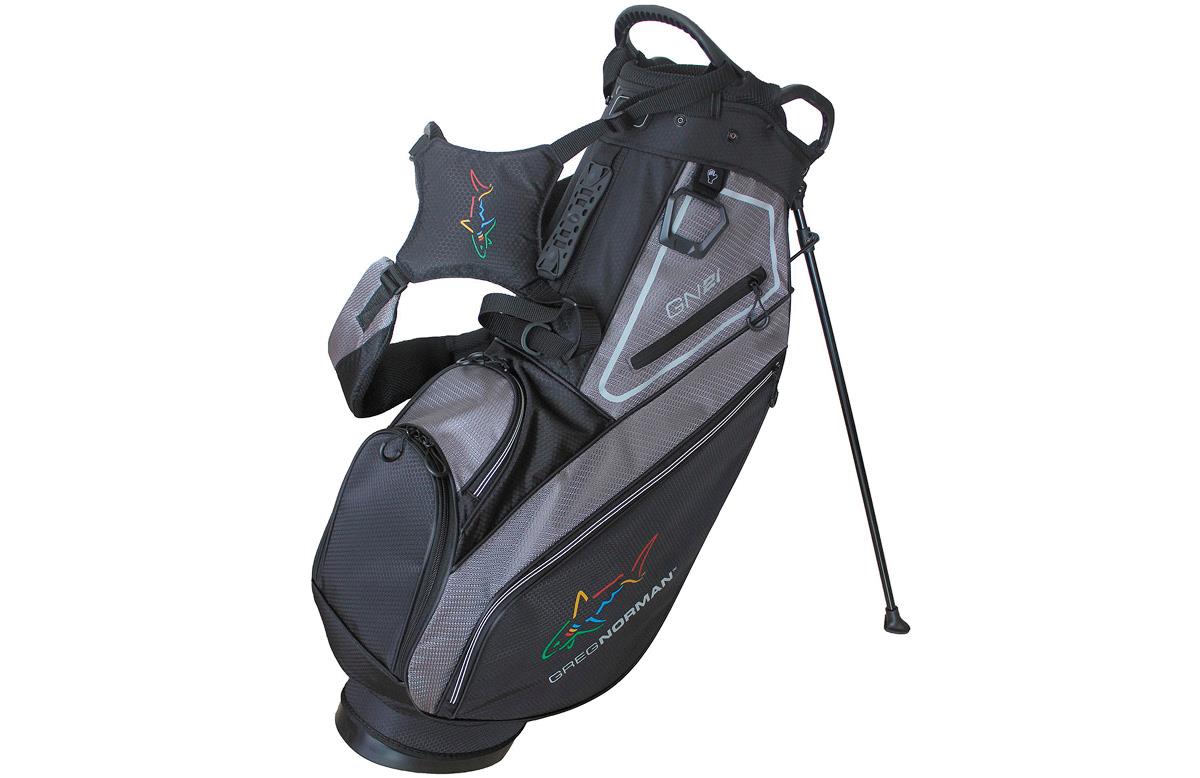 Greg Norman Stand Bag
£149.00 £84.50 | VIEW DEAL
Available in two colour styles – black + green and black + grey – American Golf is offering a very chunky discount on this highly competent stand bag.
It contains all the features you would expect and need from a modern-day bag. There's a seven-way club divider system, five storage pockets – one of which is a water-resistant valuables pocket – plus there is an insulated hydration sleeve for beverages.
Find even more bag options on our best golf stand bags and best waterproof golf bags pages.
Mizuno BR-DRI Waterproof Cart Bag
£289.99 £164.99 | VIEW DEAL
From one of golf's most classical brands comes this stylish waterproof cart bag to protect everything and anything you take to the course.
For less than £170 this is one of the best-value waterproof bags on the market, with 14 full-length dividers there is plenty of room for all your clubs to not bash together.
The bag has lined pockets for all your valuables and a trolley-compatible base, Mizuno gives you confidence in their product with a one-year waterproof warranty for peace of mind.
Titleist Players 4 Stand Bag
£179.99 £139.99 | VIEW DEAL
Weighing just 1.75kg the Titleist Players 4 is a great option when looking for a lightweight carry bag that's not going to cause you too much strain on the course, especially with the bag's padded double straps.
The Players 4 has four full-length dividers with a top cuff to protect your shafts from rubbing and separating them in the bag. It has sturdy aluminium legs that are part of Titleist's advanced hinge bottom and it has seven pockets, including bottle storage and lined pockets for your valuables.
At just £139.99 the bag is great value, giving you premium quality at a lower price. It also comes in five different colours – black, grey, red, blue and white.

TaylorMade Deluxe Cart Bag
£239 £147.97 | VIEW DEAL
The Deluxe is a staple part of the TaylorMade bag range. It has a premium finish thanks to its durable polytube construction with anti-wear patch.
It has a 14-way top with three full-length dividers, integrated extra-large putter well and full-length hidden umbrella sheath.
The key lock base keeps the bag firmly on your trolley, while the padded single shoulder strap makes it easy to carry.
Eight strategically placed pockets include a waterproof fur-lined valuables pocket, cooler pocket, ball pocket, scorecard holder, two large garment pockets and a rangefinder pocket. All of the pockets face forward for easy access.
Make sure you head to our best golf cart bags page for even more brilliant deals.

Motocaddy HydroFLEX golf bag
Motocaddy are one the biggest and most trusted suppliers of bags in the UK, and this is one of the best golf standbags and best waterproof golf bags of the year. 
The HydroFLEX is a versatile, waterproof, lightweight (2.4kg) carry bag, offering ultimate flexibility and a brand-new stylish look for 2021.
Featuring a unique, innovative integrated stand system to fit perfectly onto any Motocaddy trolley, standout features include a quick release strap and adjustable rear stand lock, five full-length dividers and five spacious pockets with easy-open Japanese YKK zips for all your golfing equipment.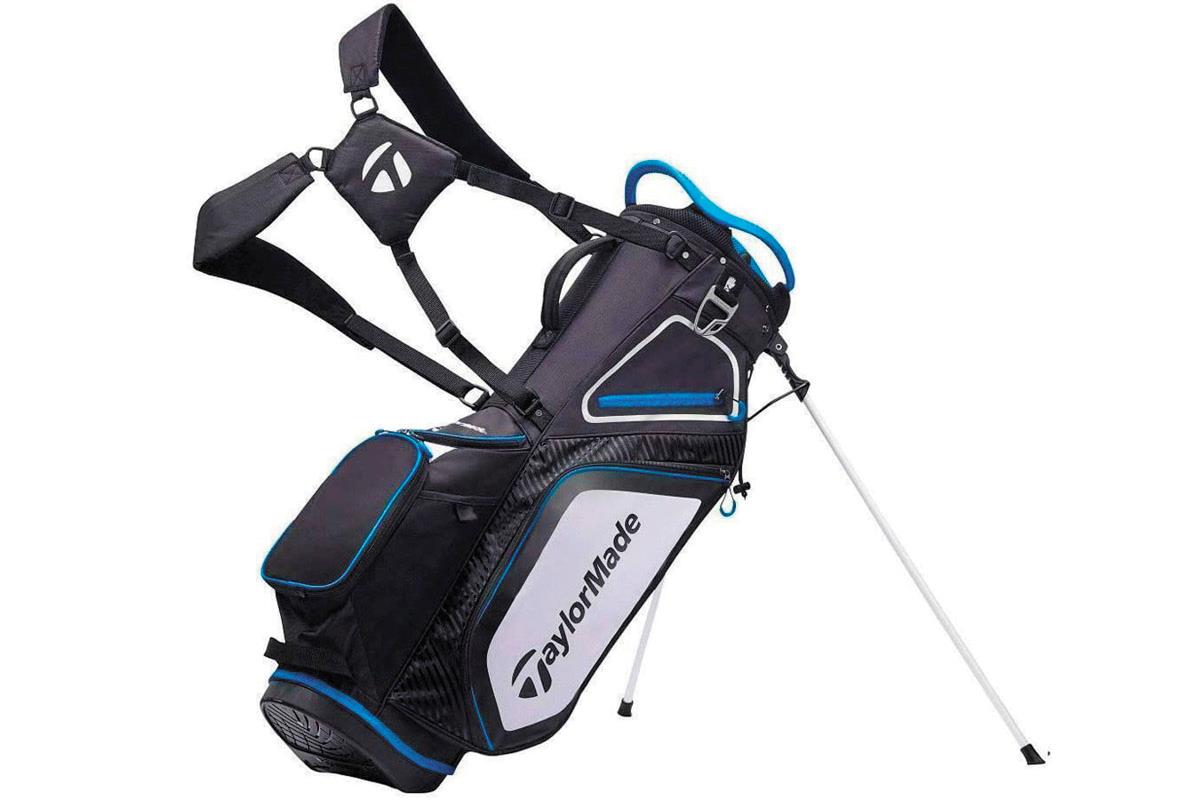 TaylorMade Pro 8.0 Stand Bag
£129 £79.99 | VIEW DEAL
Any new golf bag for under £100 is good value, but to find a TaylorMade bag for little more than £90 is a great excuse to upgrade your model.
The Pro 8.0 has a seven-way top and is easy to lift in and out of the car thanks to the three handles.
The automatic stand is lightweight and there's a cleverly designed angled base for more stability. The four-point strap is easily adjusted and comfortable and there are seven pockets for you to keep everything from drinks and golf balls to waterproofs and valuables.
J Lindeberg Pro Golf Travel Cover
£249.99 £149.99 | VIEW DEAL
Usually, an expensive golf travel bag, but at just under £150 this is a seriously impressive piece of kit from J Lindeberg at a great value.
It has a number of features that make it stand out but the six-wheel base, which easily converts into a carry case, is perhaps the stand-out.
The majority of the bag is constructed with super-strong nylon and even the biggest cart bag will fit easily into it.
Despite the bulk and stability, it is incredibly easy to manoeuvre. Five handles are incorporated and plenty of extra pockets for handy storage.
Best Golf Deals: Golf Trolleys
Stewart X10 Follow electric golf trolley
£1549.00 £1239.20 | VIEW DEAL
A whopping 20% discount on this Stewart golf trolley, a rarity with these amazing trolleys, has you saving over £300.
The X10 sees significant upgrades with Remote and Follow models. Both benefit from the same EcoDrive motor technology that was launched with the Q Follow, meaning they are up to 40% more efficient than the outgoing version. This means that the X10 battery will give users 40 percent more golf than previous versions for each charge. 
The X10 Follow features the latest seventh generation of Stewart Golf's proprietary Follow system, featuring dedicated electronic calibration which results in the most accurate and reliable Follow experience to date.
Motocaddy Cube Trolley
£209 £141.95 | VIEW DEAL
Motocaddy are one of the most trusted trolley brands in the game and this simple two-step folding trolley is a masterpiece. They have developed one of the most compact trollies on the market and a product that will make any golfer's life easier.
At £149 the trolley is an absolute steal, not only is it a steal but the Cube 40% smaller than its rivals and is compatible with Motocaddy's Easilock system that secures all of the brand's bags to its base.
The trolley comes with a scorecard and drinks holder as standard, along with an accessories compartment. It folds down to just 56cm x 36.5cm x 44cm, weighs 6.8kg and is available in three different colours Red, Blue and Lime.
Motocaddy M-TECH GPS Electric Trolley
£1399.99 £1089 | VIEW DEAL
The M-Tech is the top-of-the-range model in Motocaddy's range. Everything about the M-Tech screams luxury, with luxury finishes including polished chrome, hand-stitched leather handle grips, and stealthy black and carbon fibre styling.
It is on the higher end of the price spectrum we understand but we believe for the trolley you are getting at this price it's worth it as you are saving over £300 and getting a free accessory station!
You get built-in GPS and the larger, 3.5″ LCD touchscreen, with full functionality. DHC comes as standard. 
Motocaddy M-Tech owners are also rewarded with a longer warranty than the other models; you get a comprehensive 3-year trolley warranty and 5-year battery warranty for complete peace of mind.
Clicgear 4.0 3-Wheel Push Trolley
£259 £219 | VIEW DEAL
The Clicgear 4.0 has seen tweaks from its predecessors. The storage net is 80 per cent larger, a new 'Easy-Clip' bag strap makes it easier to fit any golf bag on the trolley, and the brake system has been redesigned to eliminate cable wear.
A new lid-locking strap ensures all of your accessories don't fall out as you lift the trolley in or out of the car and has a new single screw adjustment system for the front wheel.
At 8.45kg the ClicGear might not be the lightest push trolley available, but its aircraft-grade aluminium frame is second to none for build quality. Its tiny storage size is also comparable to some "super compacts" on the market.
In this deal, Scottsdale Golf is not only giving you a £40 discount, but anyone who buys the trolley will get Clicgear wheel covers (worth £12.99) The 4.0 comes in five colours: black, silver, teal, blue and red.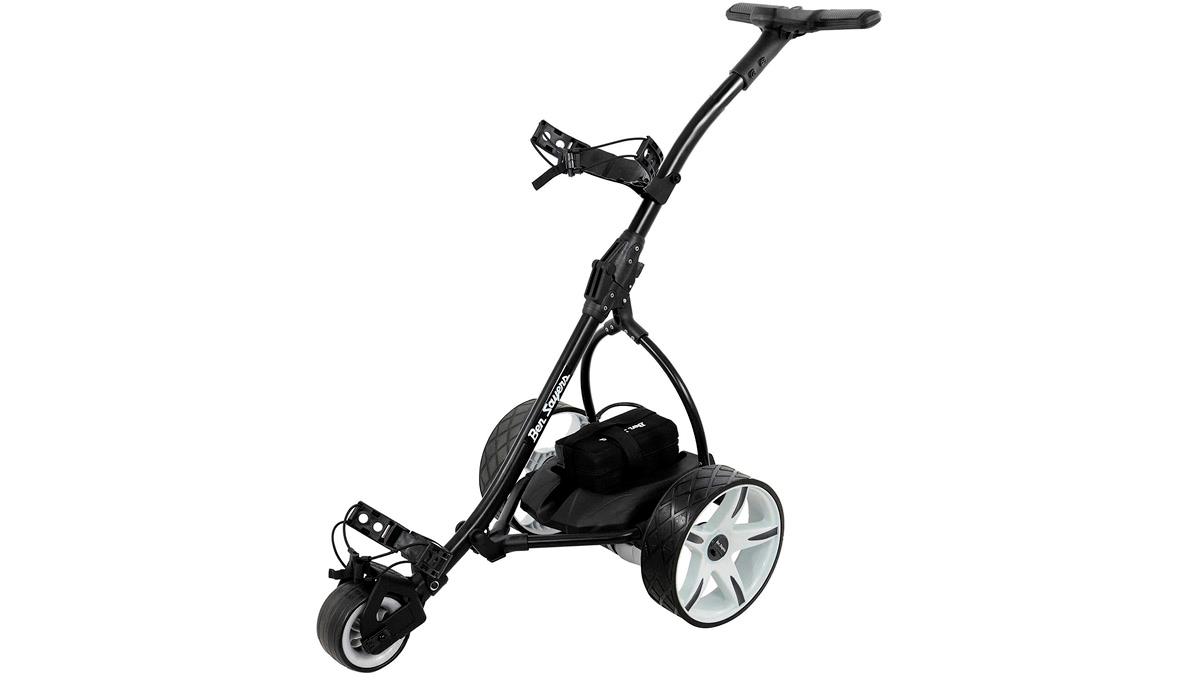 Ben Sayers Lithium Electric Golf Trolley
£449.99 £369 (including free accessories worth over £100) | VIEW DEAL
This is a superb starting point if you're keen to enter the electric golf market.
A lightweight aluminium frame houses a powerful 200-watt motor to ensure the Sayers trolley can carry your clubs around even the most undulating courses.
There are nine speeds to choose from using an easy-to-use dial, while the memory function will remember your preferred walking speed and set accordingly. The pre-set distance function allows you to send the trolley 10m, 20m or 30m, meaning you can send it off to the next tee as you head to the green.
The battery comfortably lasts for 18 holes and a full charge takes less than four hours.
The trolley comes with a free accessories pack, worth £149.99, giving you an umbrella holder, accessory station, scorecard holder, drinks holder, rain cover and carry bag.
Motocaddy M3 Pro DHC Extended Range Lithium Electric Trolley
£899 £849 (includes free accessories pack worth £84.99) | VIEW DEAL
The Motocaddy M3 is the point in their electric trolley range where you start to get built-in GPS.
There are some huge benefits to this, and the 2.8″ LCD touchscreen on the M3 is beautifully designed and very easy to use. You can also pair it with your smartphone to receive notifications, while keeping your device charged via the USB charging port.
This brilliant offer not only sees £50 knocked off the price, you get the 36-hole lithium battery (which, in our experience, lasts even longer) and an official Motocaddy accessories pack, which includes an umbrella holder, drinks holder, scorecard holder and device cradle.
Find out if it's the right trolley for you by using our guide to Motocaddy's full range, and see even more deals in our Best Electric Trolleys page.
Clicgear Rovic RV1C Push Trolley
£189 £159 | VIEW DEAL
The RV1C is a robust and stylish trolley with an arching lightweight aluminium frame that folds down to an impressively compact size. It is exceptionally easy to use thanks to a one-touch design.
Easily adjustable silicone straps ensure any stand or trolley golf bag is held firmly in place, regardless of the terrain, while the brake is incorporated into the soft touch handle for impressive comfort and ease of use. It is available in four colours: Silver, Red, Blue and Black.
Powakaddy DLX-Lite FF Golf Push Trolley
£269.00 £184.99 | VIEW DEAL
You can save over £85 on this push trolley which is the Winner of Today's Golfer Editor's Choice award for 2022, the DLX-Lite FF is extremely lightweight and has been designed with optimal storage in mind.
Thanks to an ingenious flat-fold design that allows it to fold down to only 20 centimetres deep so it can be squeezed into the very tightest of spaces, it has fully adjustable straps making it suitable for use with any brand of golf bag.
Stewart Q Follow electric golf trolley
£1599.00 £1279.20 | VIEW DEAL
A whopping 20% discount on this Stewart golf trolley, a rarity with these amazing trolleys, has you saving over £300.
Seventh-generation "Follow" electronics mean this trolley will go wherever you go, within a 50m range, following the Bluetooth remote that attaches to your belt or back trouser pocket, adjusting to your pace and stopping when you do.
As you'd expect from a premium product, the Q Follow has all the usual features of a top-of-the-range model; Scorecard holder, soft-touch handle and bag strap, handset storage, anti-twist locking bag key, four accessory points, cruise control, quick-release wheels and an umbrella holder mount, all of which come as standard.
Best Golf Deals: Rangefinders and GPS devices
Bushnell Tour V5 Shift Slim Edition Golf Rangefinder
£399.00 £319.00 | VIEW DEAL
A massive £80 saving on one of the best rangefinders in 2022, and is now part of the Scottsdale Golf sale, get your hands on it before they go.
The Tour V5 Shift Slim Edition has a new, improved slope algorithm and Slope-Switch Technology and is accurate to within one yard. It works up to 1,300 yards (400+ yards to a flag) and has six-times magnification.
The built-in BITE technology allows golfers to securely attach their rangefinder to a golf cart or trolley. A pull strength of 7lb means golfers can be safe in the knowledge their rangefinder will stay in place.
The Tour V5 Slim Edition is rainproof and comes with a premium carry case, three-volt battery, two ball markers and a three-volt battery.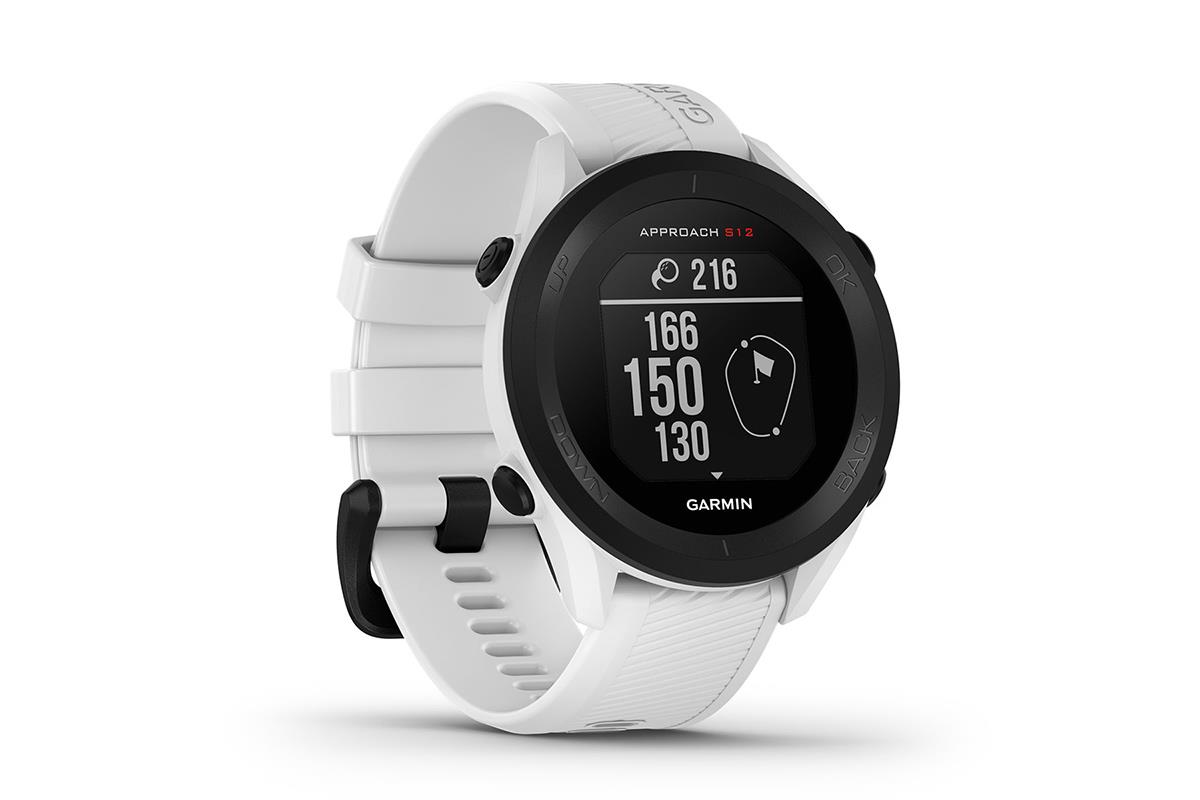 Garmin Approach S12 GPS watch
£179.99 £119.99 | VIEW DEAL
Garmin has built a strong reputation in this marketplace and this version of their superb golf GPS watches is packed full of helpful features.
Available in White, Granite Blue and Black, it comes preloaded with more than 42,000 courses, will give you all the important distances (front/middle/back of the green; hazards; landing areas) and it comes with a whopping 30-hour battery life.
Also pair it with a full set of Approach C10 club tracking sensors and a whole new world of swing performance data becomes available to you at the click of button.
You can also check out our Best Golf GPS Watches feature to see our pick of the best in class.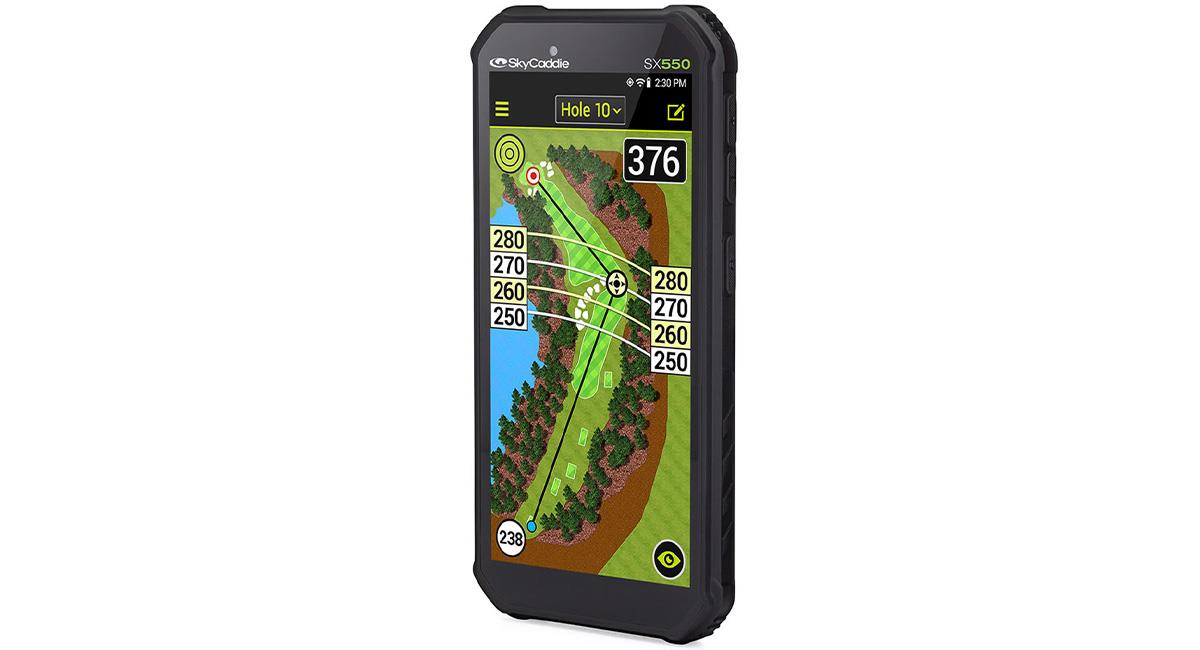 SkyCaddie SX550 GPS Rangefinder
£379 £329 | VIEW OFFER
With the GPS leading lights going big on watches it is easy to forget the benefits of a hand-held device and this offering from SkyCaddie is a fantastic option for golfers who like to play as many different courses as possible.
Critically SkyCaddie have a team of course walkers which means each of the 35,000 courses have been mapped by one of their own employees. Obviously with a hand-held device rather than a watch you get a much bigger screen to study as this 5.5" version is seriously impressive and the level of detail on each hole is fantastic. Battery lasts for up to 14 hours of continuous use.
Bushnell Phantom 2 GPS Golf GPS Device
£139.00 £114.35 | VIEW OFFER
If you're not a fan of wearing a watch on the course, then this is the GPS for you. The Phantom's large and easy-to-read display shows distances to the front, back and middle of the green and it is loaded with more than 38,000 courses.
The Bushnell Phantom 2 gives you up to 18 hours of battery life and it is magnetic so can fit to trolleys or golf buggies. It also comes with a clip to fit on the side of your golf bag or hang off your belt.
The GPS allows you to move the pin locations for even more accurate yardages and can display up to six hazards and layups per hole. As with most modern GPS systems the app allows you to track your rounds, statistics and delivers wireless course updates to the device. There are four colours available – Black/White, Grey Camouflage, Blue and Orange.
Shot Scope PRO LX+ Laser Rangefinder with Performance Tracking
£329.99 £279.99 | VIEW OFFER
When it comes to GPS tracking systems in golf, you might find it hard to work out what's best for you, whether that be a rangefinder to zap the pin or a watch to give you nice easy yardages to the green. The Shot Scope PRO LX+ gives you it all.
The PRO LX+ is a stable and accurate rangefinder packed with tech, including slope technology, target-lock vibration and the ability to capture targets up to 900 yards away. The rangefinder has a Shotscope GPS attached that is loaded with more than 36,000 courses and can be used separately thanks to a powerful magnet and clip that allows you to attach it to trolleys, buggies or your bag. Both are accurate to within one yard and give you the option to see how far a layup or hazard is.
Regular TG readers will know that we use their in-depth data in a lot of our golf instruction, the PRO LX+ connects to the app which tracks your statistics and performance and helps you improve. It comes in black with orange, blue or grey trims.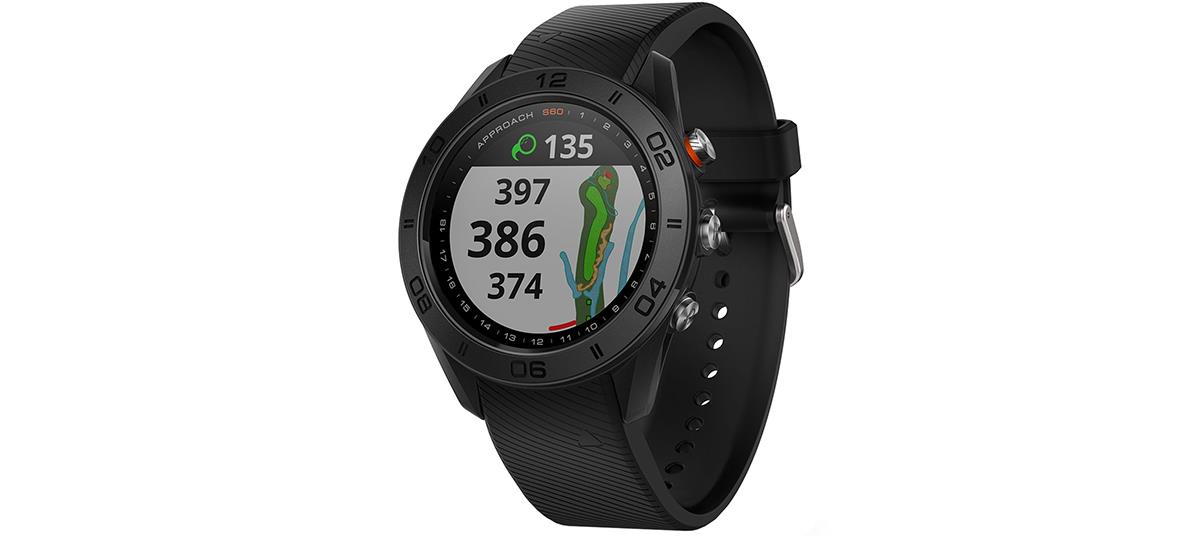 Garmin Approach S60 GPS Watch
£399.99 £249.99 | VIEW DEAL
The Garmin Approach S60 GPS Watch is a feature-packed hi-res colour touchscreen GPS with full colour CourseView maps for more than 40,000 courses.
Green View feature allows manual pin positioning, Touch Targeting and PinPointer blind shot assistance to provide better awareness of your position on the course during a round.
Released four years ago it still holds its own and represents great value at less than £250.
Our features on the Best Golf GPS Watch will provide you with the full range of options and also check out our feature on the Best Golf Rangefinders to see the full range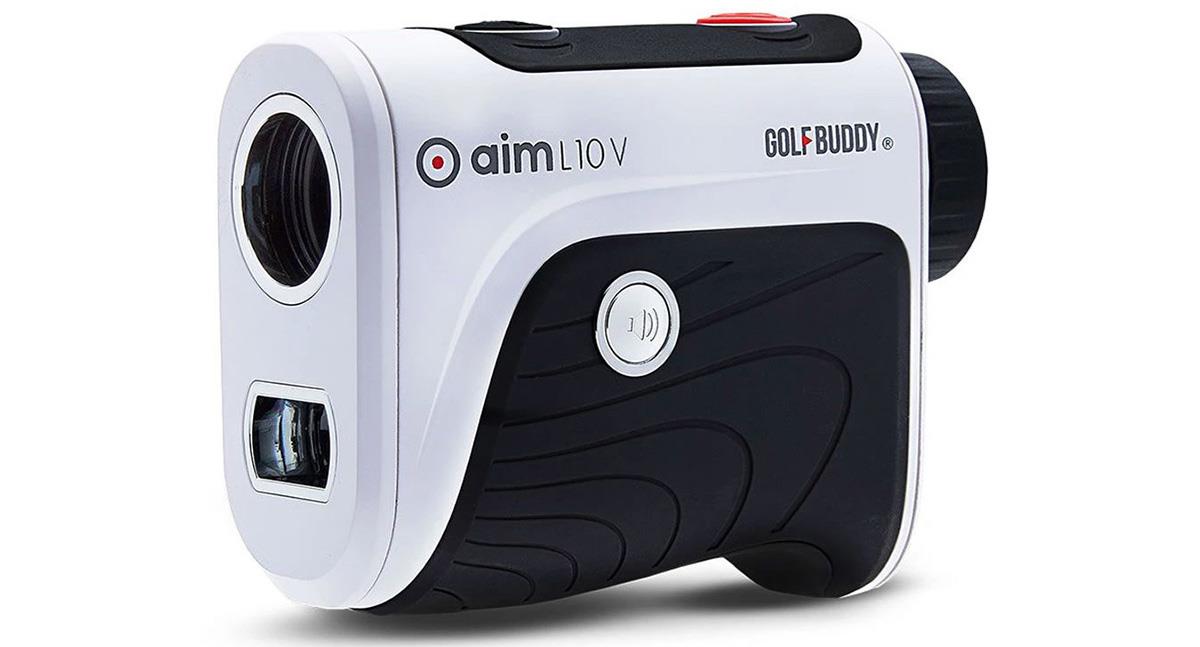 GolfBuddy Aim L10V Voice Golf Rangefinder
£279 £199 | VIEW DEAL
The Golfbuddy aim L10V, with voice & slope, is the world's first talking rangefinder. It works like a normal rangefinder, displaying the yardage on the LCD screen, but for added convenience there's a voice button on the side which, when pressed, will make the unit read out the measured yardage.
It's not just a gimmick, many older golfers are put off rangefinders because they find it hard to read the measured distances, meaning the GolfBuddy voice function could make all the difference.
Besides the voice function, the Golfbuddy aim L10V offers 6x magnification, vibration to confirm target lock-on, plus slope settings that can be turned off for competition rounds.  
Check out our feature on the Best Golf Rangefinders to see the full range.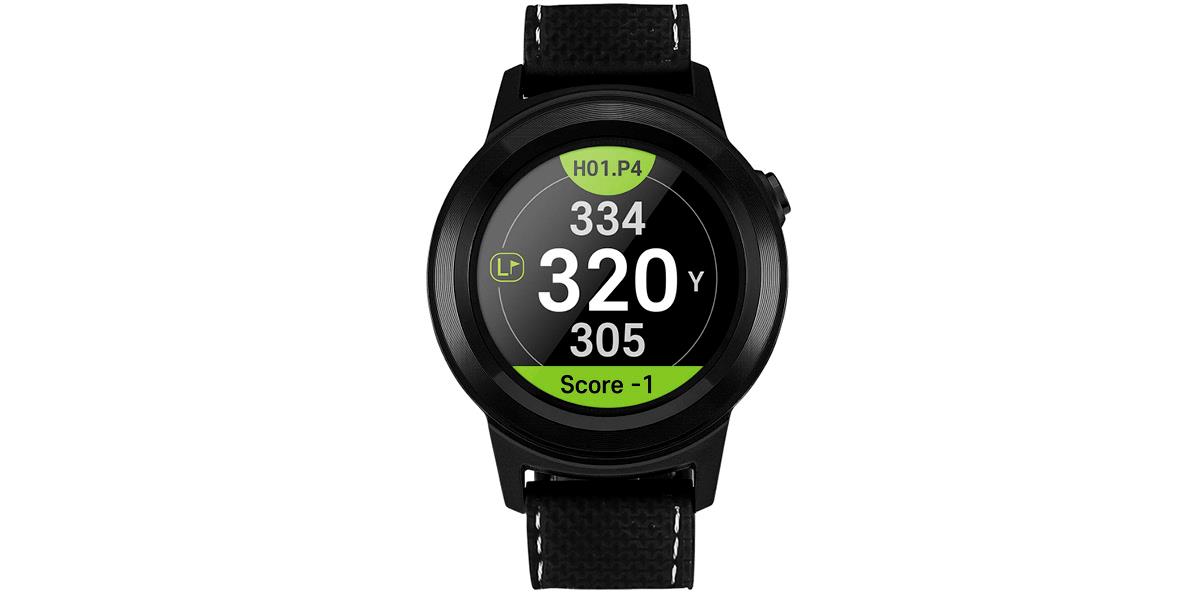 Golf Buddy Aim W11 Smart Golf GPS Watch
£249.99 £175 | VIEW DEAL
This is a lot of gps golf watch for the money. Loaded with 40,000 courses and on top of the normal yardage features, keen golfers will particularly like the green contouring option. This is especially helpful when hitting approach shots, because you get a regular reminder that aim straight for the pin is not always the best strategy.
The graphics are excellent plus you get a hazards readout while you can manually alter the pin placement when it comes to getting the clubbing right on those all-important approaches.
In golf mode you will get two rounds out of your battery and it is also very waterproof which will come into its own when playing through the dark months. The Golf Buddy is also one of our Best Golf GPS Watches.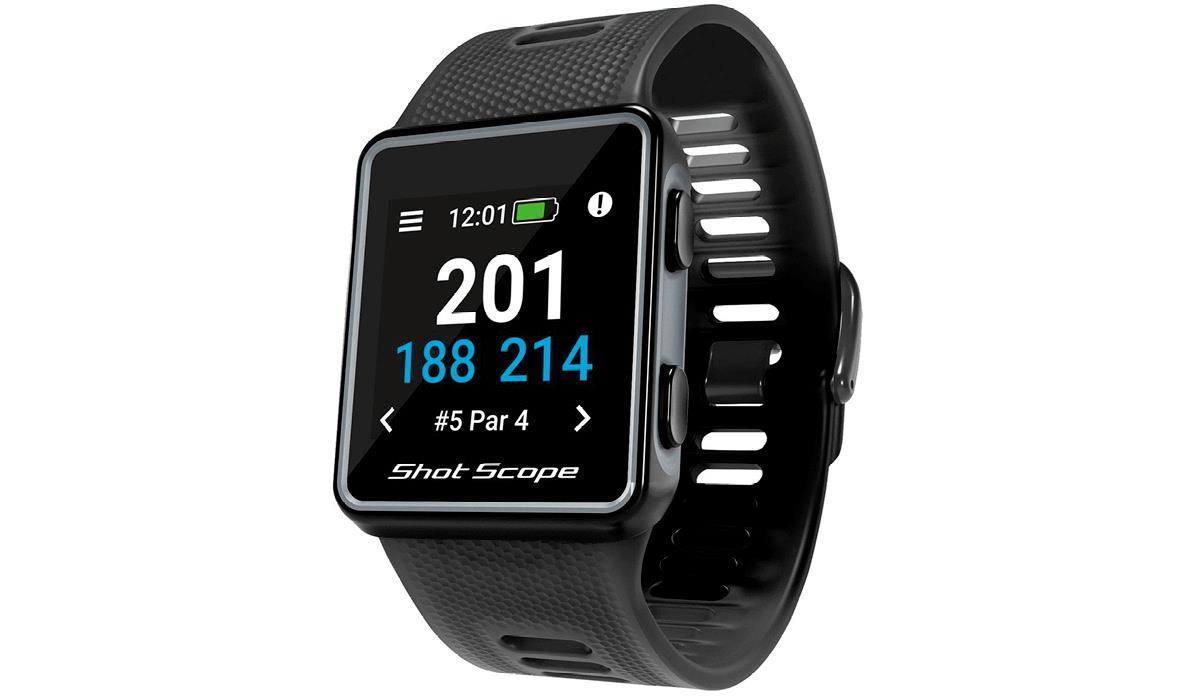 Shot Scope G3 GPS Watch
£169.99 £94.99 | VIEW OFFER
Shot Scope's GPS devices are renowned for being the most accurate in the business and while the G3 doesn't have all the bells and whistles of the shot-tracking V3, it is an absolute steal with £75 off.
It will tell you green distances to the front, middle and back plus front and carry distances for every hazard. It will also confirm how far your last shot travelled if you want to boast about your drive or find out how the weather conditions are impacting your shots.
The G3 comes preloaded with more than 36,000 courses and the battery life will comfortably last two rounds – Shot Scope say it will last more than 10 hours in GPS mode and more than 10 days in standard watch mode.
Available with black, blue, red or silver straps, it has a 3.2cm-wide screen and is impressively light, making it a great everyday watch for wearing off the course.
Take a look at our Best Golf GPS Watches to see how the G3 compares to its rivals.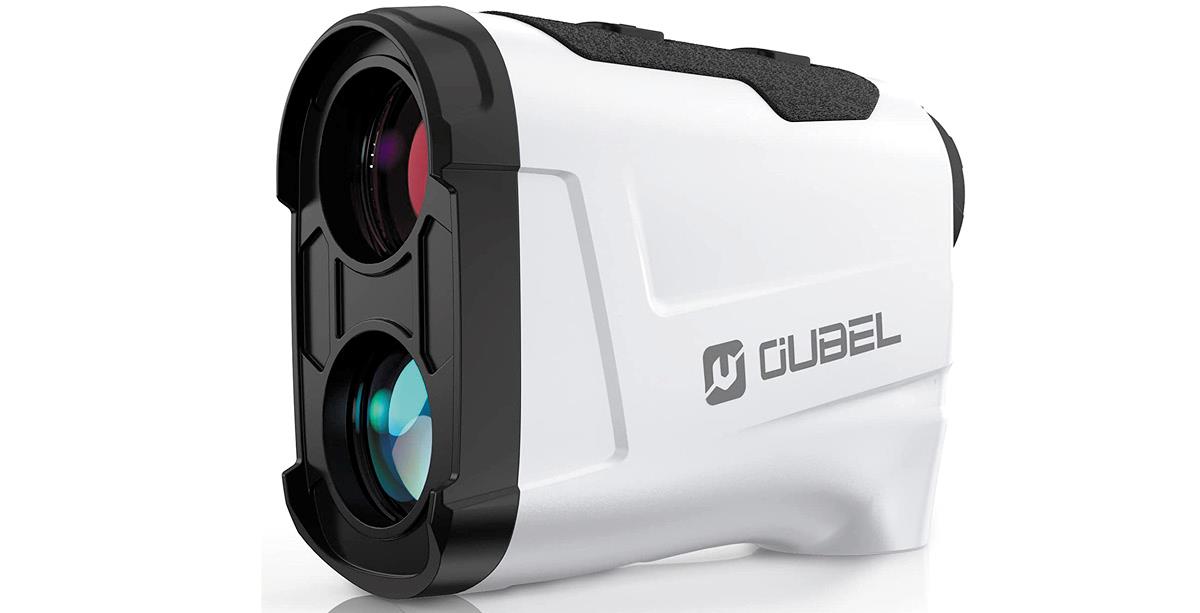 Oubel Golf Rangefinder
£129.99 £67.99 | VIEW DEAL
It is very difficult to get a highly competent rangefinder for less than £70 but this deal gives you that chance.
Comes with flag pole locking and vibration alert functions plus 6x magnification. It will also adjust distances to up to 30 degrees of slope either way. 
If you want more options in this marketplace check out our Best Golf Rangefinder feature.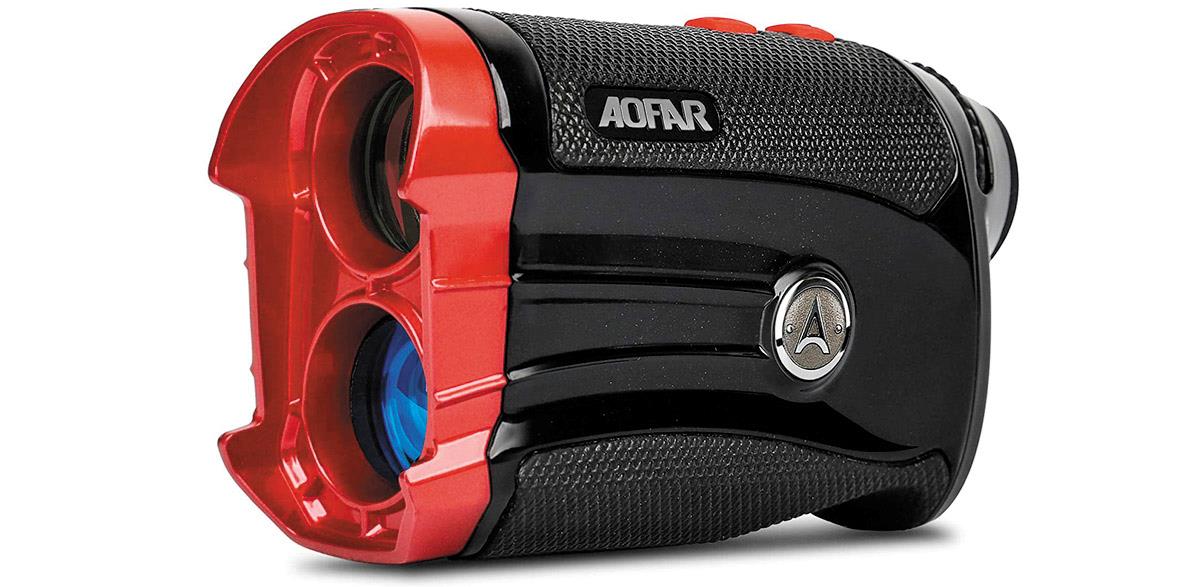 AOFAR GX-2S Golf Range Finder
£139.99 £89.99 | VIEW DEAL
Another handy rangefinder that gives you up to 600 yards to play with and accuracy, according to the makers, of ±1 yard. You can reasonably expect to be able to measure up to 285 yards to the pin.
Comes with flag pole locking technology plus you will get a vibration alert once you have hit the target. The magnification is 6X and you also get slope reading help.
Check out our Best Golf Rangefinder feature for even more deals.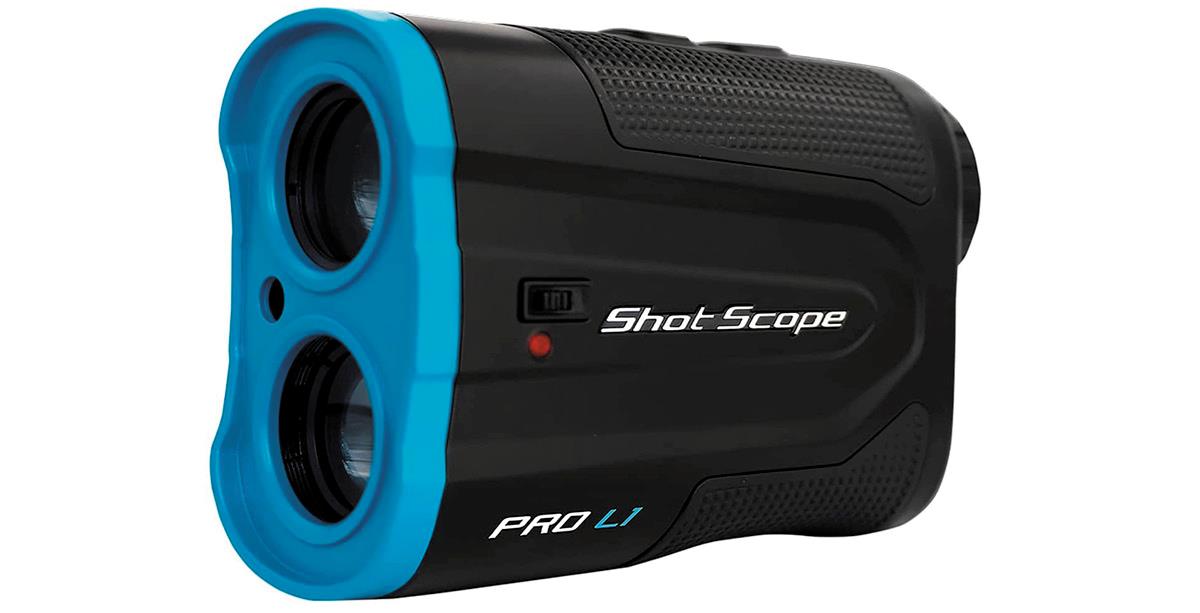 Shot Scope Pro L1 Laser Rangefinder
£199.99 £139 | VIEW DEAL
The PRO L1 is packed with technology including Target-Lock Vibration and a Precision Clear Lens. The sleek and sturdy laser also has Adaptive Slope technology which displays the angle of slope adjustment and a recalculated distance, accurate to just 3.6 inches (can be switched off for competitions).
Six-times magnification and a range of up to 875 yards mean no pin will ever be out of its reach, while its water-resistant construction and grip patches ensure it performs in all conditions. The laser is also impressively compact, measuring just 100mm long, 43mm wide and 75mm high.
You can find even more brilliant laser deals on our Best Golf Rangefinders page.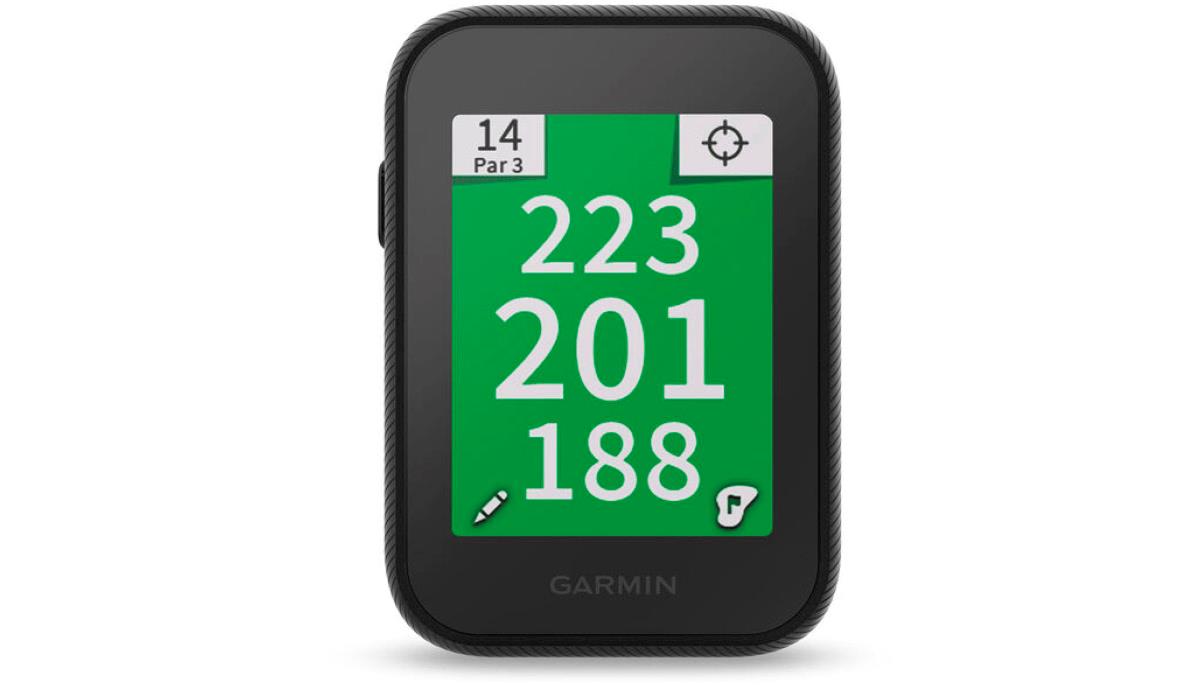 Garmin Approach G30 GPS
£269.99 £169.99 | VIEW DEAL
The compact Approach G30 GPS handheld device has a full colour 2.3-inch screen with accurate course mapping and easy-to-read yardages to the front, middle and back of the green.
It's preloaded with over 40,000 worldwide golf courses, with free updates to keep you up to date with the latest information to hazards, dog-legs and greens.
It has a battery life of more 15 hours on one single charge, while you can use it to keep scores for up to four golfers.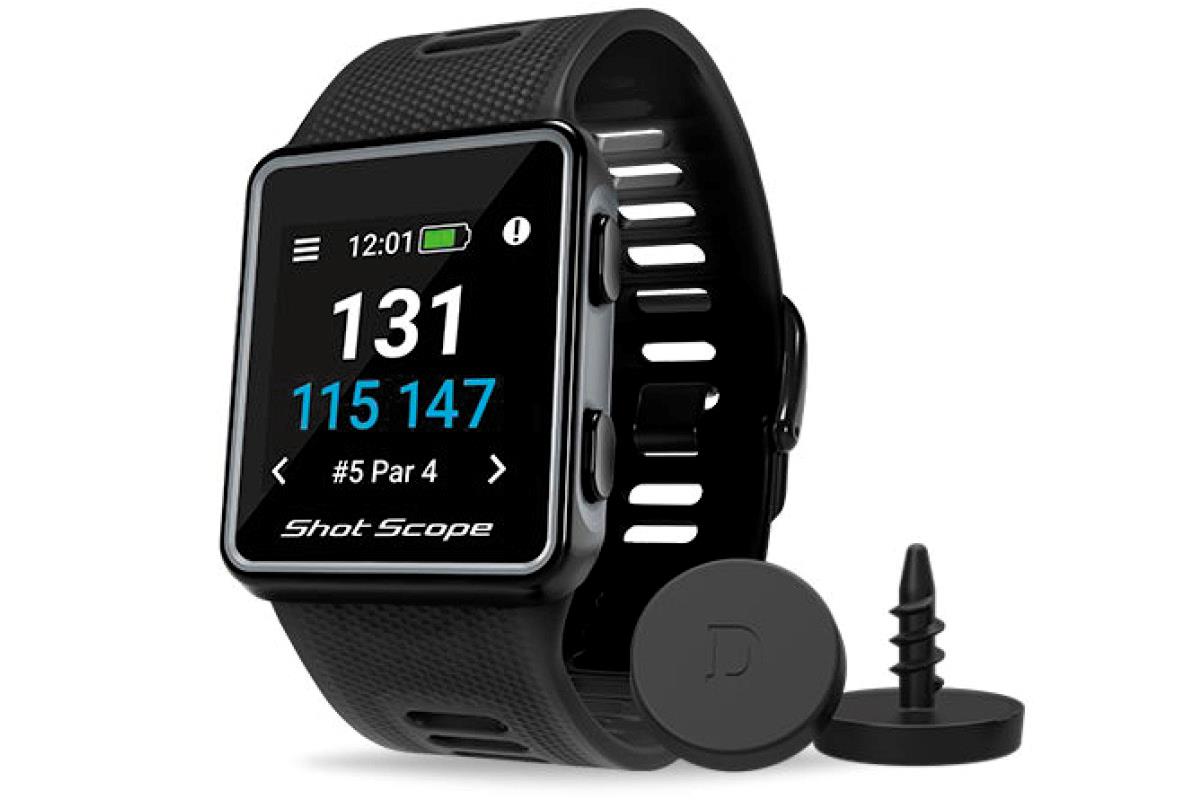 Shot Scope V3 Smart GPS Golf Watch
£209.99  £139.99 | VIEW DEAL
If you're a regular Today's Golfer reader then you'll know we're huge fans of Shot Scope's products and their amazing data forms the basis of a lot of our golf tips and instruction pieces.
The V3 is genuinely one of the best golf products you can treat yourself or a loved one to.
It comes preloaded with more than 36,000 courses from across the globe, provides GPS distances to every green and hazard via its full colour screen, and gives automatic shot tracking for 100s of game-improving statistics (including shots gained) compiled from the 16 included 'tracking tags'.
One of the lightest golf watches on the market, it comes in four colours (black, grey, blue, red) and there are no additional costs or subscriptions.
Take a look at our Best Golf GPS Watches to see how the V3 compares to its rivals.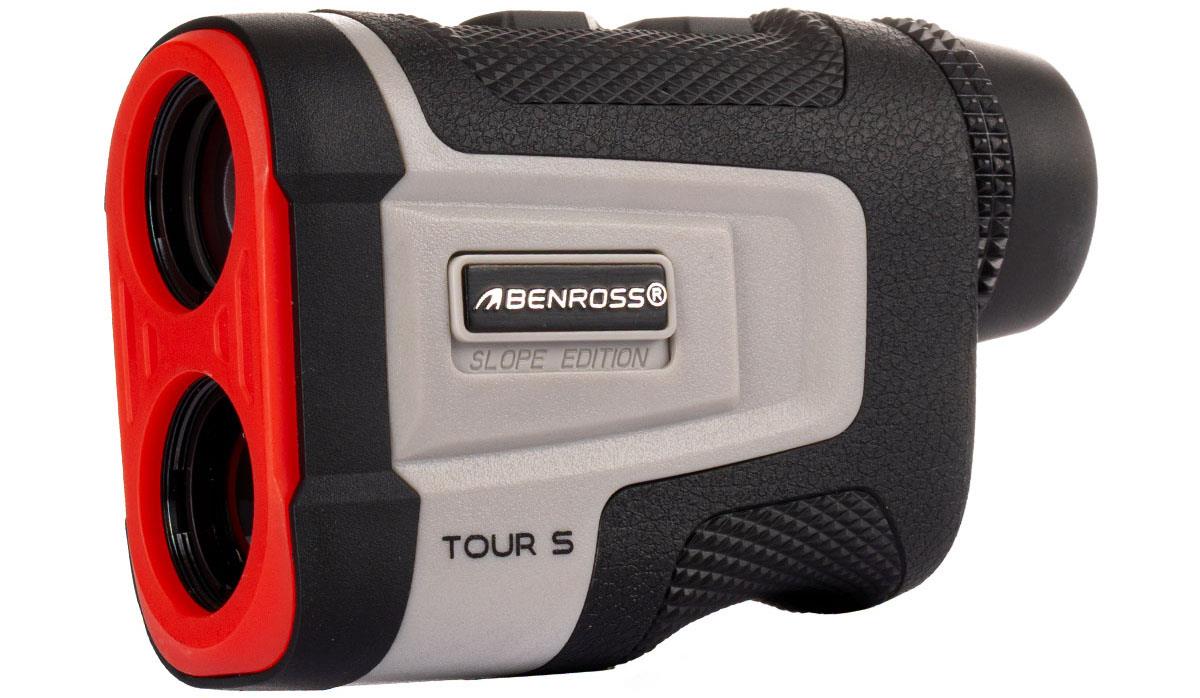 Benross Tour S Laser Rangefinder
£249 £149 | VIEW DEAL
A bargain price for a very impressive golf laser and boasts plenty of features you'd find in more premium models. As well as being accurate to within half-a-yard it also provides adjusted distances for slopes, features flagpole scanning with vibration, has an easy-to-read LCD and even has a mode which tells you the speed of a moving target.
You can find even more brilliant laser deals on our Best Golf Rangefinders page.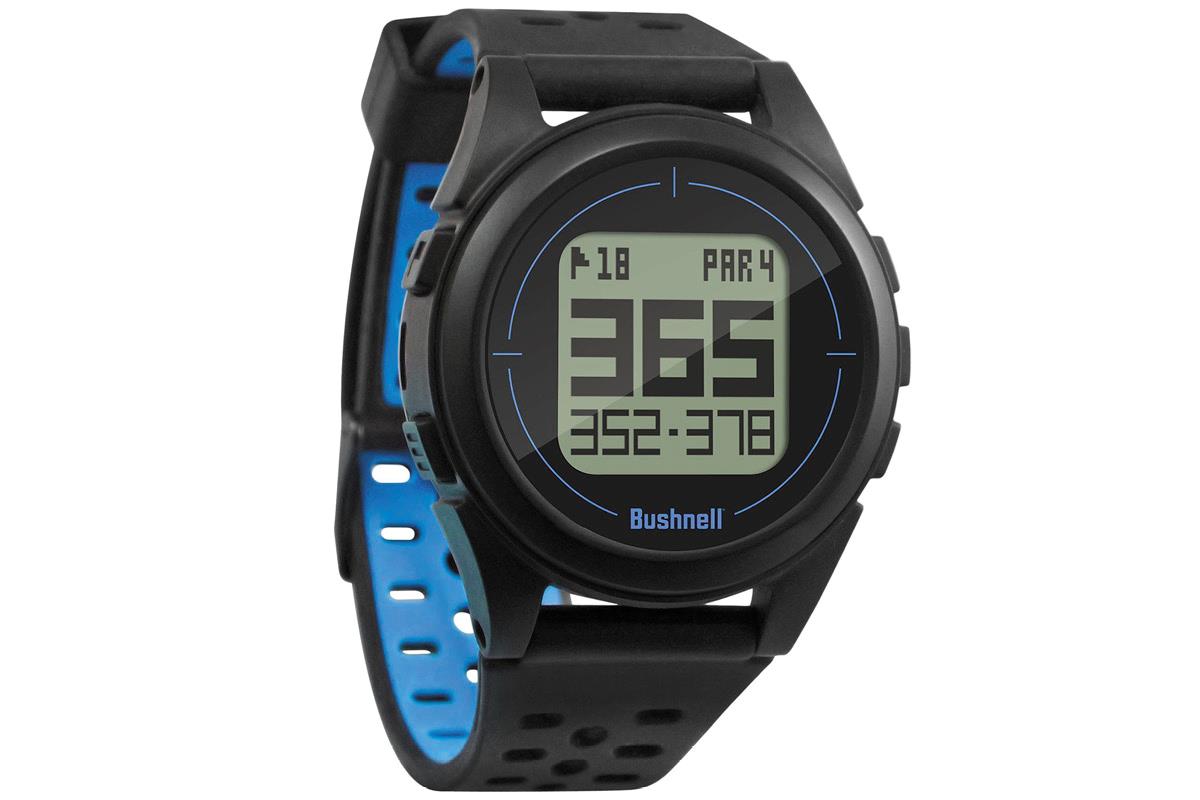 Bushnell Neo iON 2 GPS Golf Watch 
£159.99 £89 | VIEW DEAL
When it comes to DMDs, Bushnell make some of the very best. The iON 2 is a superb watch option for those seeking a packed GPS at a bargain price.
It comes preloaded with more than 36,000 courses, automatically recognises the course and hole, has an easy-to-read display that shows front, centre and back of the green distances, gives up to four hazards per hole and has a battery that lasts up to three rounds. It will even count your steps, your shot distance and time your round. Includes the Bushnell Golf App.
Take a look at our Best Golf GPS Watches for even more deals.
Best Golf Deals: Golf Shoes
FootJoy Fuel Golf Shoes
£134.99 £109.99 | VIEW DEAL
A big saving on one of the No.1 shoe brands in golf's most stylish and athletic models.
The FootJoy Fuel was new for 2022 and is an ideal shoe for on and off the course. It combines streamlined, waterproof, and synthetic uppers with a sole inspired by the hugely successful Pro SL for exceptional levels of stability and grip and the patented Stability Bridge for excellent mid-foot support throughout the swing.
Available in four colours – white/grey/blue, navy/white/red, white/black/orange, black/grey/silver – the Fuel is a great year-round golf shoe at an even better price
Ecco Biom G5 Golf Shoes
£209.99 £169.99 | VIEW DEAL
Advanced, athletic performance is mixed with sporty, progressive design in the Ecco Biom G5. The next generation of the Biom G3 combines Zarma-Tour cleats with innovative hybrid sections of the outsole for outstanding traction and stability.
The updated Biom last makes movement easy and provides support, stability and a perfect fit, while the Fluidform Direct Comfort Technology balances cushioning and rebound. Gore-Tex technology ensures 100 per cent waterproof protection.
Available in white/blue, white/black (BOA) and black/steel.
Puma GS-One Golf Shoes
£89 £59.99 | VIEW DEAL
A massive saving on a golf shoe that'll look just as good off the course as it will prove impressive on it.
The GS-One features a waterproof upper with sealed seams and a reinforced toe. The wraparound support system integrates with the laces for comfort and stability, while grip is ensured thanks to added traction nodules.
Available in black, white/grey, and white/blue/red, the GS-One comes in sizes 7-12 and includes a one-year waterproof guarantee.

Nike Air Max 90 G Golf Shoes
£119 £94.99 | VIEW DEAL
The Air Max golf shoes stays true to the iconic original with a few updates to ensure it's suitable for the course.
A combination of fused overlays, additional eyestays and strategically placed mesh capture the look of the original Nike Air Max 90. The mesh has a thin, flexible overlay that helps keep out water and makes it easy to clean your shoes.

The foam midsole and Max Air unit in the heel ensures comfort around the course, while the integrated traction pattern gives you exceptional grip in a variety of conditions. Brilliant shoes for on and off the course.
Available in sizes 7-11, there are eight colour options available.
Check out our feature on the Best Waterproof Golf Shoes for further options.

Puma Golf ProAdapt Shoes
£149.99 £99.99 | VIEW DEAL
Puma make some of the best-looking golf shoes out there and the ProAdapt are absolute stunners and Rickie Fowler's shoe of choice.
The AdaptForm midsole provides comfort, stability, high energy return and more ground feel. Designed with an Atlantis leather upper and backed with a bootie lining to keep your feet nice and dry in any weather conditions, they have a one-piece construction tongue that wraps around the instep of the foot to provide medial support.
The outsole offers additional traction and support with flex grooves in key areas to allow the foot to move more naturally, to give you all-day-long comfort and a tour-proven performance. They include a 12-month waterproof warranty.
And make sure you look at our Best Waterproof Golf Shoes and Best Spikeless Golf Shoes guides for even more deals.

Duca Del Cosma Heritage Shoes
£199.99 £109.99 | VIEW DEAL
Duca's shoes are a work of art. Traditionally styled, the Heritage has a soft Italian Nappa leather upper, which is fully waterproof (guaranteed for one year)
The lined internal waterproof sock system provides further protection, while the insole is made from memory foam and covered with cow leather for incredible comfort.
Duca's new A6 spike outsole ensures superb grip and stability. An ideal shoe for the golfer seeking style and sophistication.

Skechers Go Golf Pivot Golf Shoes
£89.99 £54.99 | VIEW DEAL
If you're one of those who is yet to try Skechers golf shoes then this is the ideal opportunity to change that without breaking the bank.
They produce some of the most comfortable footwear in the market and the spikeless Go Golf Pivot shoe looks fantastic, too.
Lightweight and water resistant, they have a synthetic upper and a fantastic cushioned insole to make walking 18 holes a breeze.
And if you're after some new golf shoes but these aren't to your taste then take a look at our Best Waterproof Golf Shoes and Best Spikeless Golf Shoes guides.
RELATED: Best Waterproof Golf Jackets
Best Golf Deals: Apparel and Clothing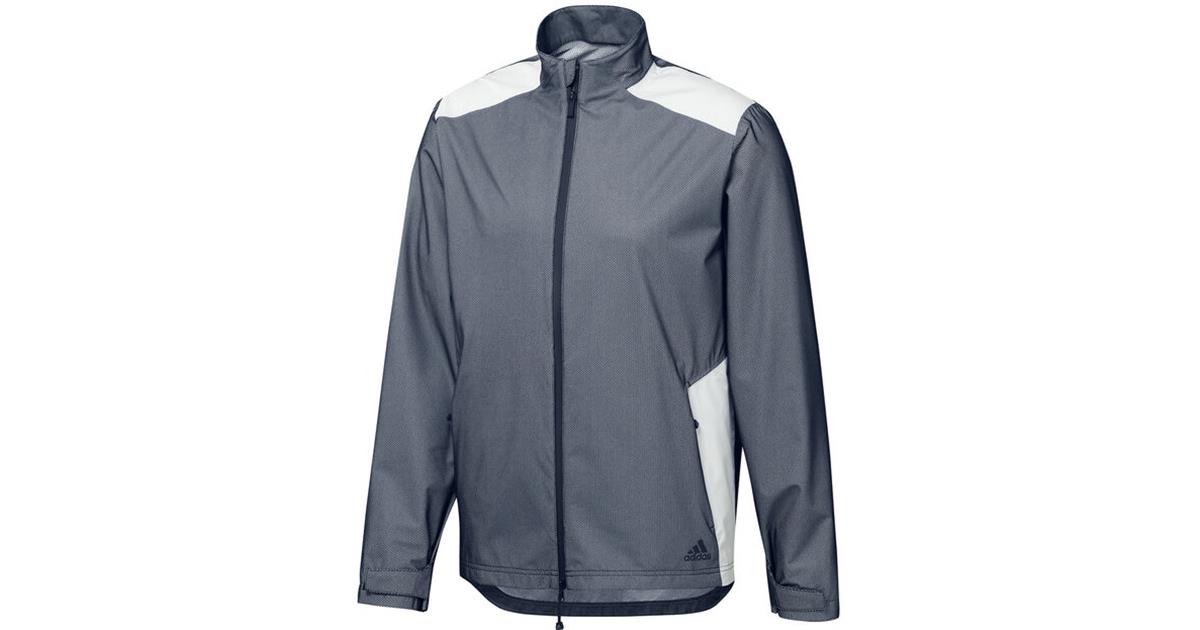 adidas Golf RAIN.RDY Waterproof Jacket
£129.99 £99.95 | VIEW DEAL
This fantastic jacket is ready to protect, windproof and fully waterproof to protect you in the harshest of course conditions. As well as keeping you dry it offers 50+ UV protection to keep your skin safe from harmful rays.
It is enhanced with stretch to enable you to move freely and has a full-zip opening for quick and easy changing. The design features PFC-free water-repellent finish, stand-up collar and has front zip pockets.
Find more options in our guide to the best waterproof jackets and best thermal jackets.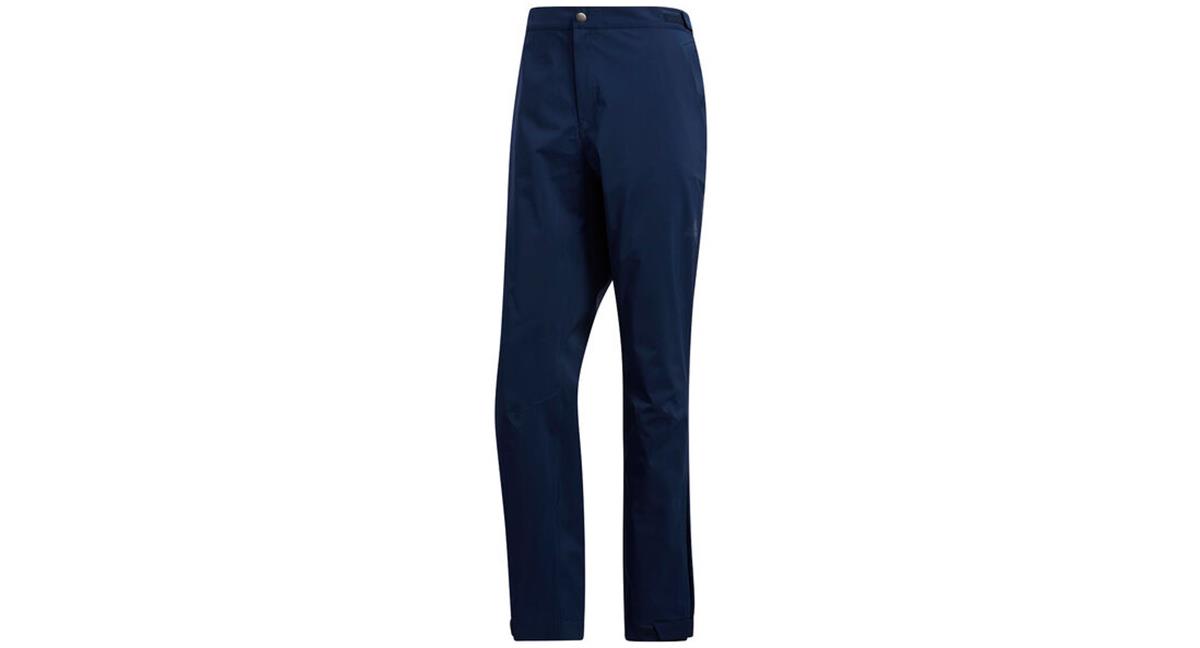 adidas Golf RAIN.RDY Waterproof Trousers
£99.99 £79.95 | VIEW DEAL
These lightweight adidas trousers are ready to protect, windproof and fully waterproof to protect you in the harshest of course conditions. As well as keeping you dry it offers 50+ UV protection to keep your skin safe from harmful rays.
They are enhanced with stretch to enable you to move freely and feature a PFC-free water-repellent finish. The design features front and back pockets, velcro adjustment, and hook and loop leg openings.
Find even more options in our guide to the best waterproof golf trousers.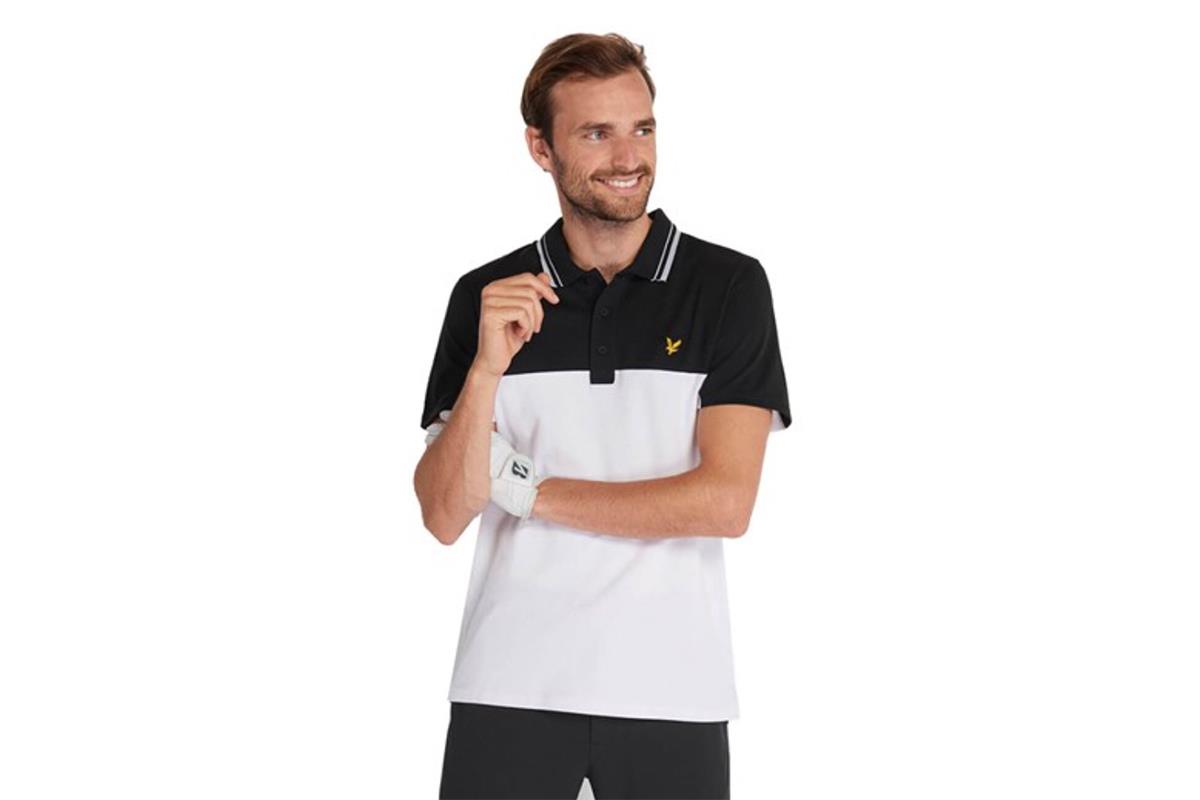 Lyle & Scott Kendall Polo Shirt
£55.00 £22.97 | VIEW DEAL
This is very Lyle & Scott and the fact it is 50% cotton gives it a lovely feel to boot.
You get a lot of features for less than £30 with moisture-wicking technology as part of its make-up. Elastane is also engineered into the fabric so there is plenty of give where you need it and there is also added UV protection to look after the colours so the sun doesn't bleach them.
Check out our feature on Best Golf Polo Shirts for further options.
Calvin Klein Men's Hybrid Golf Jacket
£109.95 £49.95 | VIEW DEAL
Keep warm this winter with Calvin Klein's hybrid jacket. Its lightweight insulated design ensures it's easy to move in and it protects you from the elements thanks to a water-resistant finish.
The jacket's soft padded front and shoulders are paired with a soft fleece-backed stretch fabric to allow for a comfortable and cosy fit this winter.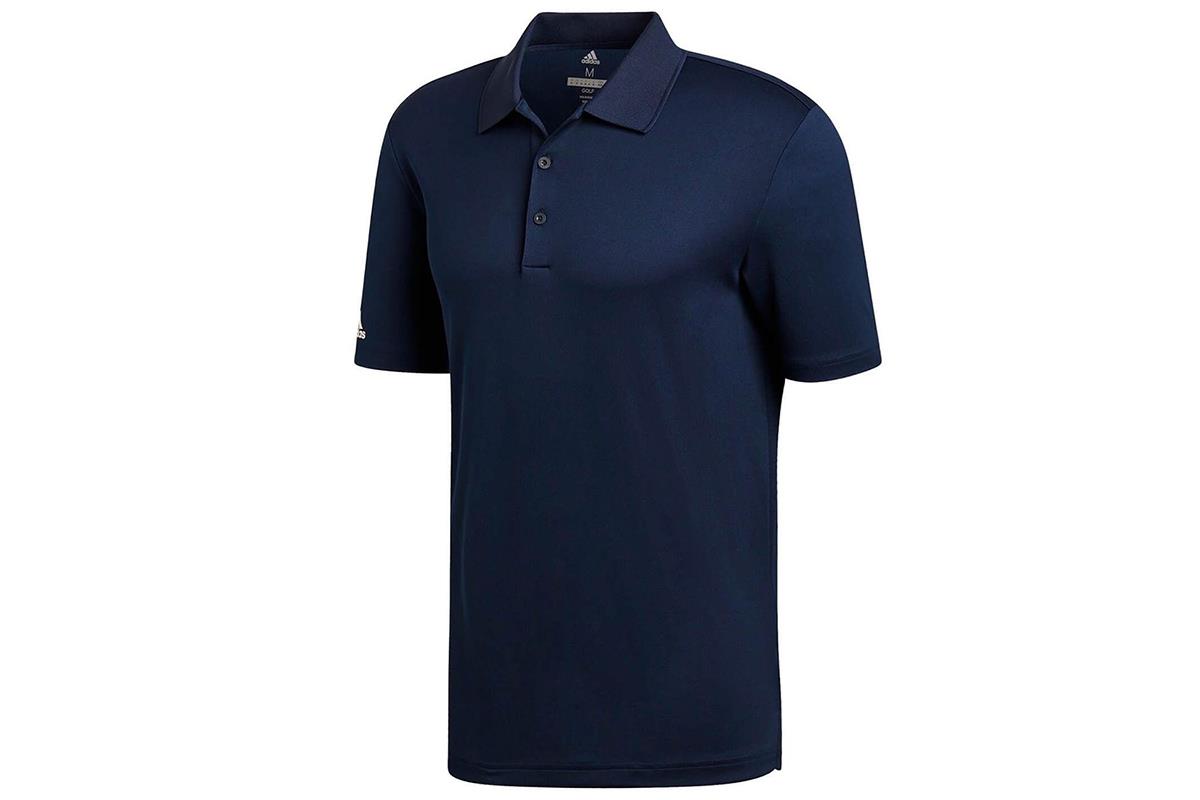 Adidas Performance Polo Shirt
£34.99 £14.99 | VIEW DEAL
Adidas makes big claims for this polo shirt so at just under £15 you are getting an impressive piece of kit as well as one that looks very stylish.
It is designed to be crease resistant and resistant to pulls and picks so is low maintenance and durable. It also includes adidas's Climacool and moisture management technologies so a great one to wear when it gets really hot. 
Available in black, navy, blue and white. 
Nike Dri-FIT Vapor Trousers
£74.95 £44.97 | VIEW DEAL
We probably don't recommend you wear these in the winter golf season, but come summer you will look the best on the course. The Dri-FIT's will make a great match with any top you pair it with, and will have you feeling like a tour pro in no time, at least till the first tee.
Designed to help you move more freely and keep you cool in the summer sun, they have a V-Notch at the back for a more stretchy fit partnered with articulated seams in the leg to give you more room and a comfortable fit.
Stromberg Men's Ridge Golf Midlayer
£79.99 £39.99 | VIEW DEAL
This stylish mid-layer from Stromberg would be a great addition to any golfer's wardrobe, designed for comfort and flexibility, it will help you maintain body temp while letting you play golf freely with no restriction thanks to its performance stretch material.
The layer has a water-repellent finish and a zip-neck for easy removal.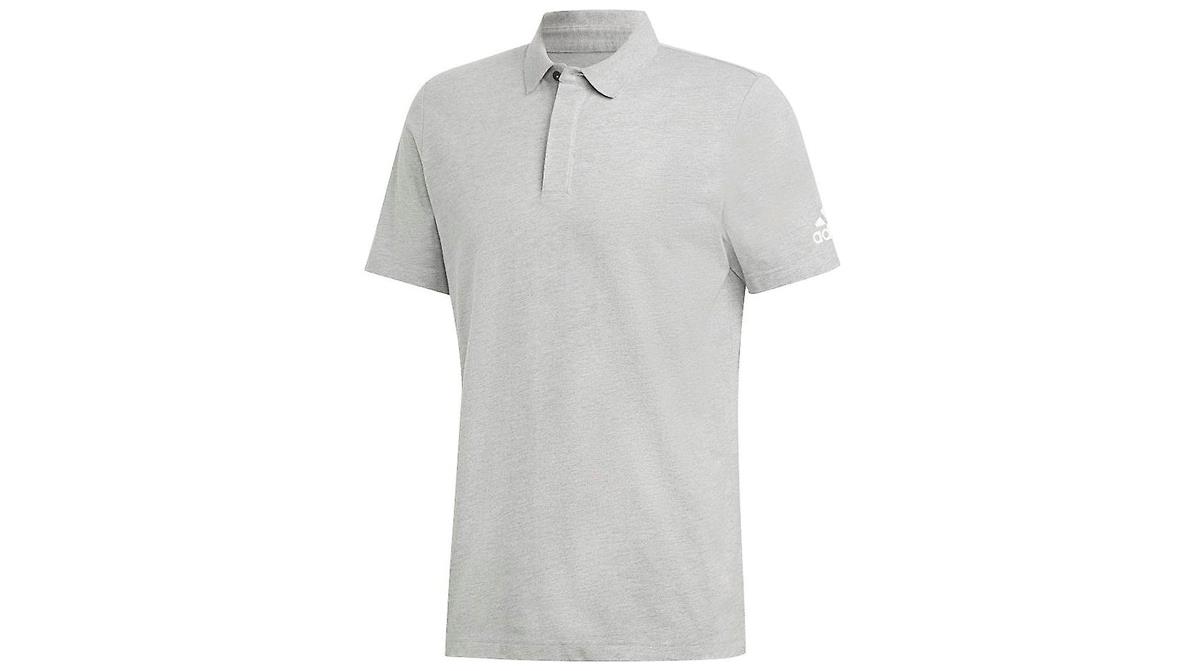 adidas Must Haves Plain Polo Shirt
£34.99 £14.99 | VIEW DEAL
The ideal choice for the golfer that likes a classically styled polo. Made from soft cotton jersey fabric and with side slits at the hem, the Must Haves polo is a regular fit and promises comfort and ease of movement throughout your 18 holes.
The adidas Logo adorns the right sleeve of the 100% cotton shirt, which is available in grey, white and black.
Make sure you visit our Best Golf Polo Shirts guide for even more great deals.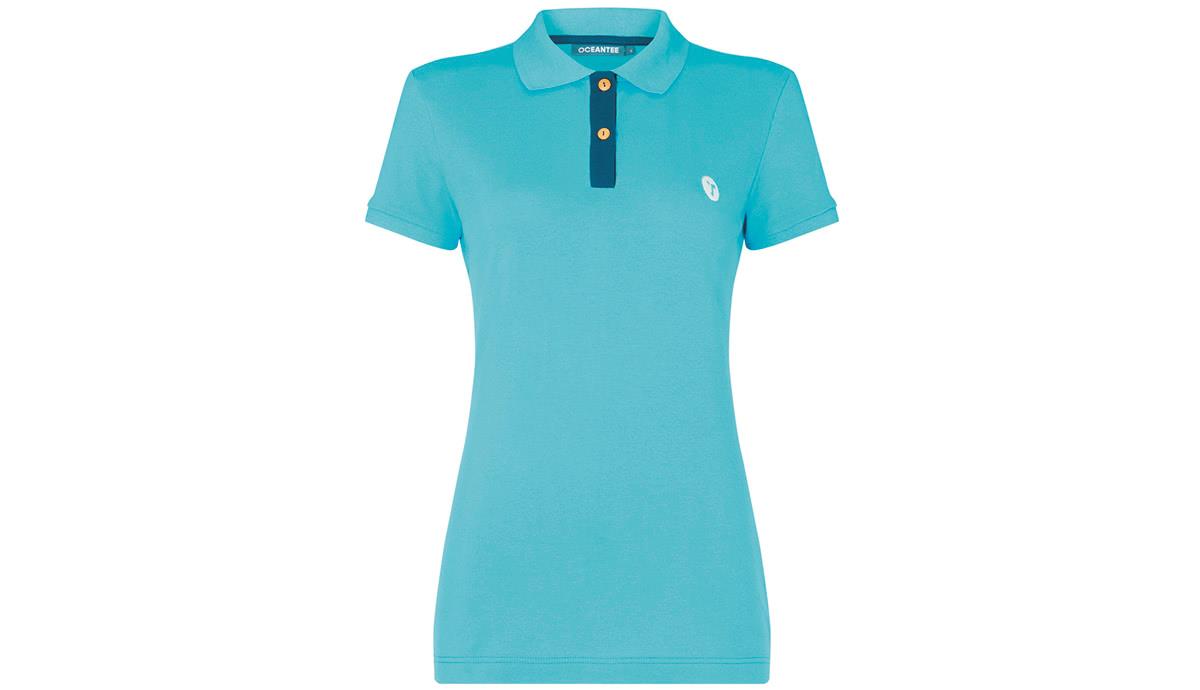 Oceantee Mako Ladies Polo Shirt
£49.99 £29.99 | VIEW DEAL
The eco-conscious clothing manufacturers know a thing about style too and this classic-looking polo shirt looks and feels the part. It is made from 97% GOTS-certified organic cotton and the other 3% is biodegradable elastane.
Such is the company's commitment to sustainability that it is the only factory in the world to match textile procurement standards set down by Greenpeace. Available in aqua and navy, Oceantee's unique fabric gives this polo shirt a luxury pique finish.
Under Armour Men's ColdGear Reactor Golf Jacket
£140.00 £99.99 | VIEW DEAL
For just under £100 you will be getting the perfect winter jacket. Some golf gear really looks the part and this Under Armour Storm ColdGear Reactor Golf Hybrid Jacket fits into that category.
It does the part too with the ColdGear innovation that's designed to react to your environment so when it's really cold extra heat is trapped
On top of that you have quilted chest and shoulders areas but Under Armour have also ensured the garment is super stretchy so playability is also good.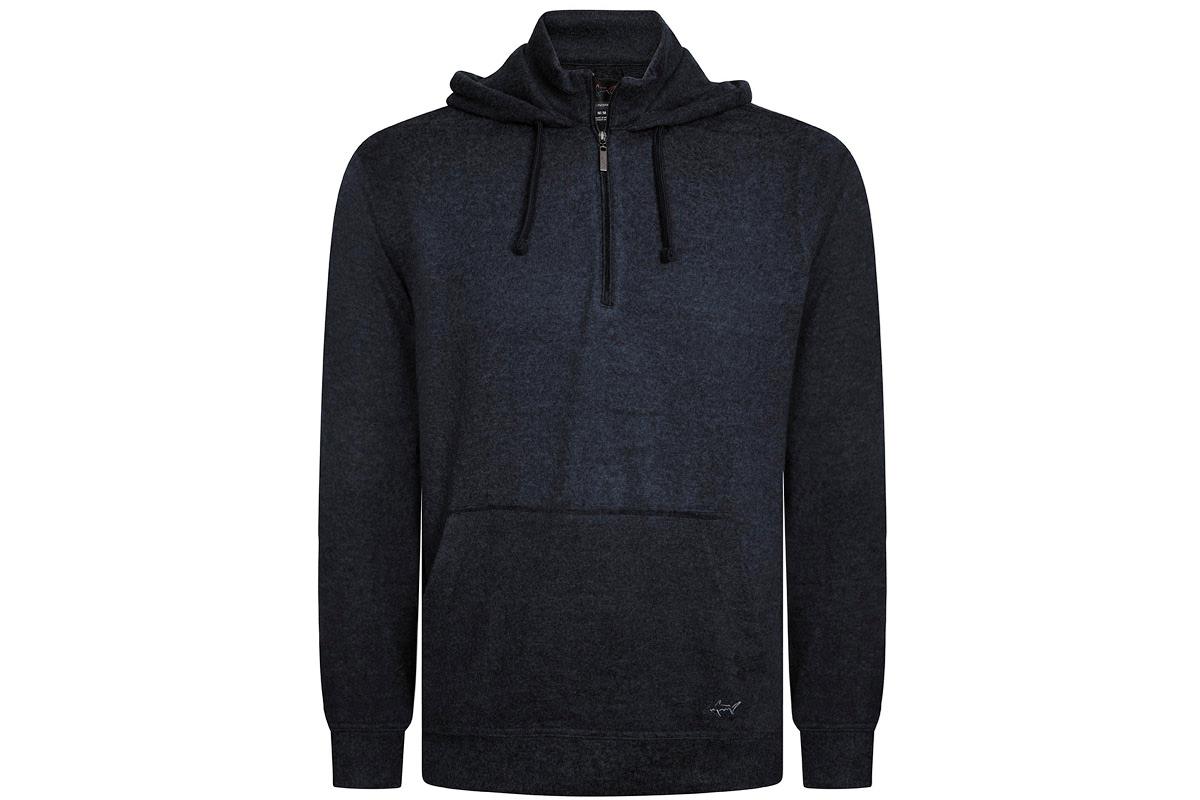 Greg Norman Lab 1/4 Zip Hoodie
£44.99 £24.99 | VIEW DEAL
Hoodies have become all the rage on the golf course over the last couple of year and now former World No.1 Greg Norman is getting in the on the act.
This brilliant mid-layer looks and feels far more expensive than it is and is both comfortable and easy to swing in. It has Norman's famous shark logo on the left bottom pocket and provide UPF 15+ protection.
Available in black, blue and grey.
Oscar Jacobson Men's Preston Waterproof Golf Jacket
£159.99 £99.99 | VIEW DEAL
One of the leaders in premium men's golf fashion Oscar Jacobsen brings you their stylish Preston jacket. This fully waterproof piece is designed to give golfers a lightweight, and breathable jacket that gives them plenty of room to swing out on the course.
For just under £100 it is a great option this winter, check out some of our favourite retailers for a great deal on the jacket.
Best Golf Deals: Golf Headwear
Oscar Jacobson Carmen Water-Resistant Bucket Hat
£34.99 £27.99 | VIEW OFFER
Golf bucket hats have been one of the biggest trends of 2022 and this Oscar Jacobson number is a great option.
Its water-resistant coating, taped seams and deeper back rim will keep you dry if you get caught in the rain, while bucket hats also offer good all-round shade when the sun is out.
The hat is 100% polyester and one size fits all.
Check out our list of the best golf bucket hats for more options.
TaylorMade Bobble Beanie
£21.99 £17.25 | VIEW DEAL
Ideal for the winter months, this stylish knitted TaylorMade bobble, will keep your head warm no matter what the weather. It's available in three different colours Red/Blue, Grey/Black and Navy/Grey.
Travis Mathew Making Ripples Fitted Baseball Cap
£29.99 £17 | VIEW OFFER
With stretch-fit technology and a moisture-wicking sweatband, this Travis Mathew cap will keep you looking and feeling cool on the course. Embroidered, eyelets, a pre-curved brim and four-colour print signature icon finish the style nicely.
RELATED: Best Golf Caps
Kjus Side Logo Winter Beanie
£35 £18.69 | VIEW OFFER
This water-repellant Kjus golf beanie is perfect for winter, with a double-layer knit and fleece lining to keep your head warm. One size fits all.
Check out our list of the best golf beanie hats for more options.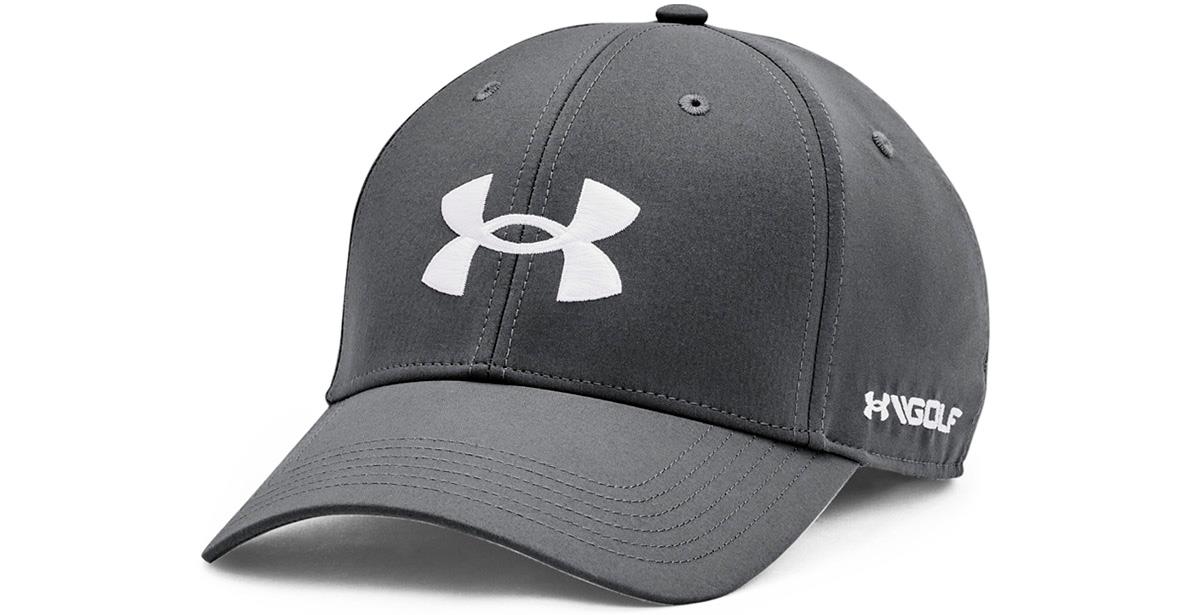 Under Armour GOLF96 Baseball Cap
£16.00 £10.99 | VIEW DEAL
Channel your inner Jordan Spieth with this very stylish UA cap.
Durable lightweight fabric and adjustable to perfectly fit your head, this is a traditional low-profile golf hat that will look great on or off the course. Lovely stocking filler for the golfer in your life.
Calvin Klein Men's Logo Bobble Golf Hat
£39.95 £19.95 | VIEW DEAL
A stylish and cozy bobble hat to help keep the heat in, this knitted option sports a Calvin Klein wrap-around logo and has a soft fleece inner lining for a comfortable and warm fit.
Best Golf Deals: Golf Accessories
Stewart Golf UV Umbrella
£45.00 £36.00 | VIEW DEAL
This stylish black golf umbrella has red trim and silver UPV 50 coating for protection come rain or shine. 
Feel the difference on the hottest days, as the umbrella keeps you out of the sun and away from harmful UV rays helping you keep your cool out on the course. 
It sports an automatic opening system and has a double canopy design to help with wind resistance, all making for a great and reliable umbrella.
FootJoy WeatherSof Golf Glove (2-pack)
£19.00 £16.95 | VIEW OFFER
Not only is this the world's most popular golf glove, but you get two of them in the same pack! The WeatherSof has helped more than 90 million golfers around the globe play their best golf in all conditions.
The glove's classic design partnered with FootJoy's FibreSof palm makes for a comfortable and consistent fit.
With a soft feel, high levels of durability and grip it is no wonder this has been such a huge seller.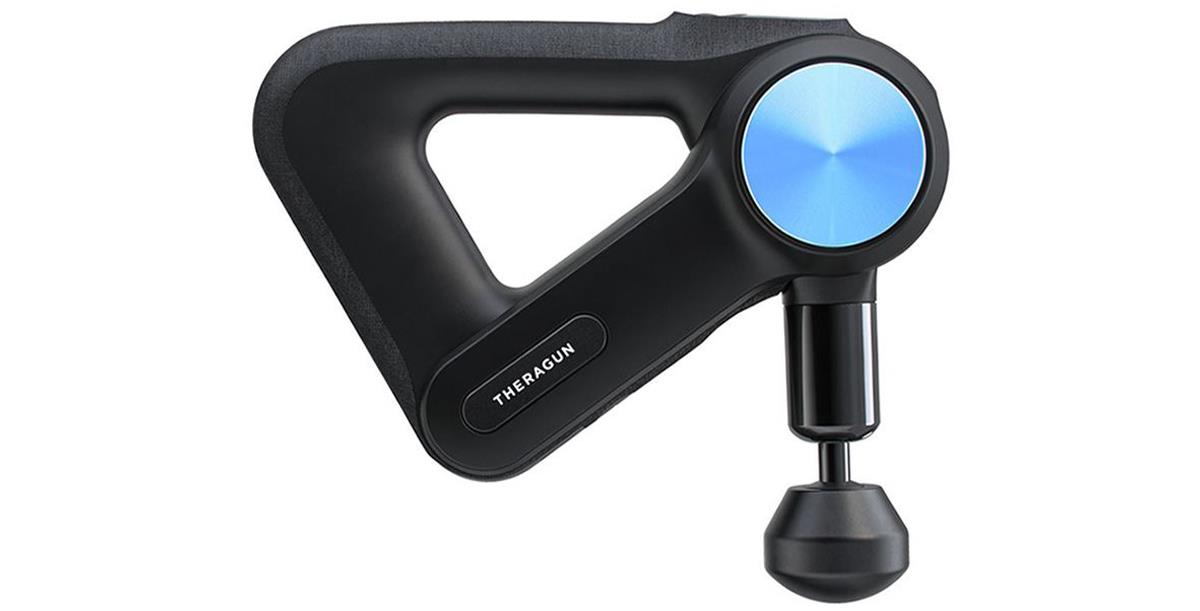 Theragun Pro Professional Grade Massage Gun
£529 £369 | VIEW DEAL
Massage therapy is used by all of the world's top athletes to warm up effectively, relieve injury and to get them performing to their potential.
Two-time Major champion and Race to Dubai winner Collin Morikawa is one of those who uses the Theragun, which is designed for portability. 
If you are looking for a powerful, deep muscle treatment to really melt away muscle tension, deep rooted knots or trying to relieve highly sore areas, then the Theragun Pro Professional Grade massage gun is absolutely as good as it gets. The powerful QX150 motor allows the device to work almost silently while delivering up to 60lbs of no-stall force to effectively attack problem areas.
It is designed to reach 60% deeper into the muscle than an average massage gun and includes two batteries to offer up to 300 minutes of use between charges. The Theragun includes six attachments and integrates with the Apple fit or Google fit app to suggest treatments.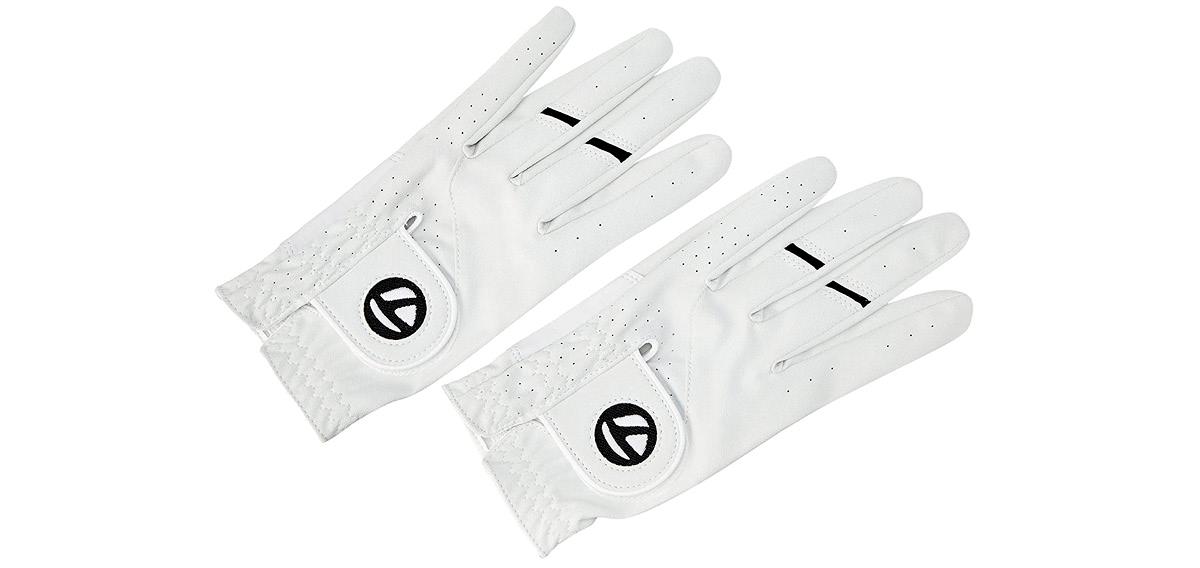 TaylorMade Men's Stratus Tech Golf Glove (2 pack)
£23.99 £16 | VIEW DEAL
Used by many pros, a pack of two top-quality gloves is an ideal stocking filler for any golfer.
The Stratus Tech is a synthetic and leather combination, impressively durable, breathable and resists sweat and humidity.
It's available from small to extra larger to ensure the perfect fit.
Find even more glove deals on our Best Golf Gloves, Best Winter Golf Gloves and Best Golf Rain Gloves pages.
OceanTee 54mm & 70mm Bamboo Golf Tees
£11.97 £7.98 (120 tees) | VIEW DEAL
Trying to do their bit for the environment, OceanTee offer bamboo tees in a range of lengths as they aim to improve sustainability. These tees give you a strong, biodegradable option on the tee box instead of wooden and plastic tees and you can get three boxes for the price of two in this deal at American Golf.
Mizuno RainFit Golf Gloves
£20.00 £13.99 | VIEW DEAL
A Japanese-developed synthetic suede increases the RainFit's grip in wet weather, while Mizuno's FitBridge ensures a snug fit between the forefinger and palm. The microfibre suede palm performs impressively, no matter how wet it gets.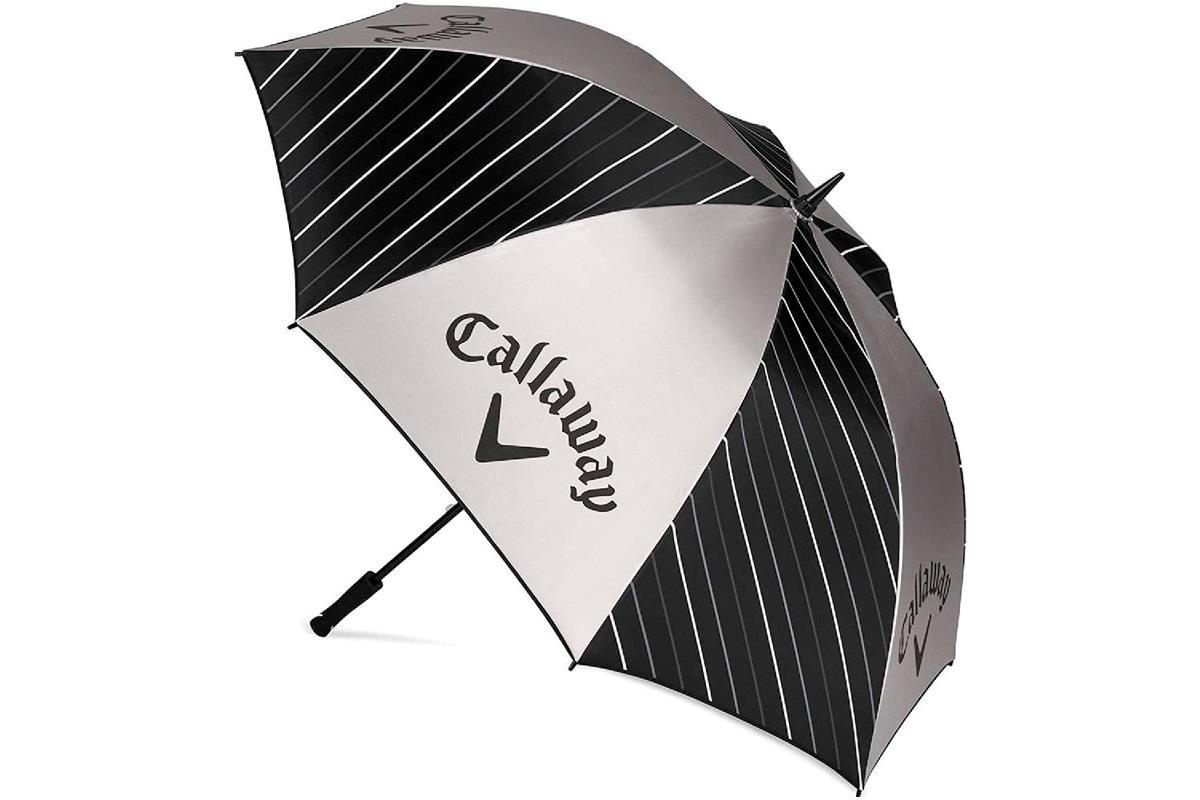 Callaway Golf UV 64 Inch Umbrella
£44.95 £34.10 | VIEW DEAL
If you play golf in Britain then having a good quality umbrella in your bag is a must throughout the year and this is a superb option from one of golf's biggest brands.
It has an ergonomic non-slip handle and lightweight fibreglass shaft to ensure it is easy and comfortable to carry on the course. It has a larger than standard shaft, making it suitable for use on trolleys and has a UV 50+ coating to help protect you from the sun as well as the rain. 
The ideal gift for the golfer in your life, even if they already have a golf umbrella. It's always handy to have a spare in the boot of the car for day-to-day life. Includes a matching cover.
You can find loads more options on our Best Golf Umbrellas page.
Stewart Golf Embroidered Microfibre Towel
£20.00 £16.00 | VIEW DEAL
Stewart Golf's tri-fold golf towel is made from super-absorbent microfibre helping you keep your clubs clean and dry all year round.
Finished in light grey, with the iconic Stewart Golf GB logo and a carabiner clip for easy attachment, this towel is a smart addition to any bag. 
FootJoy 150th Open Championship StaSof Glove
£24.99 £19.99 | VIEW DEAL
This is a limited-edition glove for The 150th Open, so whether you plan to wear it or keep it as a collectable it's worth buying.
The StaSof is FootJoy's premium tour glove and is used by Masters Champions Adam Scott and Zach Johnson.
It uses leather from Pittards of England and is designed to maintain its softness for longer. The APL leather is also designed to perform when wet, ensuring grip and durability.

Daphne's Golf Headcovers
£34.99 £26.95 | VIEW DEAL
Tiger Woods, Rory McIlroy, Ernie Els, John Daly, Bubba Watson – if novelty animal headcovers are good enough for the world's best players then they're good enough for you.
This writer has a Daphne's headcover to reflect his love of chimpanzees and it not only looks great but also offers additional protection for your club due to the padded nature.
Daphne's make pretty much every animal and creature you can think of, from golden retrievers to calico cats and dragons to unicorns. They make a great gift, especially from kids to parents. Available for drivers, fairway woods and hybrids.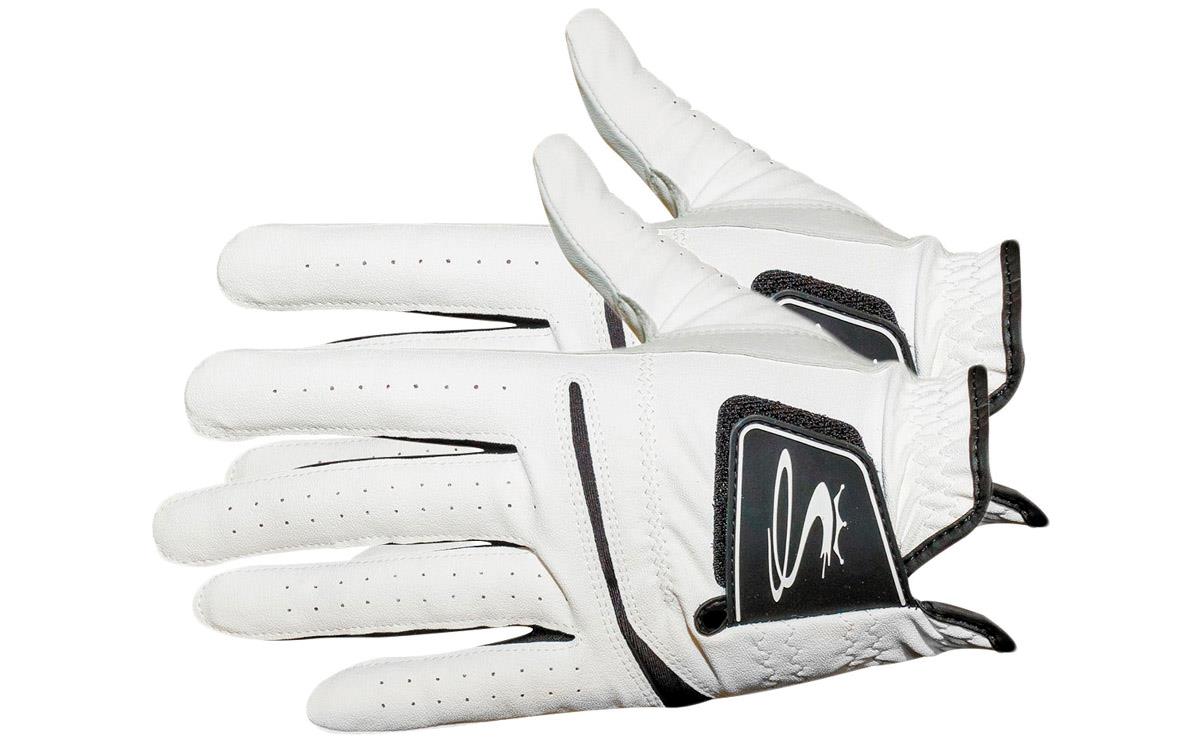 Cobra Golf Flex Cell Glove Twin Pack
£24 £10 | VIEW DEAL
Along with balls and tees, a good glove is one of the things that every golfer will thank you for, making it the perfect Christmas gift.
This is a great deal with two excellent gloves (available in left or right-handed) for just £10 – a saving of £14!
The Flex Cell is made from synthetic leather with sheep leather pads on the palm and thumb for added durability.
Breathable, a nice fit and from a trusted brand.
You can find loads more gloves on our Best Golf Gloves, Best Winter Golf Gloves and Best Golf Rain Gloves pages.
Bentley Tri-Fold Golf Towel
£44.99 £29.99 | VIEW DEAL
For some of us, this may be the closest we come to buying a Bentley. The ultra-soft cotton towel, partnered with a leather Bentley logo makes for a great-looking item.
This would be a great gift for any car lovers out there that want to look good on the course.
Best Golf Deals: Golf Training Aids
Sklz Unisex's Gold Flex 48′ Golf Swing Trainer
£39.95 £34.95 | VIEW OFFER
An easy way to help your golf swing on and off the course, the SKLZ swing trainer is designed to improve your tempo, strength and flexibility. It has an exaggerated flex shaft which helps keep your hands and arms extended in your swing.
This SKLZ swing trainer is the most popular in golf and it is legal to take on the course. If you don't have time for a full warm-up before your round it is a great way to loosen up before teeing off.
Longridge Tour Rodz Alignment Sticks
£14.49 £9.95 | VIEW OFFER
For less than £10, a pair of alignment sticks are a brilliant and simple way to improve your game.
From your garden to the driving range, these sticks will help you do training drills like a tour pro.
They come in a pack of two and easily fit in your golf bag, helping you to work on things such as ball position, takeaway, swing plane and path.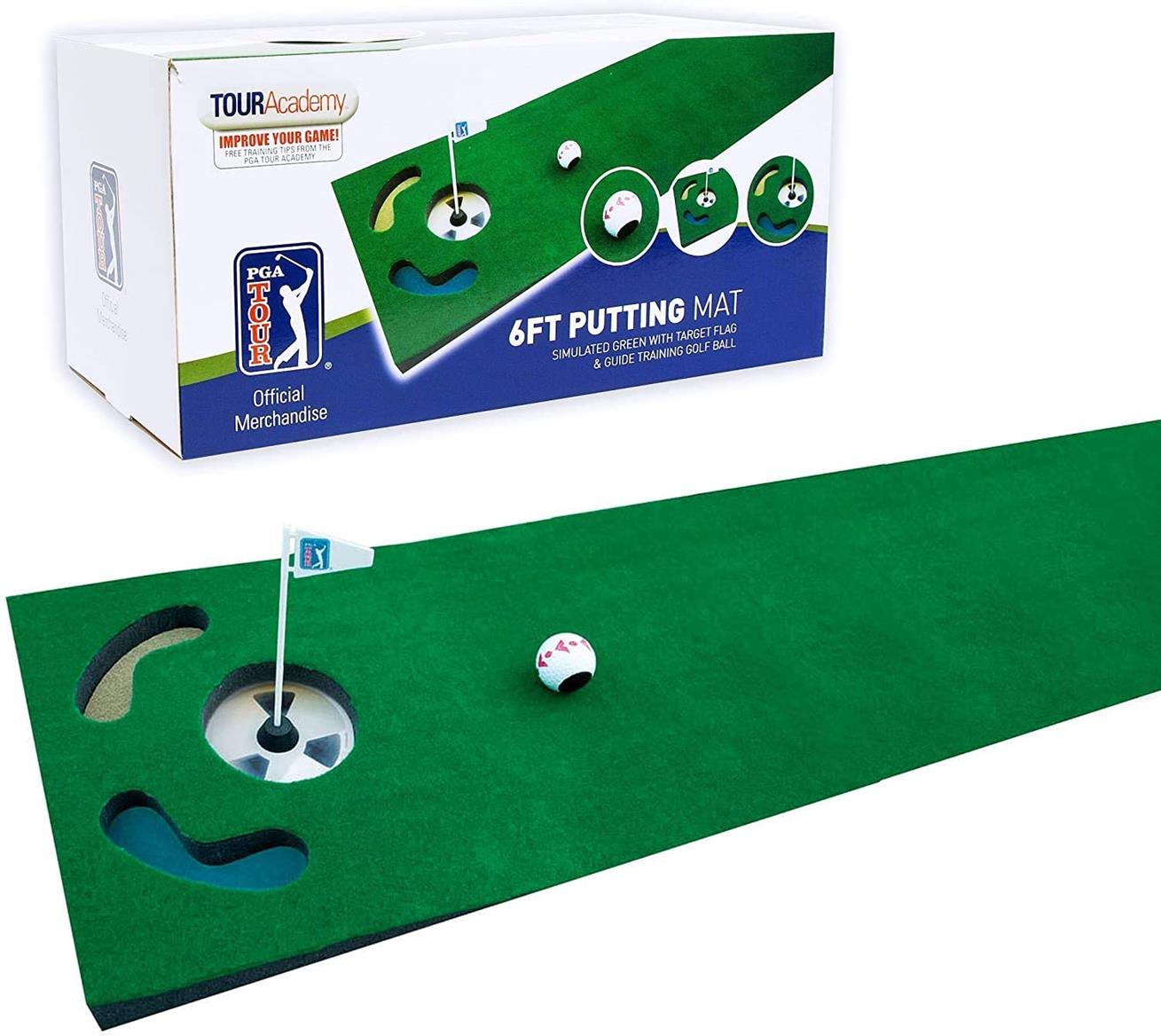 PGA Tour 6ft Putting Mat
£30.99 £24.95 | VIEW DEAL
Five-foot putts, arguably the most common shot in golf but probably one of the least practised. However now you have no excuses with this very tidy indoor putting matt.
You get to groove your putting stroke with this gentle-uphill putt plus you get a guide ball, with red arrow markings, to help you start your putts in the right direction.
If you want to check out some other excellent putting mats visit our Best Putting Mats feature.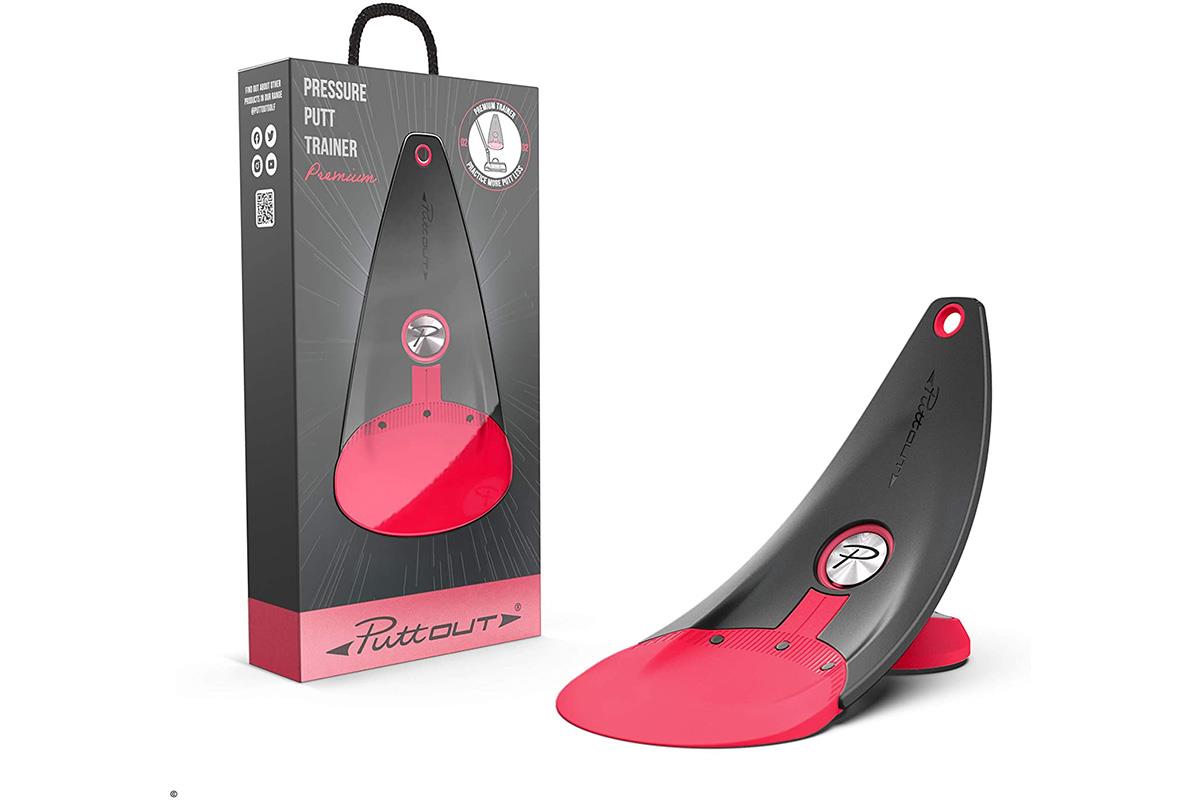 PuttOUT Premium Pressure Trainer
£29.99 £21.99 | VIEW DEAL
The Premium version of PuttOUT's popular putting trainer cleverly focuses your mind by only letting you get away with the perfect putt.
Strike it too hard and the amount the ball rolls back towards you is the distance the ball would have travelled past the hole if it hadn't been online. This version includes improved features, multi targets – there are now three aim points – and alignment stick support holder.
Available in five different colours, the base is spiked so it grips firmly to your practice putting mat. 
Check out our Best Golf Training Aids feature for further ideas.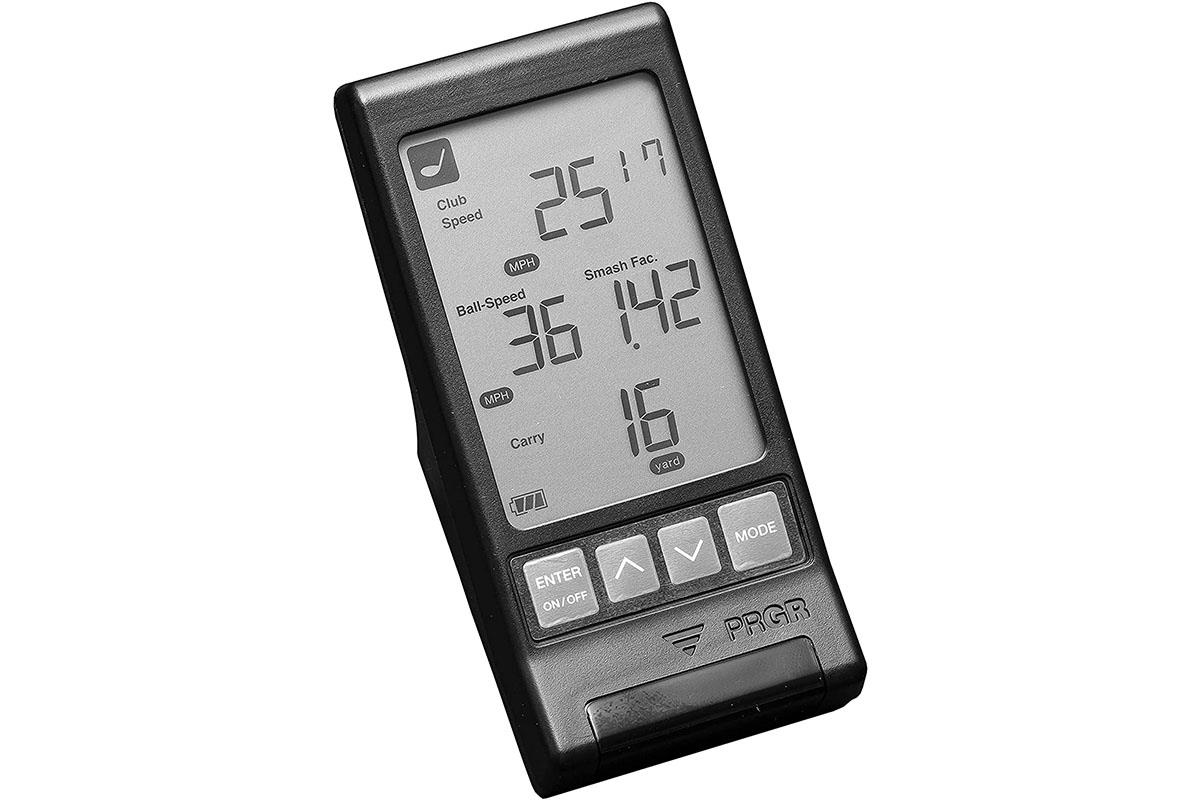 PRGR Portable Launch Monitor
£229.00 £218 | VIEW DEAL
You can pay thousands of pounds for launch monitors which does make you wonder how PRGR can produce one that costs a fraction of its more illustrious rivals.
Well by combining Doppler Radar and algorithms they have just about managed it. You get all the crucial data – swing speed, ball speed, carry distance, total distance and smash factor.
The readout is basic but when you're paying less than £250 are you really that bothered? Accuracy is what really matters and this handy little device scores well on that count. 
Check out our Best Golf Training Aids feature for further ideas.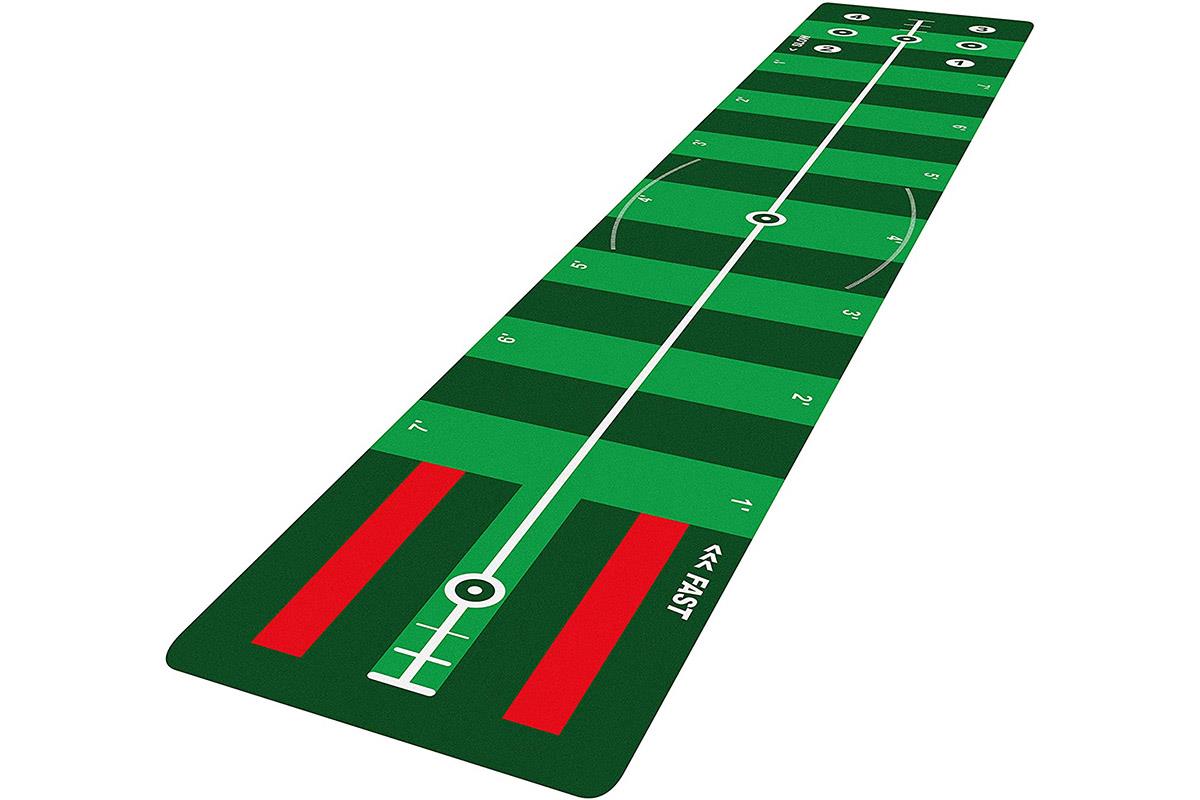 Longridge 4-Speed Track Putting Mat
£129.99 £79.99 | VIEW DEAL
At three metres long this gives you a lot of flexibility in terms of putting distances but the really clever part is the range of putting speeds.
The lower end is akin to soft spring greens (7.5 on the stimp meter) and it goes all the way up to 13 (Thursday morning at Augusta).
It's got a heavy-duty rubber backing so can be used outdoors – on concrete – and the visible ball tracing means so you can see the exact path of every putt.
Check out our feature on the Best Putting Mats for more options.
RELATED: Matt Fitzpatrick's putting lessons

PuttOut Pressure Putt Trainer
£24.99 £16.41 | VIEW DEAL
If you don't want an entire putting studio then you could just treat yourself to this superb training aid.
The Pressure Putt Trainer can used on the practice green, with other mats or just on the carpet in your lounge and helps you master pace and line.
Designed to fold down to fit easily into your golf bag, it recreates the pressure you would feel during a competitive round of golf with a micro target that will only hold putts that are bang on line and perfectly paced. If you miss the micro target, the amount the ball rolls back towards you is the distance the ball would have travelled past the hole if it hadn't been online. A very clever design from PuttOut and a bargain gift for the golfer in your life.
Available in white, orange and blue. 
Best Golf Deals: Golf Gifts & Lifestyle
Today's Golfer: One month free digital Access
£3.99 £0.00 | VIEW DEAL
For a limited time only, we are offering one-month free digital access to Today's Golfer. Read anytime, anywhere on your smartphone or tablet, PLUS, with a digital membership you'll receive member-only rewards and articles in the app. Download the Today's Golfer app now or visit Great Magazines to enjoy your first month free.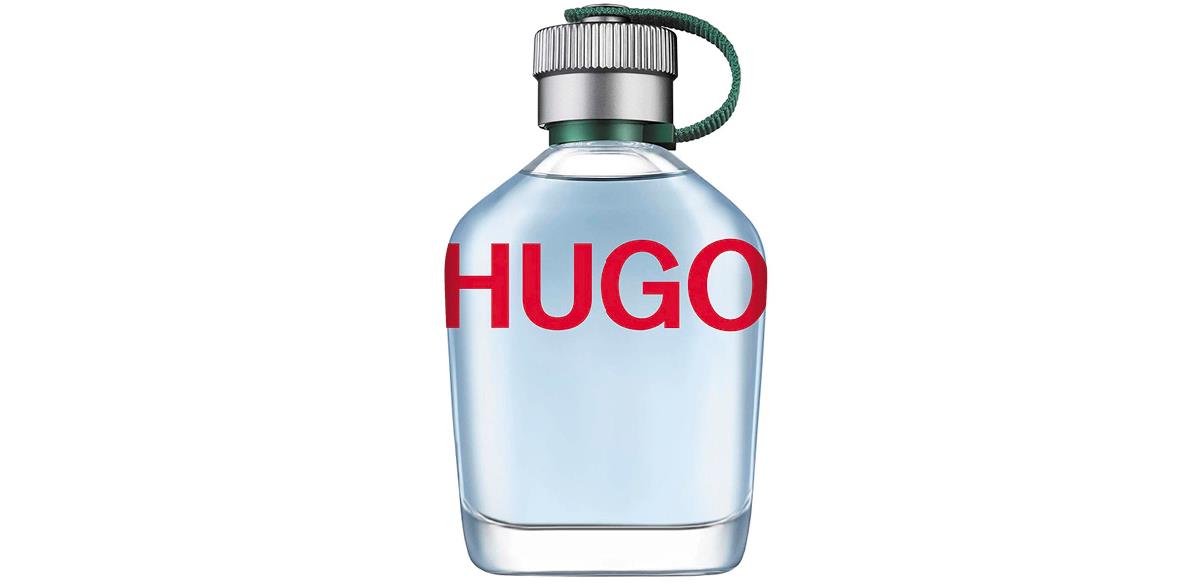 Hugo Boss: Hugo Man Eau de Toilette 125ml
£60 £41.99 | VIEW DEAL
Hugo Boss are huge in the world of golf, whether it's decking out the likes of Henrik Stenson and Martin Kaymer in their clothing or being an official partner of The Open Championship.
HUGO Man is for "men who push the boundaries" – presumably they're not referring to the Out of Bounds, otherwise most of us will be wearing it.
It delivers crisp green apple, vibrant herbal aromas and the smoky, earthy scents of a wild forest, in a sleek bottle. Ideal for a post-round refresh before dinner in the clubhouse and a perfect gift.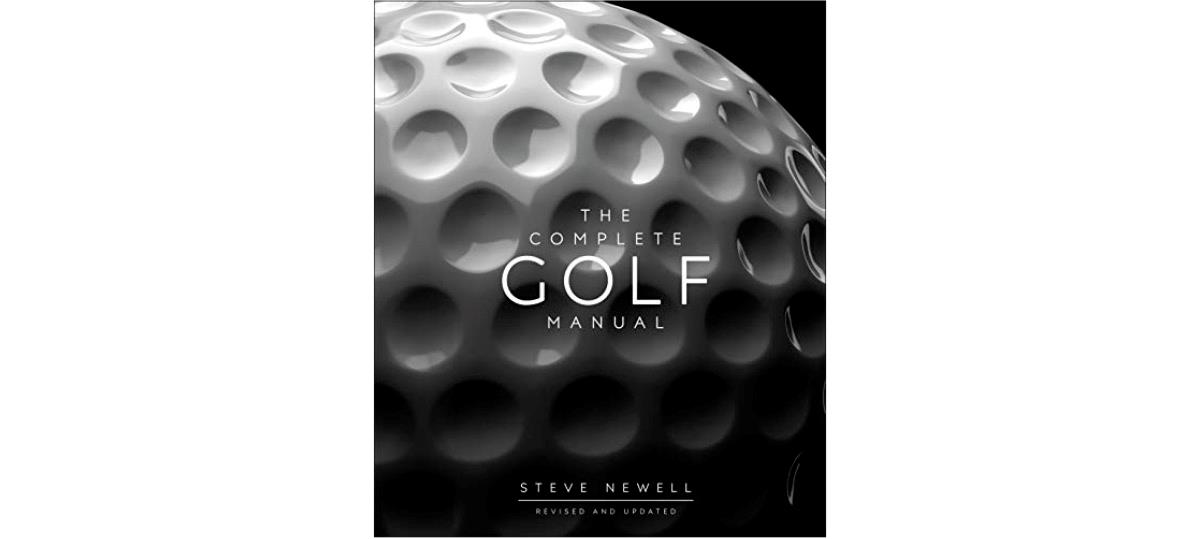 The Complete Golf Manual
£16.99 £13.15 | VIEW DEAL
Steve Newell's hardback book is a brilliant self-improvement book for any golfer who wants to get better, no matter your level. Across 352 pages, the former Golf World instruction editor shows readers exactly what it takes to achieve an effective – and repeatable – golf swing, working systematically through every type of shot, from tee shots, iron play, pitching, and chipping, to coping with bunkers and putting.
Each section includes a test to establish your level of ability and provides a series of progressive exercises designed to develop your technique. A section on the ten most common faults that can creep into your game shows you how to fix them quickly and efficiently.
Great to improve your own game or as a gift for a golfer.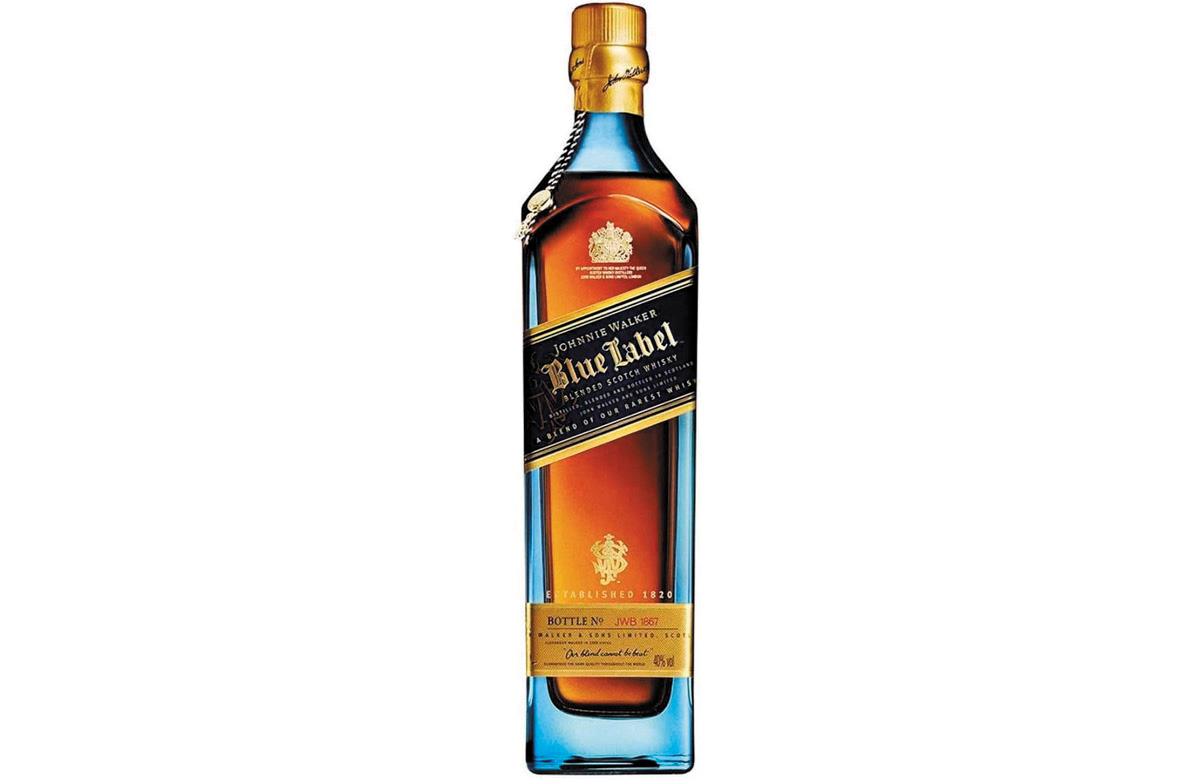 Johnnie Walker Blue Label Blended Scotch Whisky (70cl)
£182.78 £156 | VIEW DEAL
You won't find many golfers who haven't got a hip flask in their bags for those chilly mornings and cold winter rounds. And you won't find many whisky brands more synonymous with golf than Johnnie Walker.
Blue Label is a velvety smooth and vibrant whisky with layers of dried fruits and citrus smoke evolving into honey, sweet spice and vanilla. It finishes with velvety chocolate and smoke.
Best savoured neat with the palate cleansed and cooled by iced water, the Blue Label comes in a beautiful gift box and is the ideal present for a loved one this Christmas.
RELATED: Best Golf Ball Deals on Amazon
Make sure you don't miss any of them by bookmarking this page, following us on Twitter, Facebook and Instagram, and signing up to the Today's Golfer Newsletter.
Join Today's Golfer for unlimited access to premium content and exclusive rewards!
- Just so you know, whilst we may receive a commission or other compensation from the links on this page, we never allow this to influence product selections.