Best Golf Push Trolleys 2023
Published:
What are the best golf push trolleys available in 2023?
Gone are the days of pushing a metal handle into a frame – the best golf push trolleys are just as high-tech as their electric cousins.
JUMP TO: £250-£300 | £200-£249 | £150-£199 | Under £150 | Golf Trolley Buying Guide | FAQs
Most push trolleys come with a simple, fast assembly process. Couple that with the lack of need to connect a battery and push trolleys suit those golfers who like to get going straight away when they arrive at the course.
All of the big electric trolley brands also make push opens, including Motocaddy, PowaKaddy, and Stewart Golf.
If you are looking for a new trolley you should also check out our features on the Best Carts Bags and Best Electric Golf Trolleys. And you can be safe in the knowledge that we are experts when it comes to trolleys by reading our guide to how we test golf equipment.
Best Golf Push Trolleys: £250-£300
BEST GOLF PUSH TROLLEYS FOR £200-£249
Best Golf Push Trolleys: £150-£199
Best Golf Push Trolleys: £100-£149
Push Golf Trolleys: What to consider when buying a golf trolley
Push trolleys and electric golf trolleys are considered beneficial to your performance and body.
Carrying your golf bag requires you to lift and set down your clubs up to 100 times a round, placing extra weight and stress on your body which can lead to fatigue and, in some cases, injury.
And while many bag carriers claim that carrying is better for their health and fitness, Dr Neil Wolkodoff, medical director of the Colorado Centre for Health & Sports Science, believes the benefits are less pronounced than they might think.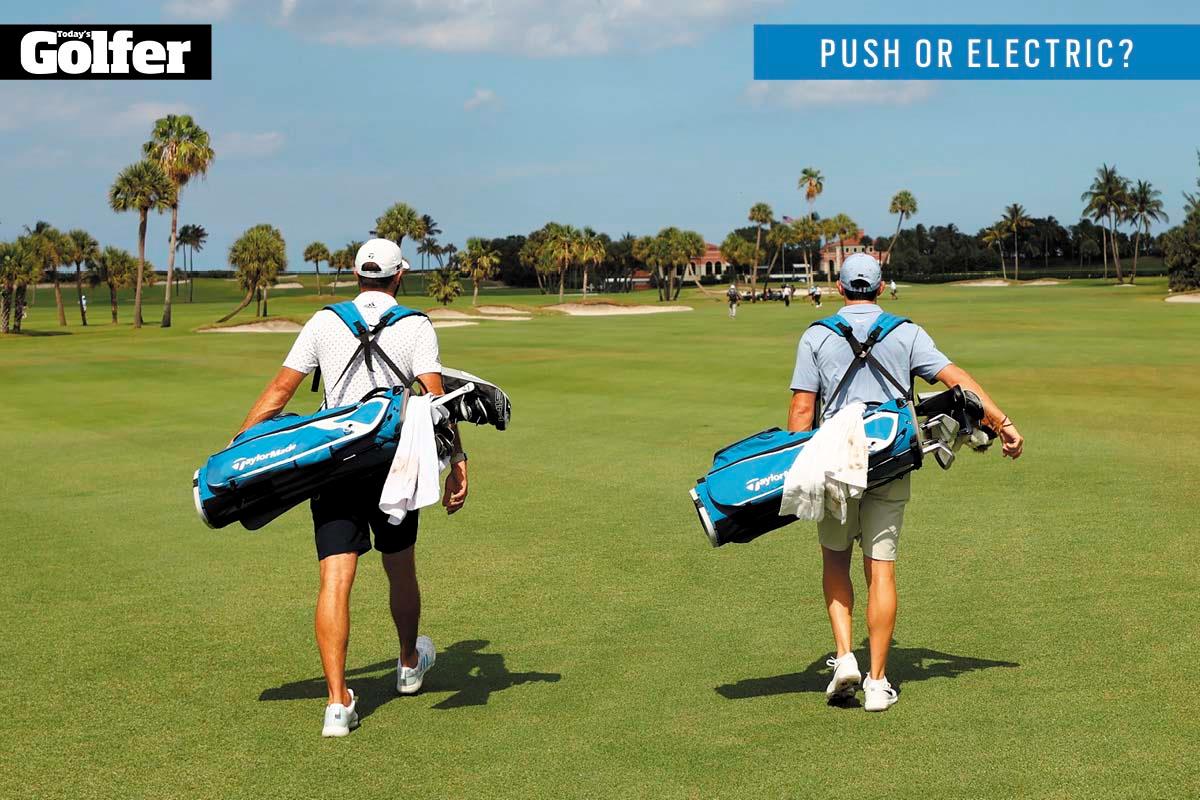 His research showed that over nine holes, golfers who carried clubs burned 721 calories, opposed to the 718 calories burned by someone who pushed their clubs.
Dr Wolkodoff said: "People who push a cart have a lot fewer health issues and a lot less potential for issues. The golf swing is tough on the back no matter how you look at it. If you can push a cart and keep one more stress away from the back, that's a great thing."
But, assuming you choose to follow the doctor's orders, should you buy an electric or push model? Our buying guide is here to help.
Price/Budget
With any product we always recommend that you set your budget before starting your shopping. That's more important than ever when it comes to trolleys with such a huge price differential between the cheapest and most expensive carts.
The good news is that there is a model for everyone, from those of you looking to spend around £100, right up to those of you willing to spend four figures. Just ensure you shop within your requirements and means.
Electric/Push
Having set your budget, the next thing to consider is whether you want (and need) an electric trolley or push cart. Electric options cost more money but come with a lot more features and are far easier to manoeuvre, especially if you play undulating courses. Push carts are much cheaper, but are usually lighter, include more storage and are and very easy to use. Plus, you don't have to remember to charge the battery before your round!
Features
Depending on how much you want to spend and what you need, there are a whole host of features available on golf trolleys. Some are multi-functional whereas some just look to perform as a cart.
All electric models come with adjustable speed control, but some will include the ability to send your cart off a set distance before it stops. Then there are models with touchscreen GPS functionality, normally pre-loaded with tens of thousands of courses across the globe, which saves you buying a separate handheld GPS or rangefinder. Many now include shot-tracking technology, so you can track your data and see where you need to improve. You'll also find things like scorecards, shot measurements and even the ability to link your phone and receive notifications via the LCD screens while you're on the course.
Where push carts often beat the best electric trolleys is the amount of storage included as standard. Many have space for your phone, balls, tees, valuables, drink, and even an umbrella. Most electric models require you to spend additional money on accessories stations which can be attached.
Ease of use and size
The reason you're buying a trolley is to make life easier when moving around on the course, so a cart that isn't easy to use is pointless. But, as well as being easy to maneuver, they need to be easy to fold and unfold and store. Most modern models feature simple one or two-step folding and unfolding processes and are surprisingly lightweight.
Be sure to consider the size. If you can fit your trolley and clubs in your car then it's not going to be right for you. And, equally, if storage space is at a premium at home then make sure you choose a more compact model or a model where the wheels can be easily removed.
Storage
As mentioned above, push trolleys include far more storage space as standard than most electric golf trolleys so make sure you're aware of this. Of course, that shouldn't stop you from buying an electric model if it suits your needs, and cart bags come with plenty of storage space, but if you want to add an umbrella holder, GPS holder, or something to hold your drink then you could be looking at further expense.
Durability
Buying one of the best golf trolleys can be a big investment so you'll want it to last a long time and deal with the various conditions we golfers face on the course – especially if you're reading in Britain! Assuming your budget allows, invest in a model that's made from strong materials like aluminum and, if you're planning to play all year round, consider buying a set of winter wheels.
Colors
Many trolleys may only offer one color option, but some brands do give you frame and wheel color choices. Just make sure the trolley you choose is in a color and design you like and will still look how you want it to when you've got a bag on it.
Bag
If you're making the move into golf trolleys then we'd always recommend buying a bag from the same brand that makes your cart because it will have been designed to perfectly fit. Some brands, like Motocaddy, make hybrid bags that can be used both on their trolleys or as a stand/carry bag. Ideal if you travel overseas for golf or ever forget to charge the battery.
Battery
If you have decided to buy an electric trolley then make sure you consider the battery life. Most brands will offer a standard lithium battery or a more expensive extended lithium battery. In our experience, the standard batteries comfortably last far more than 18 holes. But if you're someone who regularly plays 36 holes in a day or who wants to play more than one round across a weekend without charging, then we'd recommend investing slightly more in the longer-lasting model.
Warranty
Golf trolleys are an expensive investment and, while it's rare, they can go wrong because there's a lot of tech involved. Most brands offer decent warranties and, if you're buying an electric model, you'll find you get a warranty for your trolley frame and a separate warranty for the battery. Just make sure you ask or research the warranty and its conditions before making your purchase.
Push Golf Trolleys: Frequently Asked Questions
What is the best golf trolley brand?
PowaKaddy and Motocaddy are the best-known and market-leading brands. But smaller brands like Bag Boy, Sun Mountain, Stewart Golf, and MGI Golf also make some quality golf carts.
Is an electric golf trolley better than a push golf trolley?
It really depends on your needs and budget.
Electric golf trolleys are more expensive than push trolleys due to the additional technology, mechanics, and lightweight, super-powerful lithium batteries. While a push trolley is far more beneficial than carrying, an electric trolley lightens the load even further.
Many electric trolleys can also do things like charge your phone and receive your messages and notifications via their screens, while the likes of Motocaddy and PowaKaddy even produce models that include GPS, saving you from buying a separate Distance Measuring Device (DMD).
Push trolleys do tend to be smaller and lighter than electric golf trolleys, which is handy if you're short of space at home or in the car boot, and the lower price point may leave some valuable extra cash available to upgrade your golf clubs or equipment.
Do golf trolleys include all of the accessories I need?
It depends on the brand and model. Many of the best push trolleys have integrated stations with storage pouches and holders for an umbrella, drink, and scorecard included. Electric trolleys can often require you to buy the parts separately. Most brands have loads of accessories to choose from, including GPS and phone cradles, drinks and umbrella holders, rain covers, winter wheels, and trolley covers.
Do I need to buy a special golf bag for my cart?
Ideally, yes. You can use your carry bag but it may not be as secure as the cart bags which trolleys are designed to hold. Most trolleys have specific attachments to ensure your cart bag stays perfectly in place, whereas a carry/stand bag can move about and impact your trolley's performance.
If buying a Motocaddy or PowaKaddy, we'd always recommend purchasing one of the brand's own cart bags as they have been designed to fit their trolleys perfectly and are exceptionally easy to attach and remove.
Which golf trolley is quicker and easier to fold and unfold?
Most push trolleys come with a simple, fast assembly process. Couple that with the lack of need to connect a battery and push trolleys suit those golfers who like to get going straight away when they arrive at the course. They also tend to be lighter than electric trolleys.
But the technology in electric trolleys is improving every year and, realistically, the difference in assembly time is negligible.
Are push golf trolleys suitable for undulating courses?
A push trolley is still going to be far more beneficial to your game and body than carrying your bag around a hilly golf course. It will prove a little more strenuous than an electric model, which, despite being heavier, does all of the hard work for you. Just make sure the battery is fully charged!
If your heart is set on a push trolley then the models we've highlighted below are extremely lightweight and all have easy-to-use brakes, so there's no chance of your precious clubs trundling down a hill. There's even a model with four wheels for extra stability on sidehills and tricky lies.
Whatever you do, try to avoid the old-fashioned pull golf trolley as these put additional strain on one side of your body.
Are push golf carts easier to transport and store than electric models?
Even in the high-tech, modern world, weight tends to be less of an issue with push trolleys due to the lack of motors and batteries. But size really depends on the folding technology. If boot and storage space is at a premium then be sure to check the size of the trolley folded down and measure your spaces before making a purchase. The last thing you want is to splash the cash and then find it doesn't fit in your car with your clubs.
Most golf trolleys include easy-release wheels to make transportation, storage, and cleaning even easier.
READ NEXT
– Best Electric Golf Trolleys
BECOME A TODAY'S GOLFER MEMBER: Unlimited access to premium content and exclusive rewards!
- Just so you know, whilst we may receive a commission or other compensation from the links on this page, we never allow this to influence product selections.