Best Electric Golf Trolleys 2023
Published:
We review the best electric golf trolleys to help wheel into action the right model for your needs and budget in 2023.
The best electric golf trolley for you will depend on your budget, the features you want, how much you are worried about the weight and size, and the type of battery that suits your playing needs.
If you want a trolley but aren't sold on electric then make sure you check out our guide to the best golf push trolleys too. And whichever trolley you choose to buy, you'll need a bag to match, so head over to our best golf cart bags guide for some inspiration.
And if you are thinking about switching to a trolley but have concerns over losing the health benefits of carrying your bag, you might be interested to hear that research has evidenced players expend the same amount of energy using electric and push trolleys as they do carrying their clubs. The exercise is in the walk itself!
So, without further ado, here's our pick of the best electric golf trolleys on the market right now to help you choose the model that's best for you. 
The popular M3 trolleys from Motocaddy have received a technological upgrade for the 2022 season, with the addition of a new dynamic green view which updates to display the shape of the green being played, plus the ability to move the flag position on its high-res 2.8″ LCD touchscreen display for accurate shot planning.

They can also connect to the Motocaddy GPS app via Bluetooth for optional smartphone alerts, plus course and software updates.

Incorporating a lightweight waterproof Lithium battery, the compact M-Series is powered by an incredibly reliable, next-generation 28V system, while the space-saving inverting wheels allow the trolley to fold down to a compact size to fit even the smallest of car boots for easy transportation and storage.

The trolley handle is fully adjustable to any height for maximum on-course comfort and the brand's innovative Easilock bag-to-trolley connection system removes the need for a lower bag strap. All models also feature a USB charging port, a convenient auto-open stand, and oversized tubing for ultimate handle stability as standard.

You also get yardages for more than 40,000 preloaded courses with front, middle and back distances. The adjustable distance control up to 60 yards in five-yard increments is also very helpful.

For an extra £50, on either version, you can pay for an Ultra Lithium battery and you can get it in graphite or lime coloring.
| | |
| --- | --- |
| Weight: | 10.4kg |
| Folded Size: | 650mm x 470mm x 410 mm |
| Warranty: | Two years |
| Display: | 2.8" |
Stewart Golf's electric trolleys are very much like Bentleys – they're made in Britain with high-quality materials, you don't see them at every turn and new models only come to market after years of hard work and innovation. And that's exactly the case with the new Q Follow, or "the leader in follow" as Stewart Golf describes their new premium model.

Years of ideas and development have created the world's most compact "follow" trolley, coming in at just 545mm high, 600mm wide and 318mm deep when folded. It is made from a super-strong yet ultra-light new honeycomb composite material, with its production process ensuring the finish of every Q Follow is unique.

Seventh-generation "Follow" electronics mean this trolley will go wherever you go, within a 50m range, following the Bluetooth remote that attaches to your belt or back trouser pocket, adjusting to your pace and stopping when you do.

You can also use the USB-rechargeable remote to bring the trolley to you when you've found a ball in the rough, maneuver the Q Follow over bridges and around the green, or send it on to the next tee as you putt, adjusting the speed easily and bringing it to a halt at the push of a button.

It can also be used like a traditional electric model when required by attaching the remote to a catch above the handle and steering it manually.

The new trolley uses a specially developed stabilizer bar, meaning it won't topple over when it follows you to find your ball after you've carved it into the hills or down a slope off the tee!

The innovative stabilizer, which automatically deploys and retracts during the trolley's simple folding and unfolding process, works with the Q Follow's low center of gravity to keep it stable and upright even on undulating slopes and steep hills.

Each trolley features a carbon fiber finish on the handle, main support, undertray, and wheel arches to add a premium touch, while a new carry handle makes the trolley easy to carry and lift in and out of the car with just one hand.
The innovative new design also allows the trolley to stand safely on its end for further ease of transportation and storage.

Stewart's easy-to-use new 36-hole plug-and-play lithium battery comes as standard and it also links up with their new free smartphone app which allows you to check exactly how much charge you have left and the health of your battery before you set out for another round.

As you'd expect from a premium product, the Q Follow has all the usual features of a top-of-the-range model; Scorecard holder, soft-touch handle and bag strap, handset storage, anti-twist locking bag key, four accessory points, cruise control, quick-release wheels, and an umbrella holder mount, all of which come as standard.
| | |
| --- | --- |
| Weight: | 14.1kg |
| Folded Size: | 545mm x 600mm x 318mm |
| Warranty: | Two years |
The CT8 GPS joins the CT6 in PowaKaddy's compact range and boasts a fully integrated GPS, accessible via an entirely new 3.5-inch full-color touchscreen display.

It headlines what is set to be an exciting year of launches for PowaKaddy, the world's leading electric trolley brand, with new electric trolleys, push trolleys, and bags set to follow. Find out what we believe are the best PowaKaddy golf trolleys.

The CT8 GPS is the latest addition to the brand's compact range, following the success of the best-selling CT6, and comes pre-loaded with more than 40,000 worldwide golf courses, with no annual fees or subscriptions needed, while the Bluetooth-connected app allows for quick golf course updates.

It automatically locates your course, advances between holes, and provides fast yardages to the front, center, and back of the green. In addition, the CT8's new widescreen display, which is the largest seen on a PowaKaddy compact trolley and offers a range of excellent features including a scorecard, stroke index information (for both men and women), Active Green View to show the green's shape, and Drop Flag technology to give accurate and precise distance measurement to any pin position.

PowaKaddy's simple 2-fold system allows it to fold 20% smaller than the previous C2i model, and 35% smaller than its closest competitor, while the 30v 230w motor is powerful and impressively quiet.

The CT8 has a height-adjustable soft touch handle and uses the same anti-tamper dial found in the CT6, along with the Automatic Distance Function, allowing you to send the trolley ahead or to the next tee.

PowaKaddy's 'plug 'n' play' battery is the thinnest, lightest, and most powerful lithium battery on the market and ensures there are no wires to connect, while the top-mounted and easy access on/off switch and simple battery release latch makes it supremely simple to use.

Alongside the standard CT8 GPS, there is an EBS (Electronic Braking System) version, priced at £50 more. The self-sensing EBS automatically slows the trolley on steep inclines and is ideal for those who regularly play undulating courses.

Both are available with standard lithium batteries or, if you like to play more than 18 holes or get more than one round out of a charge, there are XL lithium battery options.
| | |
| --- | --- |
| Weight: | 9.9kg |
| Folded Size: | 510mm x 425mm x 375mm |
| Warranty: | Three years |
| Display: | 3.5″ colour |
The S1 is the cheapest electric golf trolley Motocaddy offer at present, but that doesn't mean it's a bare-bones model. The S1 is a great trolley for any golfer who wants nothing more than to get around the course with ease, we at TG have devised a list to help you find what Motocaddy trolley is best for you.

It won an Editor's Choice Award in our 2020 TG Awards and Motocaddy says it's been the world's best-selling electric golf trolley over the past decade.

The latest S1 model offers the world's quickest-ever 1-step folding system and a next-generation, high-power 28V system that's more powerful, efficient, and reliable than ever before.

Standout features include an LCD widescreen display, adjustable distance control, a USB charging port, ambidextrous wheels, and oversized tubing for ultimate stability.

The Motocaddy S1 is ideal for golfers wanting an electric trolley on a budget, or those who simply want an easy-to-use trolley without some of the extra features offered by Motocaddy's more premium models. 
| | |
| --- | --- |
| Weight: | 9.4kg |
| Folded Size: | 830mm x 490mm x 370mm |
| Warranty: | Two years |
Stewart originally launched the iconically-shaped trolley to critical acclaim as the X1 Remote in 2003 and have constantly evolved the product, with X3, X5, and X7 models before the groundbreaking X9 Follow was released in 2014.

Now the X10 sees significant upgrades with Remote and Follow models. Both benefit from the same EcoDrive motor technology that was launched with the Q Follow, meaning they are up to 40% more efficient than the outgoing version. This means that the X10 battery will give users 40 percent more golf than previous versions for each charge. 

In addition, the X10 benefits from the latest electronics system that is now manufactured in Great Britain after being 're-shored' from Europe last year.

The X10 Follow features the latest seventh generation of Stewart Golf's proprietary Follow system, featuring dedicated electronic calibration which results in the most accurate and reliable Follow experience to date.

A new electronics assembly area at the Stewart factory ensures each handset is optimized and matched to the trolley's main electronics system using a bespoke autotuning system.
| | |
| --- | --- |
| Weight: | 14.1kg |
| Folded Size: | 820mm x 660mm x 320mm |
| Warranty: | Two years |
PowaKaddy's new-and-improved 2021 range puts a premium on intelligence and simplicity of use.

The new Freeway collection is headlined by the all-new FX7 GPS, the world's first GPS electric golf trolley to feature touchscreen technology.

When it comes to spending at this price point on a trolley it can be hard to know which suits you best. TG has compared what the PowaKaddy FX7 GPS and the Motocaddy M5 GPS both offer in a head-to-head to help you pick.

The company's flagship model now comes complete with a stunning upgraded 3.5" full-color widescreen display that allows the user to easily swipe between screens. The new touchscreen-integrated GPS system provides golfers with fast and accurate distances to greens and hazards on over 40,000 golf courses worldwide.

It has an RRP of £799.99 for the standard lithium battery model, £849.99 for the standard lithium model with Electric Breaking System, £849.99 for the extended XL lithium battery model, and £899.99 for the Electric Breaking System with extended XL lithium battery model.

With a cutting-edge design and seamless technological integrations, the new PowaKaddy FX7 is the most intelligent electric golf trolley of its kind. It features an all-new digital screen upgrade, that delivers an even sharper experience while also allowing golfers to count calories and set automatic stopping distances.

It has an RRP of £679.99 for the standard lithium battery model, £729.99 for the standard lithium model with Electric Breaking System, £729.99 for the extended XL lithium battery model, and £779.99 for the Electric Breaking System with extended XL lithium battery model.
| | |
| --- | --- |
| Weight: | 9.6kg |
| Folded Size: | 805mm x 560mm x 346mm |
| Warranty: | Three years (five years battery) |
| Screen Size: | 3.5″ colour |
A new entry into the electric golf trolley market and one that is seriously clever. It needs to be when you are shelling out north of £2,000 but Flat Cat's German-engineered offering certainly solves a lot of potential 'issues' those considering buying an electric trolley have.

The stand-out feature is the ease of use. The Flat Cat Hybrid is idiot-proof and I don't use that term lightly. If it takes you longer than three seconds to pack it away, you are lingering too long. Space-wise the fact it is only 18cm deep makes it extremely helpful when you have limited boot space.

The other stand-out element is the efficiency of the relatively small battery. It gives you 6 hours of use on a full charge without the bulkiness of other models. That also leads to the logistics of getting it in and out of your car. All the trolley manufacturers have been working hard to make their electric versions lighter and less cumbersome but this model is on another level.

The materials used are, also, all industry-leading which means you also get a piece of golf kit that is incredibly strong and will last a very long time. 

There is also some clever technology regarding distance control and the trolley can be sent 20, 30, or 200 meters at the touch of a button. 
| | |
| --- | --- |
| Weight: | 9.8kg |
| Folded Size: | 840mm x 580mm x 180mm |
| Warranty: | Two years |
The American company's remote control electric trolley is a tough old operator so if you play on a course with interesting terrain, then the MGI Zip Navigator is definitely one to consider.

On the flip side, it is at the heavy end of the spectrum and for those who struggle now, it would be worth double-checking you are physically able to get in and out of the car.

That apart it comes with the full bells and whistles you would expect from an electric trolley of this price while the remote-control function is very responsive. You also get a patented Gyroscope Straight Tracker feature which ensures your trolley will stay in a straight line regardless of the slopes it is tackling. On top of that the downhill speed control is very helpful.

It folds down into a relatively small footprint and the battery life promises two rounds which, coming from an American company – the land of five-hour fourballs –  gives you plenty of peace of mind. 
| | |
| --- | --- |
| Weight: | 15.9kg |
| Folded Size: | 690mm x 470mm x 420mm |
| Warranty: | Three years |
The M5 GPS trolley – the world's first touchscreen GPS electric model – will continue with its game-changing features following a phenomenally successful launch last year and will incorporate styling upgrades, including new sporty slimline ambidextrous wheels.

A fully integrated GPS system built into a super-responsive hi-res 3.5" touchscreen display, provides golfers with access to course mapping across more than 40,000 pre-loaded courses worldwide.

The all-weather screen features a dynamic green view which updates to display the shape of every hole being played along with front, middle and back distances, plus hazards and the ability to 'drag and drop' the flag positions on the screen. Clock, round timer, and score tracking are also available, plus the par of each hole, the ability to measure a shot, automatic hole advancement, and a battery indicator. Potential life-saving defibrillator (AED) locations at the course can be found on the screen, as well as crucial CPR instructions for playing partners.

When connected to the free Motocaddy GPS app, golfers can also receive a wide range of smartphone notifications direct to the touch screen, alerting them to a call, text message, email, or range of app alerts, including WhatsApp and Facebook. A preview of message alerts can also be read on-screen. The smartphone can be securely placed in a golf bag pocket or charged using the trolley's patented USB charging port.

In addition to the new cellular capabilities, other connectivity features include super-fast Over‑the‑Air course and system updates via the built-in WiFi connection.

Both models will be available this month in a graphite frame with blue trim, with the M5 GPS' RRP at £799.99 (Standard Lithium) and £849.99 (Ultra Lithium) and the M5 GPS DHC's RRP at £849.99 (Standard Lithium) and £899.99 (Ultra Lithium).
| | |
| --- | --- |
| Weight: | 10.5kg |
| Folded Size: | 650mm x 470mm x 410mm |
| Warranty: | Two years |
| Screen Size: | 3.5″ colour touch |
The brand-new Motocaddy M-Tech is the flagship model in the award-winning M-Series range. Motocaddy say it combines unrivaled functionality with luxury finishes and striking design.

A new high-resolution 3.5" LCD touchscreen display is added to hand-stitched genuine leather handle grips, polished chrome detailing, and carbon-fiber styling available exclusively to M-TECH owners.

Featuring the Motocaddy's award-winning downhill control technology, the golf trolley automatically maintains a constant speed while moving down a gradient, thanks to a special single motor that offers downhill braking, coupled with an electronic parking brake.

The M-Tech features a super-lightweight high-capacity 36+ Lithium battery and next-generation, high-power 28V electronics along with other game-enhancing functions, including a USB charging port; Adjustable Distance Control (up to 60 yards or meters); a clock and round timer; shot measurement; score tracking; fully adjustable handle height; plus nine-speed settings that enable the golfer to set the trolley at the perfect walking pace.

It also incorporates the world's simplest compact-folding system and space-saving inverted wheels – allowing it to fit into the smallest car boots. The brand's exclusive Easilock bag-to-trolley connection system removes the need for a lower bag strap.

The Motocaddy M-Tech electric golf trolley will be available in April in a stealthy Black frame with polished chrome detailing at an RRP of £1,299.99 including an extended three-year warranty for complete peace of mind.
| | |
| --- | --- |
| Weight: | 11.4kg |
| Folded Size: | 650mm x 470mm x 410mm |
| Warranty: | Three years |
Designed as your starting point in electric golf trolleys, the new PowaKaddy FX3 provides simplicity without compromising on unbeatable performance and reliability. This entry-level model features a 2.3" full-color widescreen display, as well as an anti-tamper dial control and a height-adjustable soft handle.

It has an RRP of £549.99 for the standard lithium battery model, £599.99 for the standard lithium model with Electric Breaking System, £599.99 for the extended XL lithium battery model, and £649.99 for the Electric Breaking System with extended XL lithium battery model.
| | |
| --- | --- |
| Weight: | 9.6kg |
| Folded Size: | 805mm x 560mm x 346mm |
| Warranty: | Two years |
Best Electric Trolleys:
Buying Guide
Push trolleys and electric golf trolleys are considered beneficial to your performance and body.
Carrying your golf bag requires you to lift and set down your clubs up to 100 times a round, placing extra weight and stress on your body which can lead to fatigue and, in some cases, injury.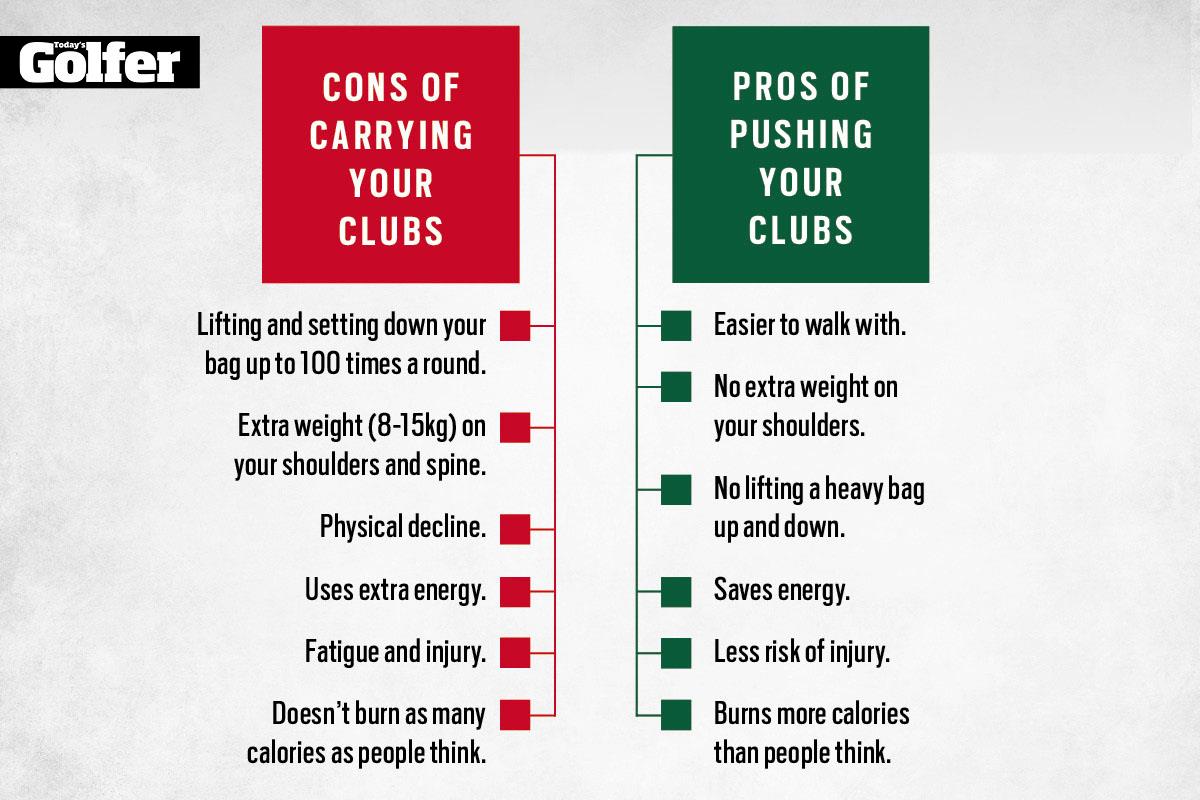 And while many bag carriers claim that carrying is better for their health and fitness, Dr. Neil Wolkodoff, medical director of the Colorado Centre for Health & Sports Science, believes the benefits are less pronounced than they might think.
His research showed that over nine holes, golfers who carried clubs burned 721 calories, as opposed to the 718 calories burned by someone who pushed their clubs.
Dr. Wolkodoff said: "People who push a cart have a lot fewer health issues and a lot less potential for issues. The golf swing is tough on the back no matter how you look at it. If you can push a cart and keep one more stress away from the back, that's a great thing."
But, assuming you choose to follow the doctor's orders, should you buy an electric or push model? We answer all of your golf trolley buying questions below and pick out the best push trolleys on the market.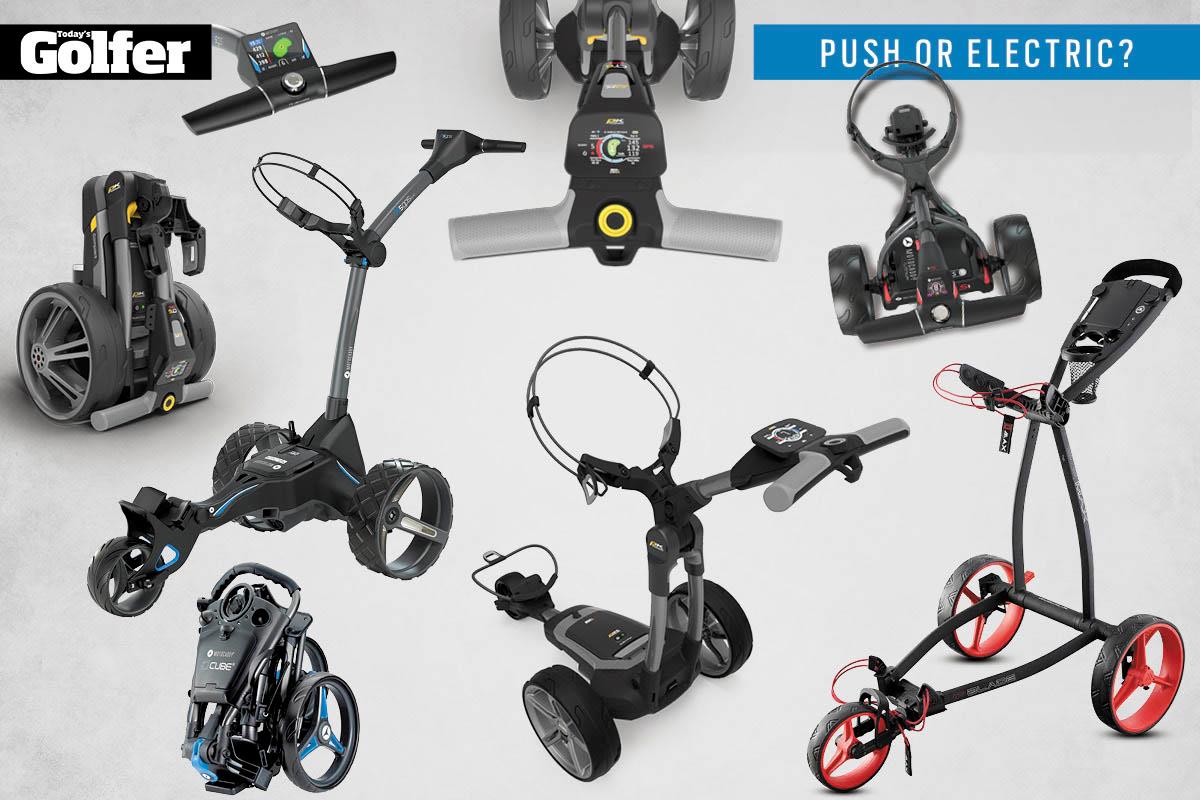 Is an electric golf trolley better than a push golf trolley?
It really depends on your needs and budget.
Electric golf trolleys are more expensive than push trolleys due to the additional technology, mechanics, and lightweight, super-powerful lithium batteries. While a push trolley is far more beneficial than carrying, an electric trolley lightens the load even further.
Many electric trolleys can also do things like charge your phone and receive your messages and notifications via their screens, while the likes of Motocaddy and PowaKaddy even produce models that include GPS, saving you from buying a separate Distance Measuring Device (DMD).
Push trolleys do tend to be smaller and lighter than electric golf trolleys, which is handy if you're short of space at home or in the car boot, and the lower price point may leave some valuable extra cash available to upgrade your golf clubs or equipment.
Do golf trolleys include all of the accessories I need?
It depends on the brand and model. Many of the best push trolleys have integrated stations with storage pouches and holders for an umbrella, drink and scorecard included. Electric trolleys can often require you to buy the parts separately. Most brands have loads of accessories to choose from, including GPS and phone cradles, drinks and umbrella holders, rain covers, winter wheels, and trolley covers.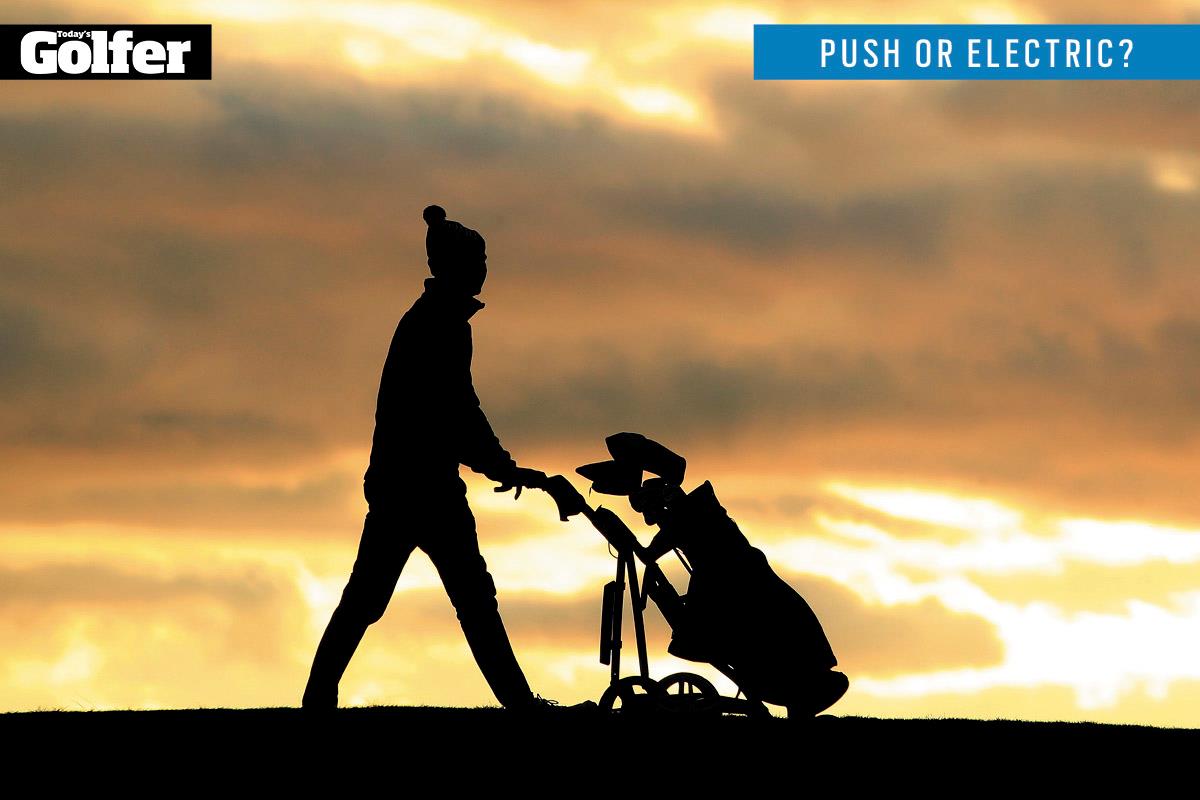 Which golf trolley is quicker and easier to fold and unfold?
Most push trolleys come with a simple, fast assembly process, as you'll see below. Couple that with the lack of need to connect a battery and push trolleys suit those golfers who like to get going straight away when they arrive at the course. They also tend to be lighter than electric trolleys.
But the technology in electric trolleys is improving every year and, realistically, the difference in assembly time is negligible.
Are push golf trolleys suitable for undulating courses?
A push trolley is still going to be far more beneficial to your game and body than carrying your bag around a hilly golf course. It will prove a little more strenuous than an electric model, which, despite being heavier, does all of the hard work for you. Just make sure the battery is fully charged!
If your heart is set on a push trolley then the models we've highlighted below are extremely lightweight and all have easy-to-use brakes, so there's no chance of your precious clubs trundling down a hill. There's even a model with four wheels for extra stability on sidehills and tricky lies.
Whatever you do, try to avoid the old-fashioned pull golf trolley as these put additional strain on one side of your body.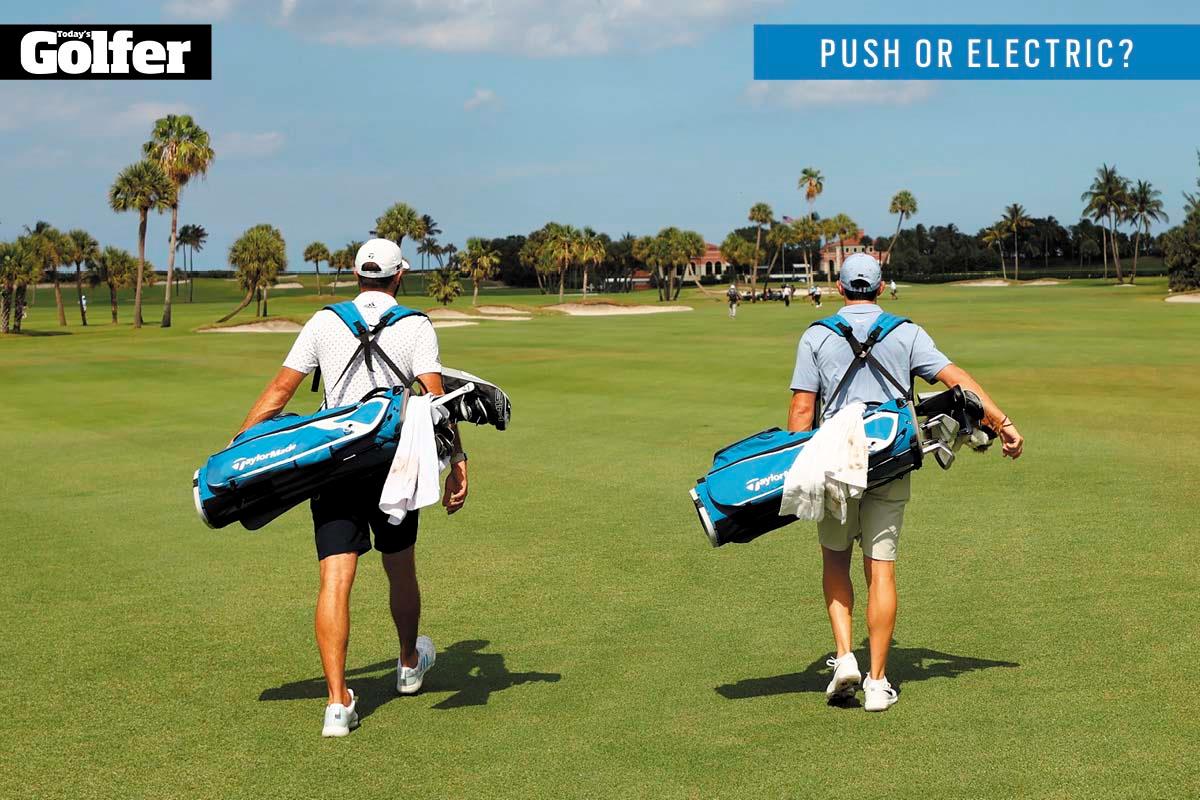 Are push golf trolleys easier to transport and store than electric models?
Even in the high-tech, modern world, weight tends to be less of an issue with push trolleys due to the lack of motors and battery. But size really depends on the folding technology. If boot and storage space is at a premium then be sure to check the size of the trolley folded down and measure your spaces before making a purchase. The last thing you want is to splash the cash and then find it doesn't fit in your car with your clubs.
Most golf trolleys include easy-release wheels to make transportation, storage, and cleaning even easier.
BECOME A TODAY'S GOLFER MEMBER: Unlimited access to premium content and exclusive rewards!
- Just so you know, whilst we may receive a commission or other compensation from the links on this page, we never allow this to influence product selections.