Best Golf Polo Shirts
Published:
Which are the best golf polo shirts?
Jump to: Men's | Ladies | Best of 2021
Golf polo shirts have changed a lot in the last decade thanks to performance fabrics, a variety of fits and modern tech.
Now they are designed to deal with extreme temperatures, manage sweat, remain breathable, look good, provide ultimate comfort and ensure we can swing freely!
But don't forget, good layering is key to good performance on the golf course, so be sure to check out our guides to the best base layers, golf mid layers and waterproof golf jackets and thermal jackets.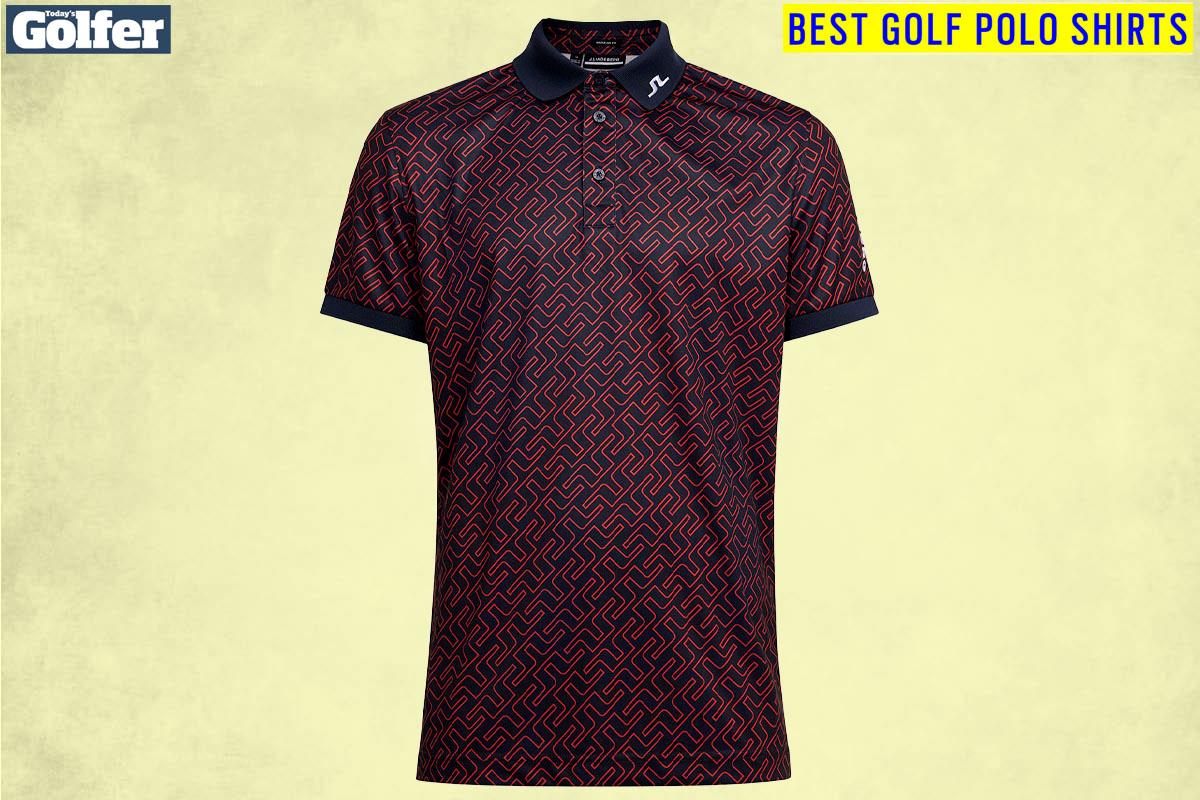 J.Lindeberg Tour Tech Polo Shirt
RRP: £69.99 | VIEW OFFER
Colours: Ketchup Bridge Monogram; Navy | Sizes: S-XXL
J.Lindeberg know their stuff when it comes to style and the Swedish manufacturers are also very good when it comes to practicality. We all have a particular manufacturer who just provides the right fit and for me, it is J.Lindeberg.
The four-way stretch, combined with a deceptively cosy feel around the collar, gets you off to a good start. The material is fast-drying and also offers moisture transportation when the going gets hot.
It is also Oekotex certified so no worries regarding harmful substances being used in the production.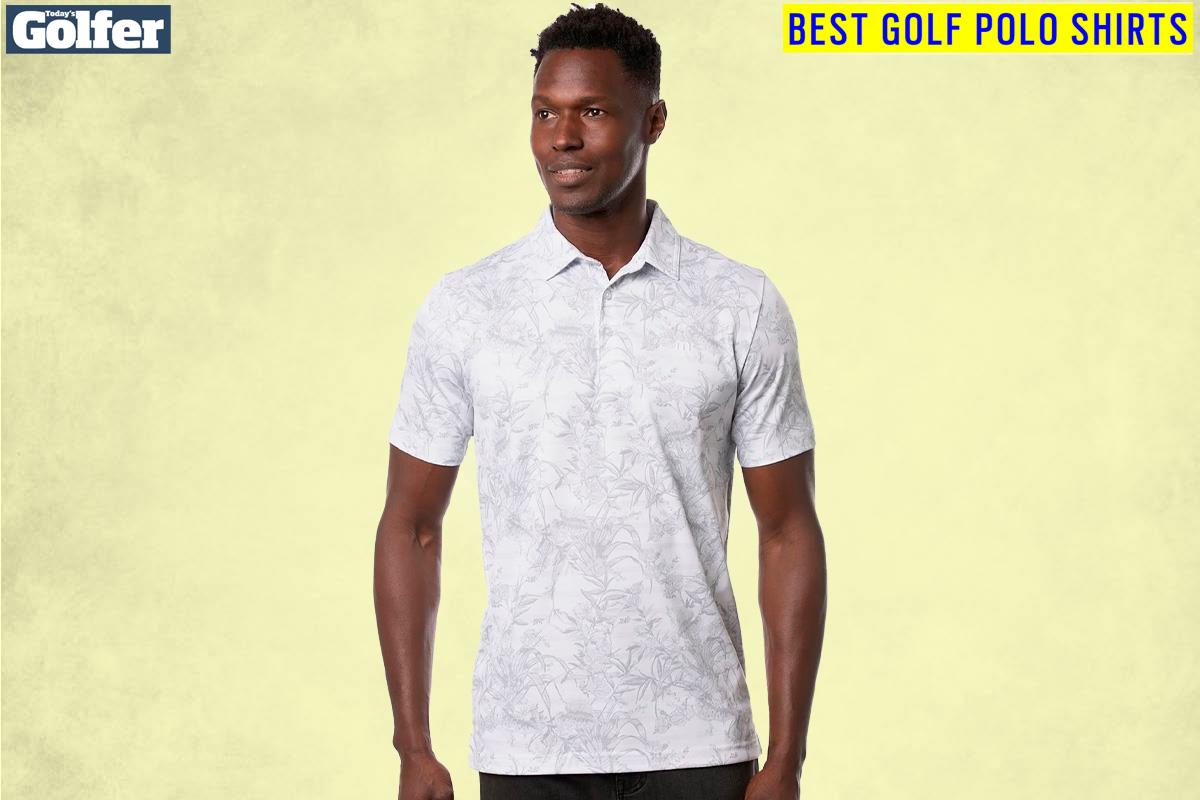 Travis Mathew Stay On Target Golf Polo Shirt
RRP: £74.99 | VIEW OFFER
Colours: White | Sizes: S-XXL
There is a hint of Hawaii shirt about this elegant offering from Travis Mathew but another polo shirt feels great on.
It is made with a combination of polyester and cotton so you get a bit of toughness and comfort. The collar is built-in so will stay in shape and is part of the popular Life Of The Party collection.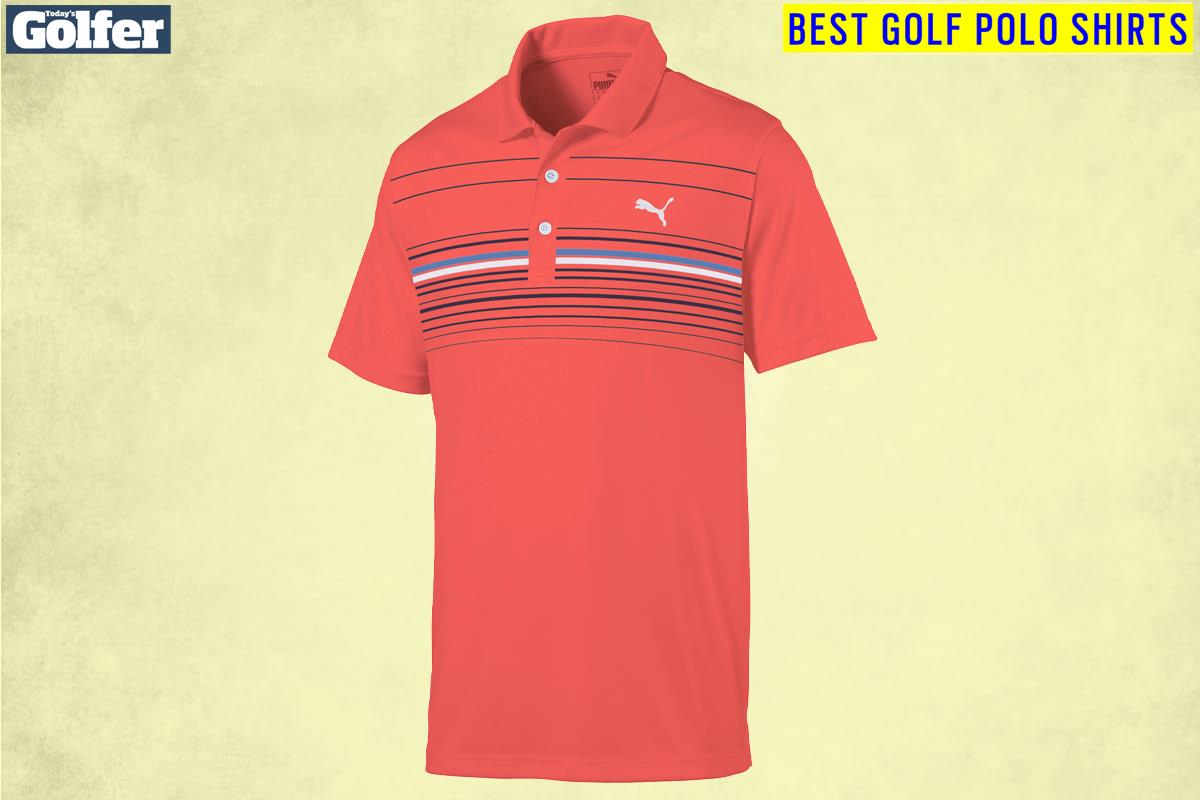 Puma Mattr Canyon Polo Shirt
RRP: £39.00 | VIEW OFFER
Colours: Bright White + Hot Coral; Hot Coral + Bright Cobalt; Navy Blazer + Chalk Pink | Sizes: S-XXL
Quite an understating offering from Puma, a company known for bold dashes of colour, but one that also has a bit of a retro vibe.
The German company are also trying to improve their sustainability credentials and the shirt is made from 92% recycled polyester. The other 8% is elastane, which gives it its healthy four-way stretch feature.
With all that polyester you get a lightweight and fast-drying piece of golf apparel plus it is highly breathable and moisture-wicking technology helps you stay cool when the sun shines.
RELATED: Best Puma Golf Shoes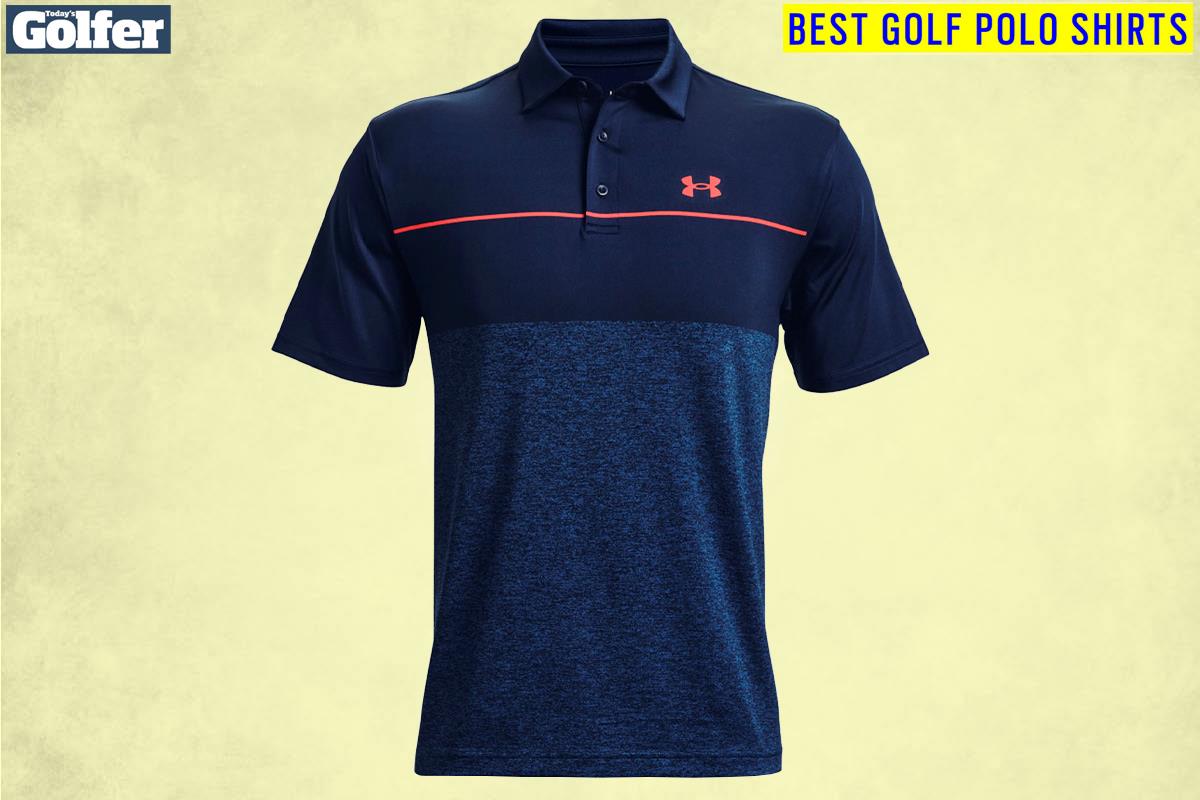 Under Armour Play Off 2.0 Low Round Polo Shirt
RRP: £44.99 | VIEW OFFER
Colours: Academy + Victory Blue; Cerulean + Neptune; Fresco Blue; Red + Academy; Blue + Rush Red Tint; Academy + Rush Red; Rush Red + Academy; Academy + Cerulean; Academy + Pitch Grey; Academy + Neptune; White; Black + White; Black + Hendrix | Sizes: S-XXL
Under Armour never stint on features, whatever it is making and this shirt of many colours and patterns certainly has that.
On top of the more common features you find in modern polo shirts is some very clever anti-dour technology and UPF protection 30+. It is designed to be fit loose but also contains elastane so afford the wearer plenty of give.
RELATED: Best Under Armour Golf Shoes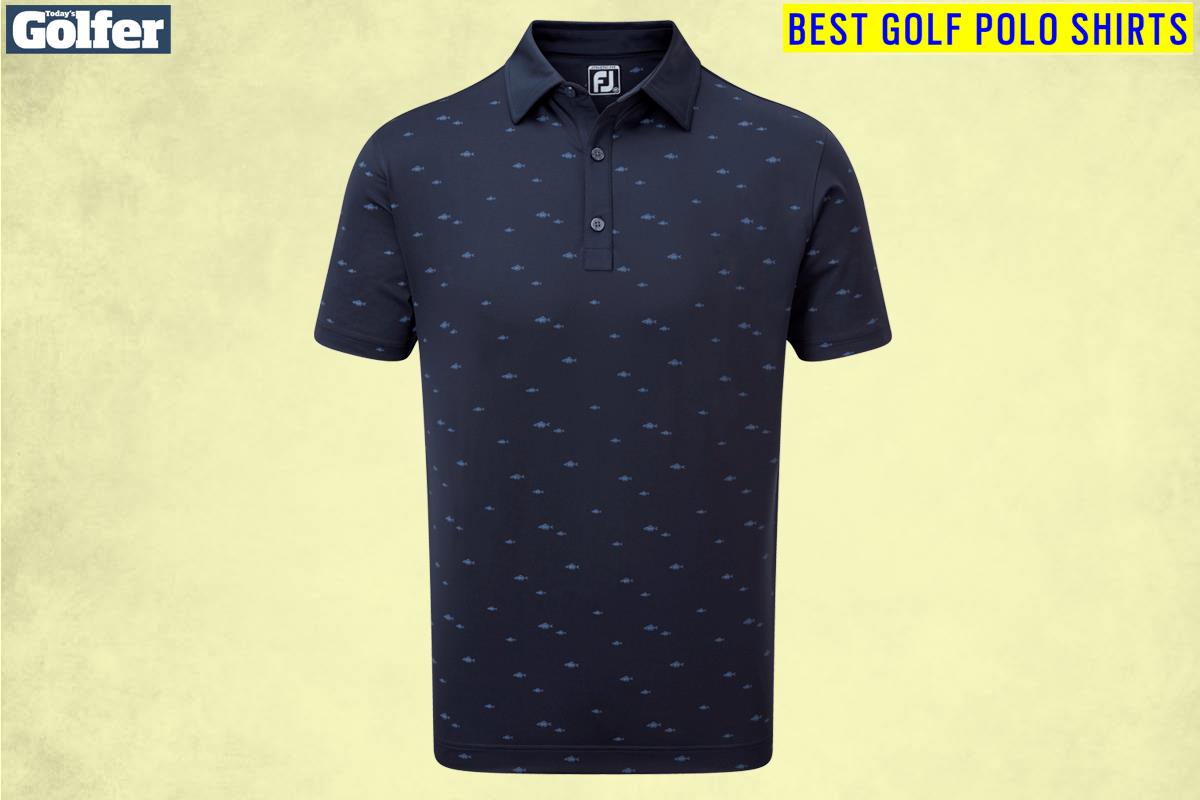 Footjoy School Of Fish Print Lisle Golf Polo Shirt
RRP: £49.99 | VIEW OFFER
Colours: Navy; Coral; Ink 88388 | Sizes: S-XXL
Footjoy have really come to the party in terms of golf clothing and this line, which features tiny fish print, is another excellent offering.
Most modern polo shirts have plenty of give but this one is particularly stretchy thanks to the spandex element in the material. Also comes under the easy-care category so no ironing required and the 30 UV protection will ensure it bold colouring will stay that way indefinitely.
RELATED: Best Footjoy Golf Shoes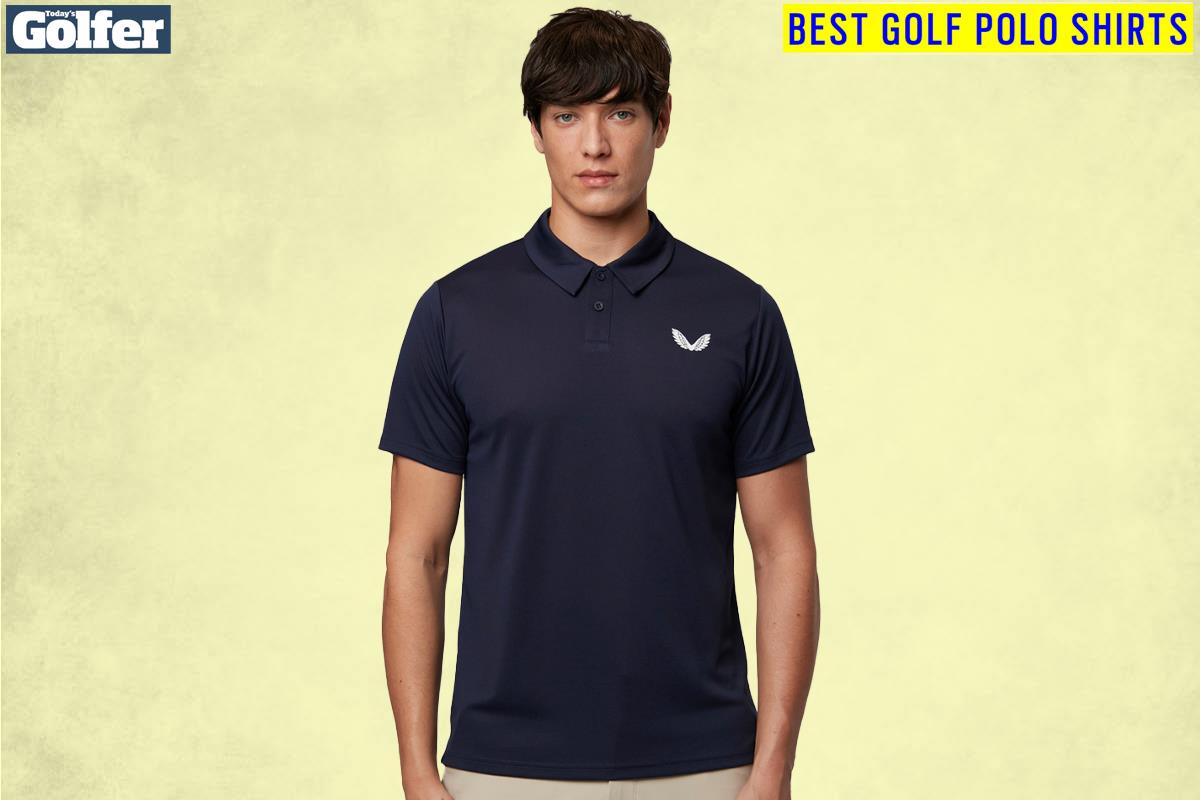 Castore Peacoat Tota Golf Performance Short Sleeve Polo Shirt
RRP: £48.00 | VIEW OFFER
Colours: Navy; Grey; Red; Blue; Olive Green | Sizes: XS-XXL
Castore is one of the British commercial success stories of the last five years. In no time at all, the clothing company has grown into a major player across a range of sports.
Having just signed up Matt Fitzpatrick, golf is a market in which it is looking to make giant strides and this polo shirt is typical of its style. On and off the course they look great. It has been designed with all aspects of the swing movement in mind and the anti-odour technology is always welcome.
Galvin Green Max Polo Shirt
RRP: £59.00 | VIEW OFFER
Colours: Sharkskin; Bluebell; Green; White; Black; Navy; Pink; Red; Lime | Sizes: S-XXXL
A shirt of many colours, the new Max from Galvin Green looks simple but this unfussy-yet-elegant offering is full of good ideas.
The company's Ventil8 Plus technology is incorporated so you get lots of breathability and moisture removal as part of a great-looking polo shirt.
Galvin Green is also one of the few companies to go to XXXL but for those bigger players, it is a shirt with lots of give regardless.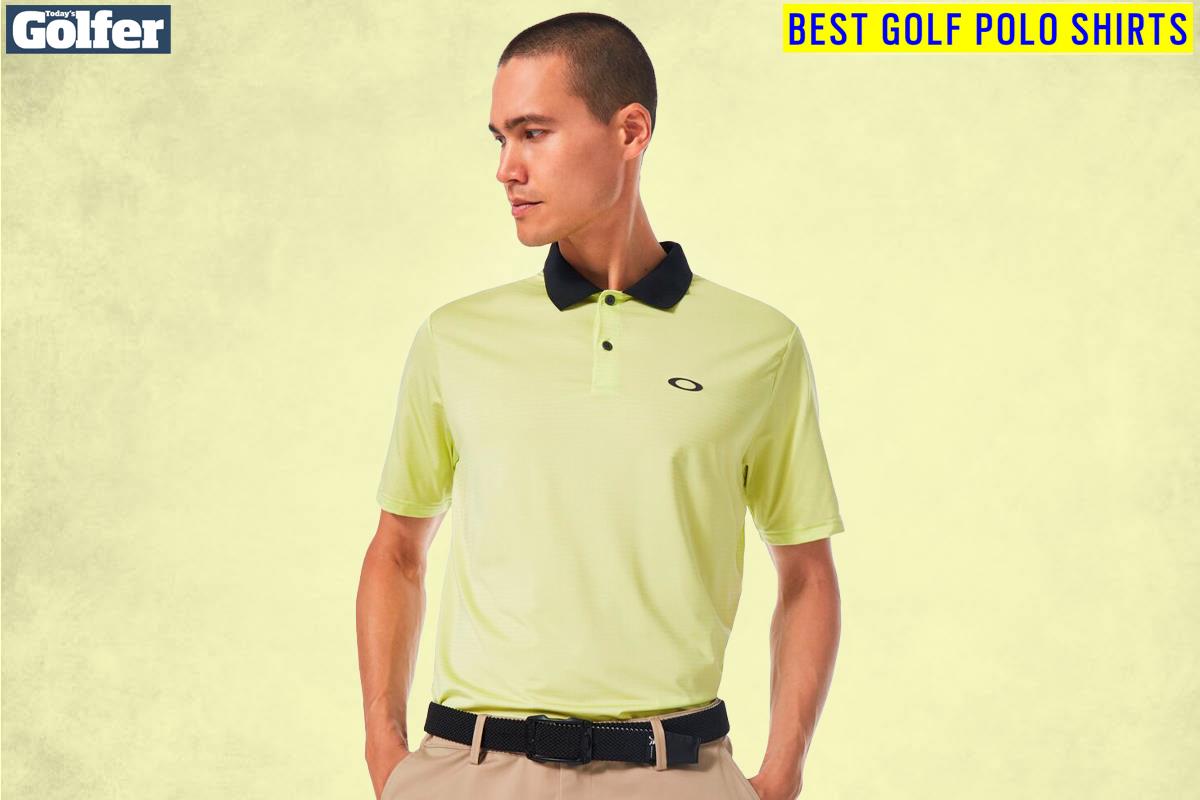 Oakley Divisional Print Golf Polo Shirt
RRP: £48 | VIEW OFFER
Colours: Sunny Lime; Light Emerald; Ozone | Sizes: S-XL
Another shirt that is environmentally-friendly in as much as 87% of it is made up of recycled polyester.
Style-wise it certainly is pretty stand-out and a polo shirt you might expect to see on a polo field.
Oakley is pretty proud of its innovations and its Hydrolix moisture management system is works well to keep you cool and dry.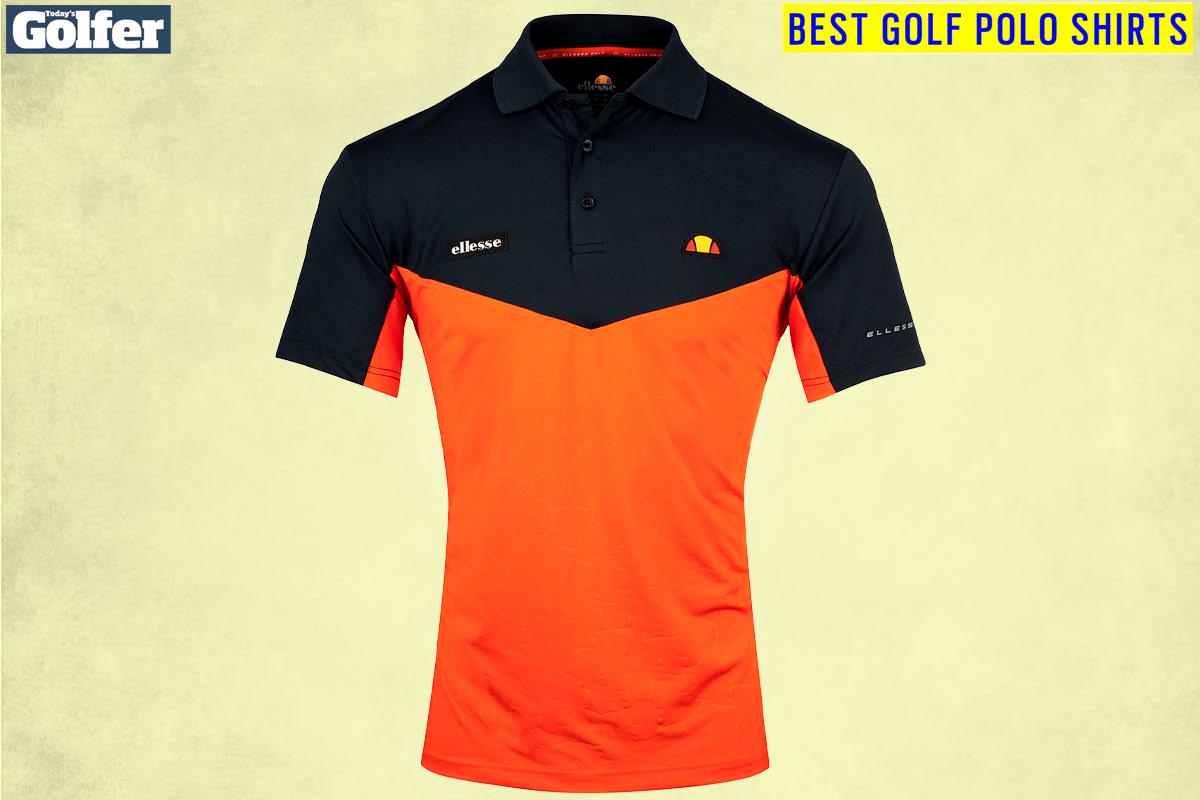 Ellesse Insina Print Polo Shirt
RRP: £39.99 | VIEW OFFER
Colours: Orange + Black; White + Black | Sizes: S-XL
Italian styling has always had a good reputation and this is certainly brought to bear by Ellesse with its Insina shirt.
It just oozes class…the lines; the cut; everything says stylish. A significantly large 12% of the Insina is elastane so you also get lots of give and those, with the body to pull it off, will appreciate the oipportunity to wear something pretty tight fitting but not restrictive.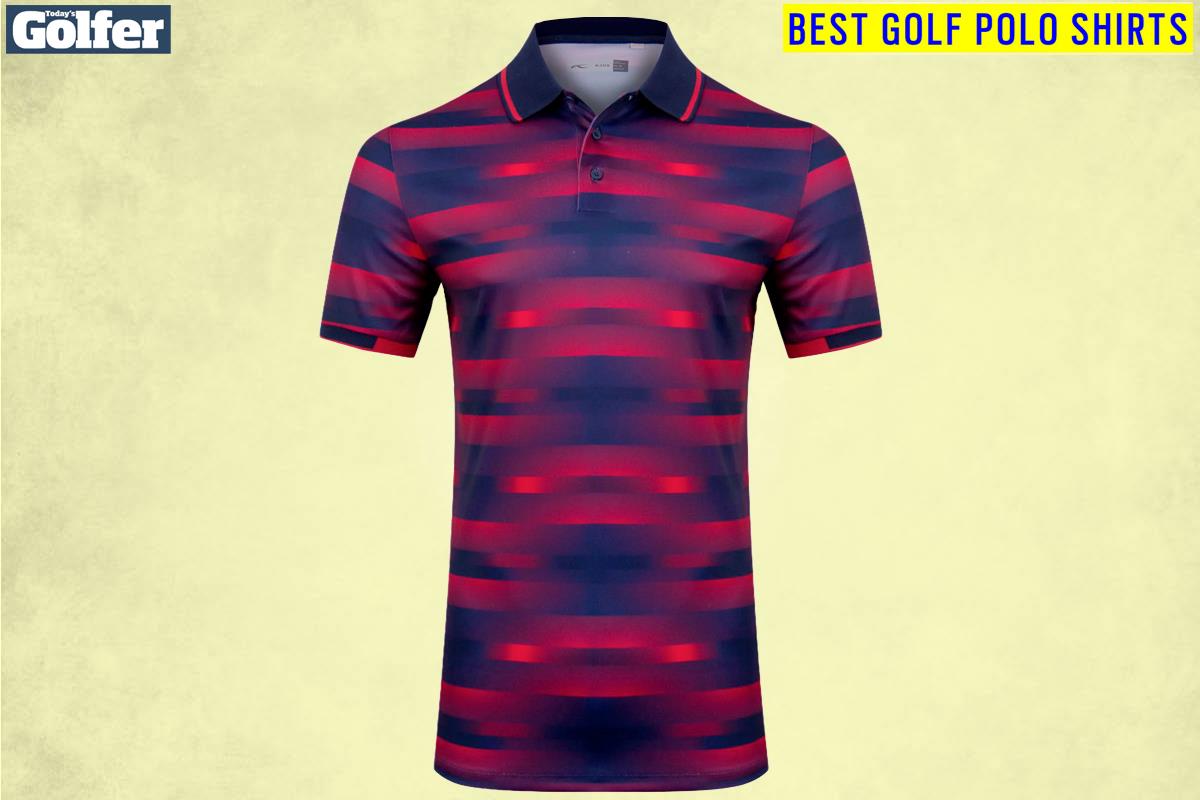 Kjus Spot Printed Golf Polo Shirt
RRP: £89.00 | VIEW OFFER
Colours: Alloy + Atlanta Blue; Alloy + White; Atlanta Blue + Cardinal; Atlanta Blue + Blueberry; Blueberry + Atlanta Blue; Cardinal + Atlanta Blue; Blue + Crystal Blue; Grey + Black; White + Spring Green | Sizes: S-XXL
Items from Kjus are never cheap but you do get plenty for your money and the two-way stretch fabric is just one helpful element.
The collection features nine striking designs and interestingly there is no seam across the top of the shoulder which is designed to increase comfort levels.
Overall it is a beautifully comfortable polo shirt and it is also well protected with UPF50+ UV integrated into the material.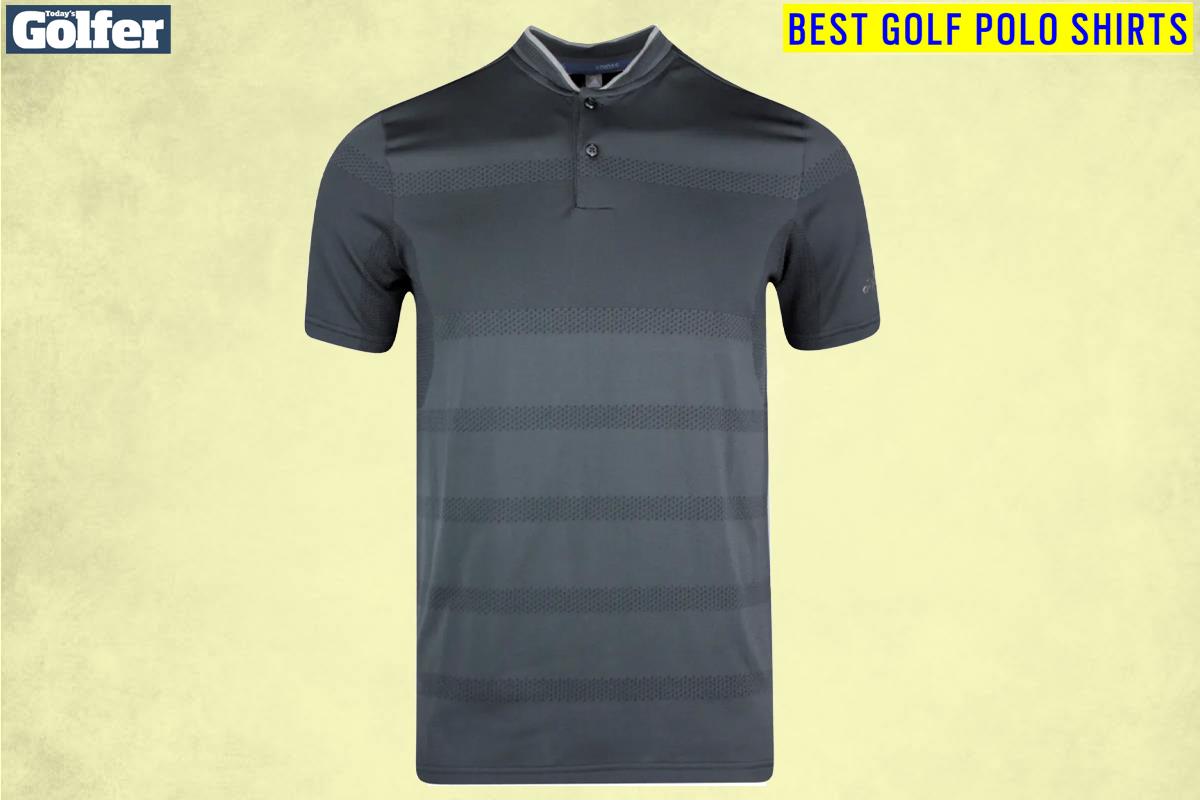 Adidas Statement Seamless Polo Shirt
RRP: £49.95 | VIEW OFFER
Colours: Carbon + Black; Almost Pink + Clear Lilac; Night Marine + Night Navy | Sizes: S-XXL
A shirt where you start feeling cooler just looking at it. The Statement polo shirt from adidas is certain to have broad appeal to those who play a lot of warm weather golf.
Adidas's Primeknit process oozes ventilation and the mesh design ensures, on even the hottest days, you won't overheat. The seamless styling and understated collar are also modern without putting off the traditionalists too much.
It is also made from 74% recycled polyester and 26 recycled nylon so one with excellent sustainability credentials as well.
RELATED: Best adidas Golf Shoes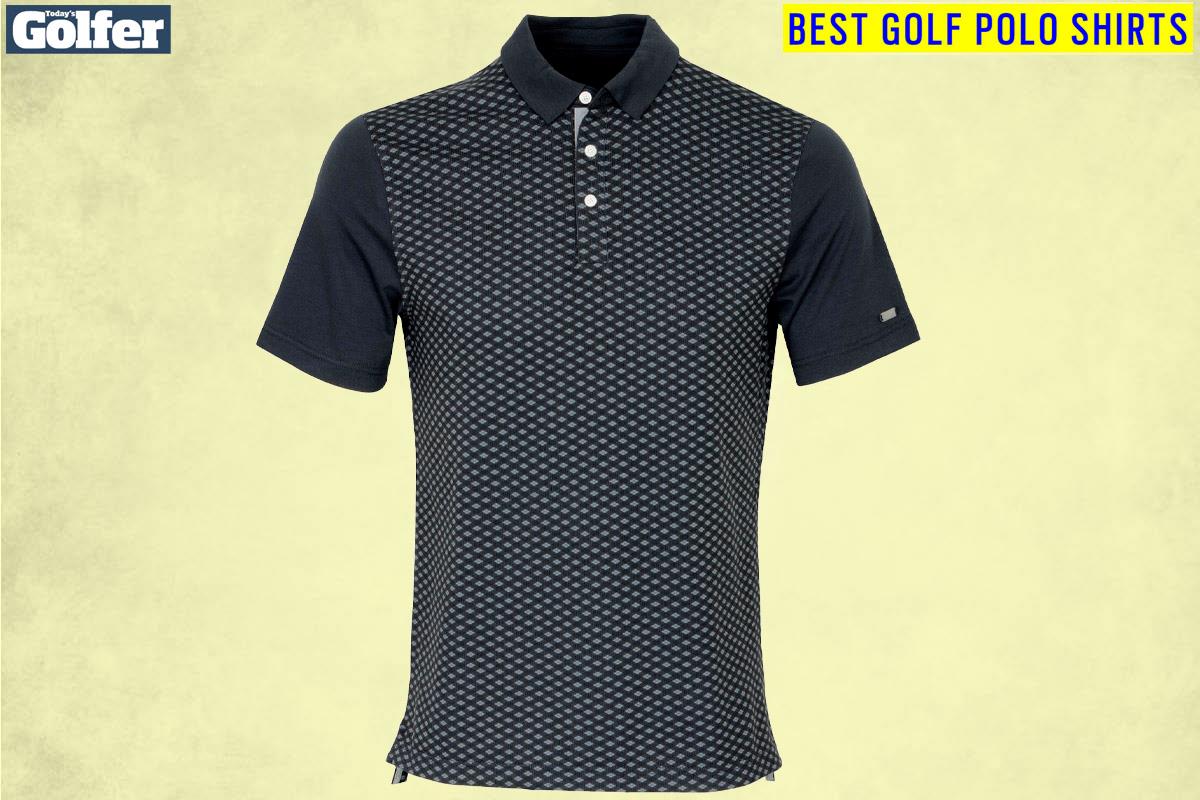 Nike DF Player Argyle Prt Polo Shirt
RRP: £64.95 | VIEW OFFER
Colours: Grey + Silver; Teal + Silver; Pink + Silver | Sizes: S-XXL
It could be a shirt worn on a night out but as per normal, Nike cleverly walks the fine line between just over egging it and producing something vibrant and fresh.
The Argyle is 52% cotton so feels fantastic. It is also made with four-way stretch, moisture-wicking and dry-fit technology.
The Argyle print won't be to everyone's tastes but that, together with the rest of the prominent styling features, will ensure this is a popular polo shirt for Nike.
RELATED: Best Nike Golf Shoes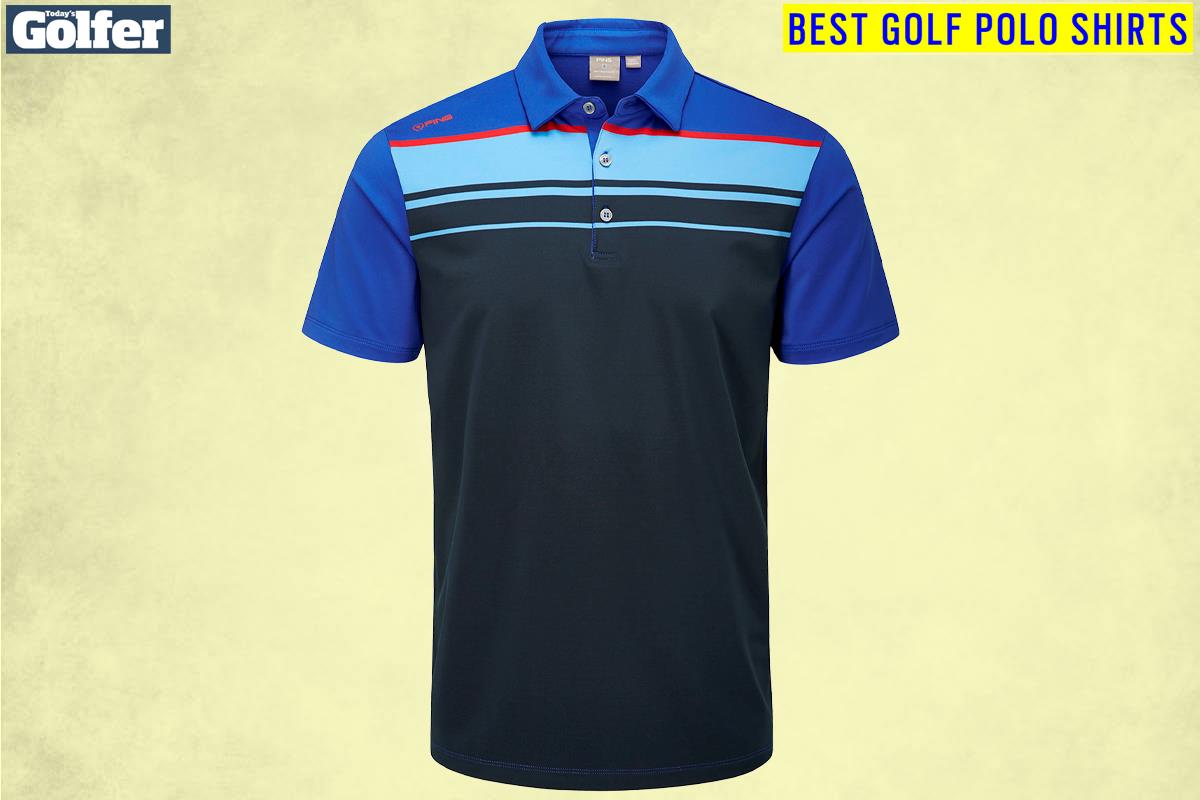 Ping Sinclair Polo Shirt
RRP: £54.99 | VIEW OFFER
Colours: Blue + surf multi; White | Sizes: S-XXL
Looks wise it all feels very Mark James (circa 1982) but quite a few of the major golf players are producing retro clothing . There is a clean white version for those who don't like colouration on the mainly blue option but critically it is another polo shirt designed for warm weather golf.
Ping's SensorCool performance material is designed to cope in extreme heat (so above 18 degrees in Northern England) and is also very low maintenance. No ironing is required, so a great option if you are planning to play somewhere really hot (Southern Spain, Portugal etc).
It is made up of 8% elastane so lots of freedom to move is a guarantee plus you get the increasingly-standard moisture-wicking to help you stay dry when you work up a sweat.
RELATED: Best Ping Irons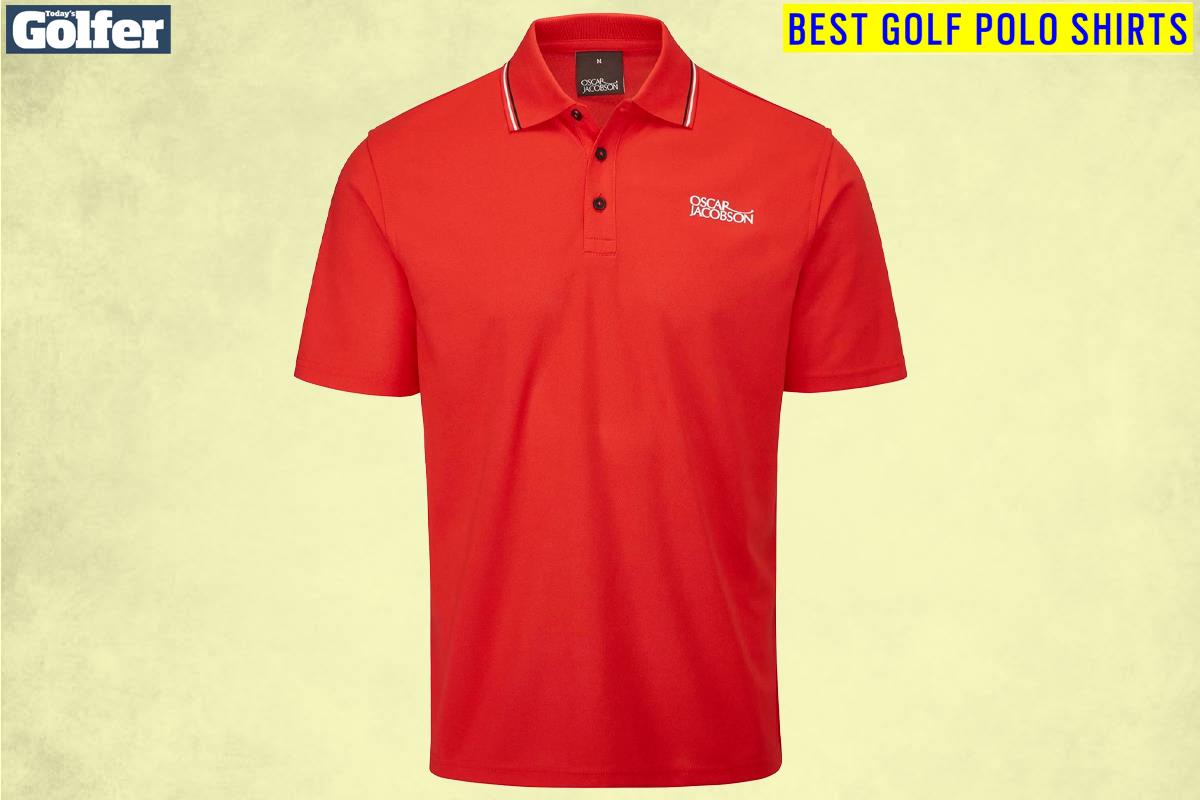 Oscar Jacobson Stanley Polo Shirt
RRP: £49.99 | VIEW OFFER
Colours: True Blue; Fiery Red; Fuchsia; Iron Grey; Tropical; French Blue; Vibrant Orange | Sizes: S-XXXL
A quintessential polo shirt with some vibrant colour and the overall effect is wholly positive. Whether it Fuchsia or Iron Grey, you'd happily take any one of these fabulous-looking polo shirts.
The lining on the collar is class while OJ's own lightweight micro pique fabric construction is designed to maximise breathability and freedom of movement.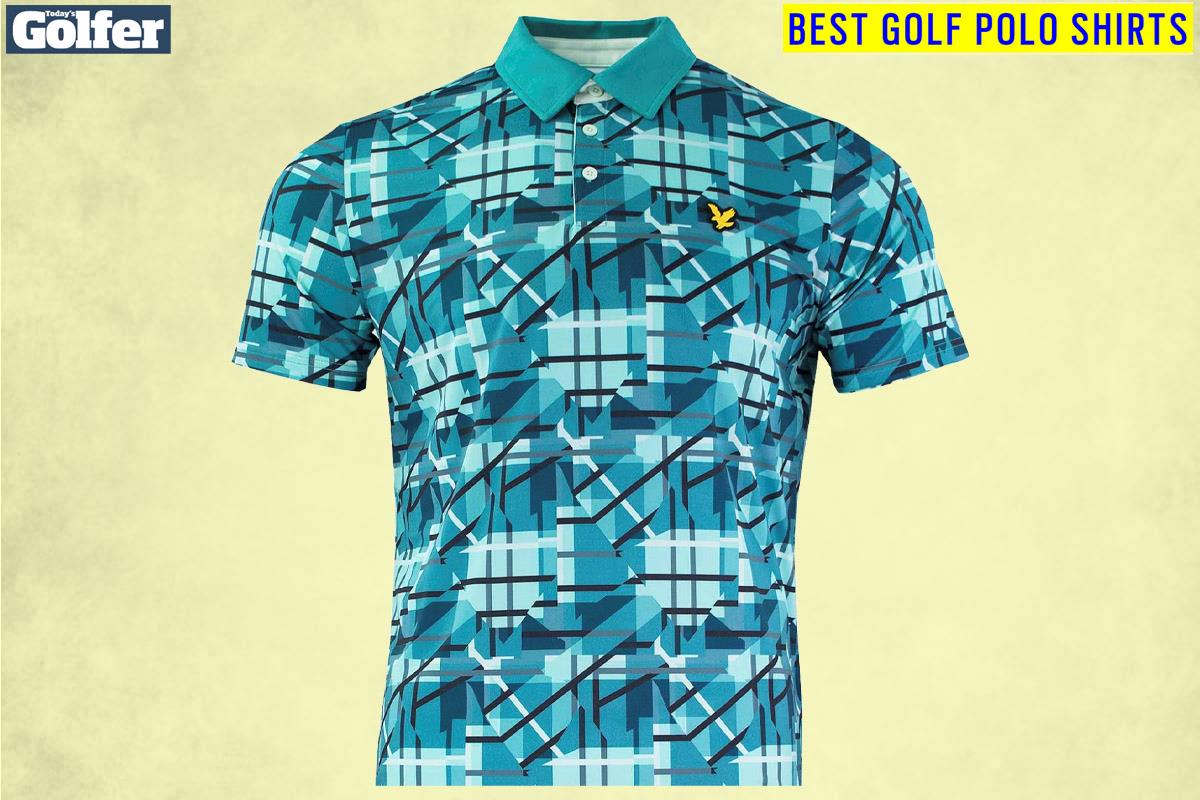 Lyle & Scott Deconstructed Tartan Polo Shirts
RRP: £58.95 | VIEW OFFER
Colours: Pink; Retro Blue | Sizes: S-XXL
Another golf polo shirt that is a bit of throwback. You could imagine Tom Watson wearing this while plotting his way around the sun-baked fairways of Turnberry.
The prints have been inspired by Lyle & Scott's Scottish roots and, while it is bold, it is not too tartan-dense. The designers have done a great job to produce a golf product that is certain to have mass appeal.
The collar, in particular, feels great and you quickly appreciate you are wearing and beautifully crafted bit of kit.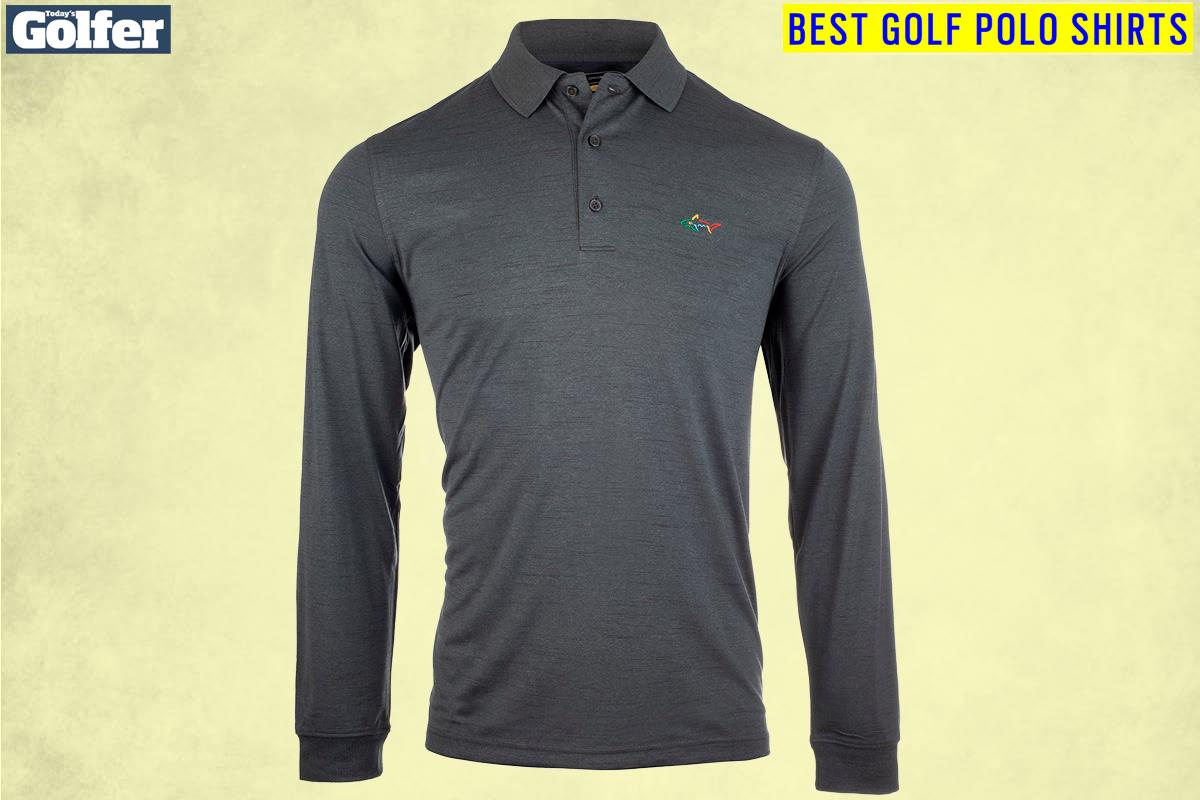 Greg Norman Space Dye Long Sleeve Polo Shirt
RRP: £34.99 | VIEW OFFER
Colours: Grey; Dark Ocean; Zinfandel; Navy Blue | Sizes: S-XXL
The long sleeve polo shirt is a bit of a dying breed but they are very handy for slightly cooler days, especially if you like the extra bit of freedom of movement you get from wearing just one layer.
The Greg Norman range is extensive now – the Great White Shark clearly likes to stay busy – and this is one of its excellent value-for-money offerings. All his range of shirts sit in the £20-£30 bracket so it is not a big surprise they are selling well.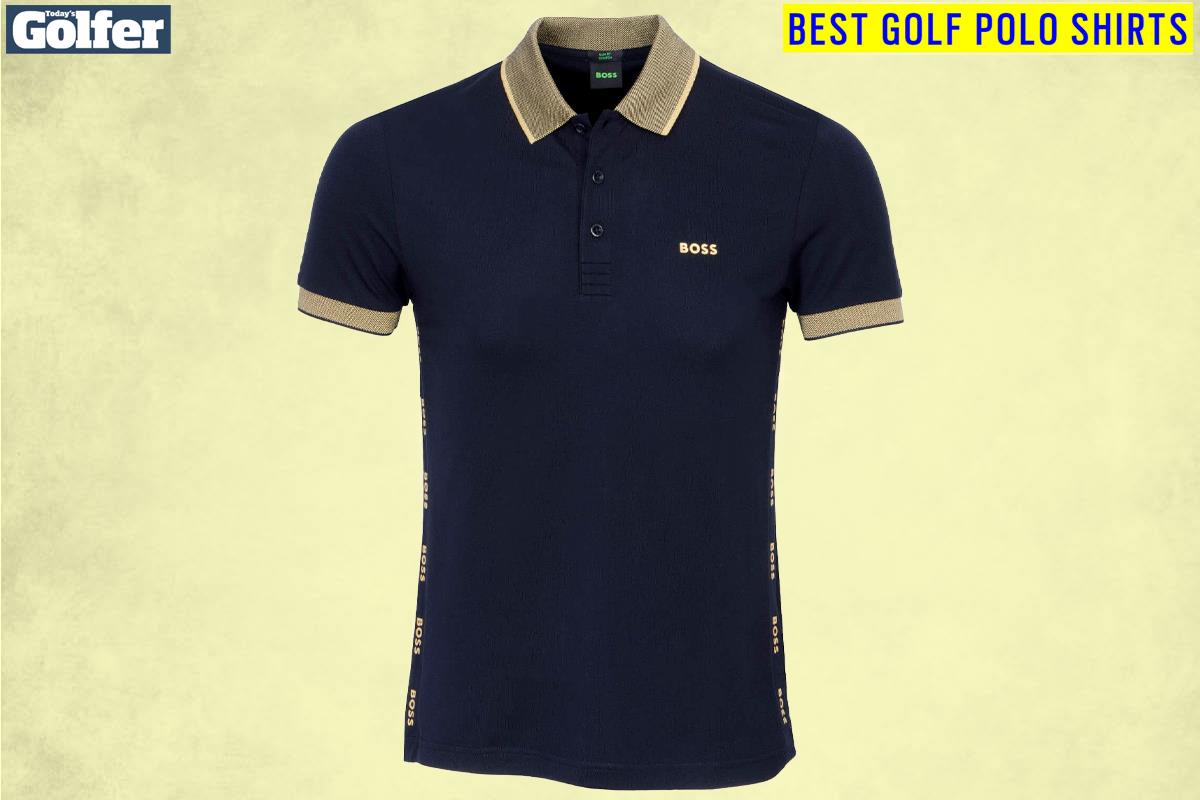 Boss Paule Polo Shirt
RRP: £99.00 | VIEW OFFER
Colours: Black; Dark Blue; Light Beige; Open Blue; Open Green | Sizes: S-XXL
A polo shirt that isn't cheap but you can also really tell. It is a slim-fit garment so for someone like me – with a long body – it fits particularly well.
It is made up of 56% cotton, 39% recycled polyester and 5% elastane so you get durability, freedom of movement and immense comfort.
And as you would expect from a company like Boss, the aesthetics are on the money. It is timeless and classic plus individualistic touches just enhance the feeling you are wearing a shirt with bundles of class.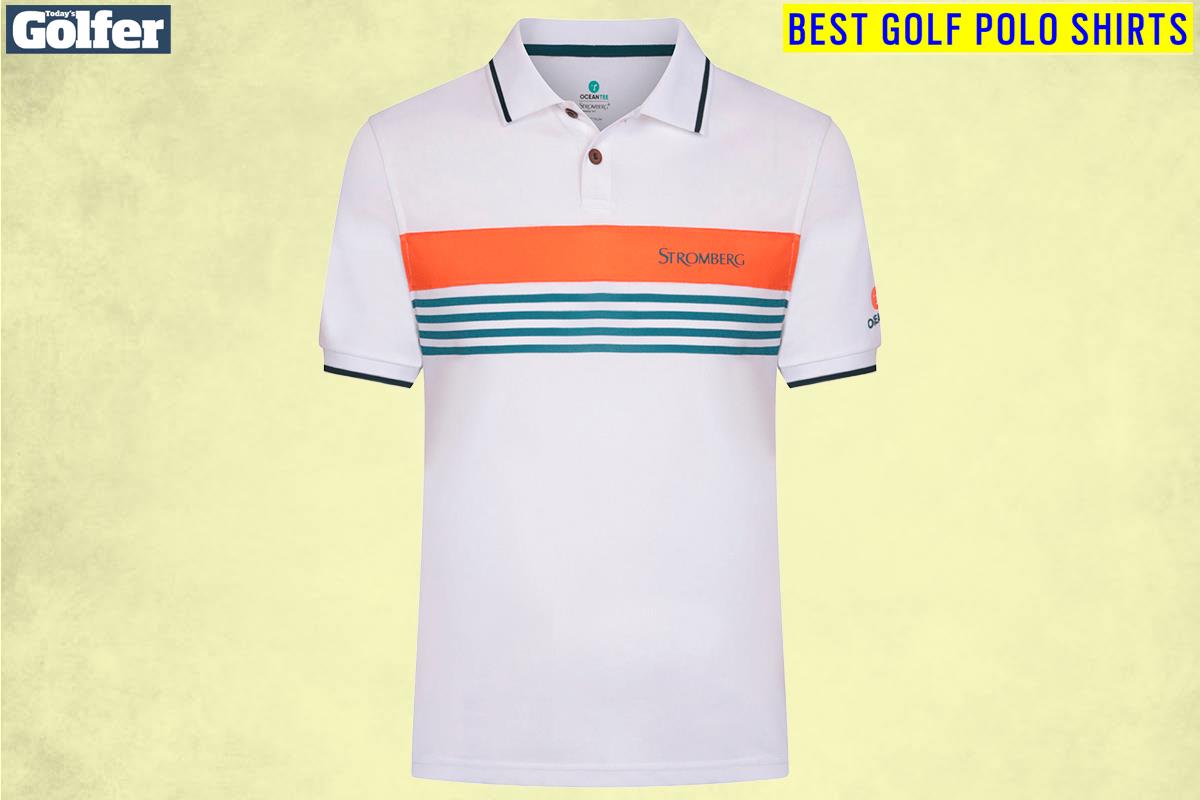 Stromberg OCEANTEE Polo Shirt
RRP: £39.99 | VIEW OFFER
Colours: Black + Orange; Grey; Navy Blue; White| Sizes: S-XXL
A collaboration between Stromberg and the company who are the flag bearers in the industry when it comes to green credentials.
The fact OCEANTEE is the only factory in the world to meet Greenpeace's textile procurement standards says all you need to know.
The material, which is mainly made up of plastic recovered from the sea, is also highly protected. You get a UV resistant polo shirt (UPF50) and a bit pf peace of mind you are helping the world move towards a more sustainable future.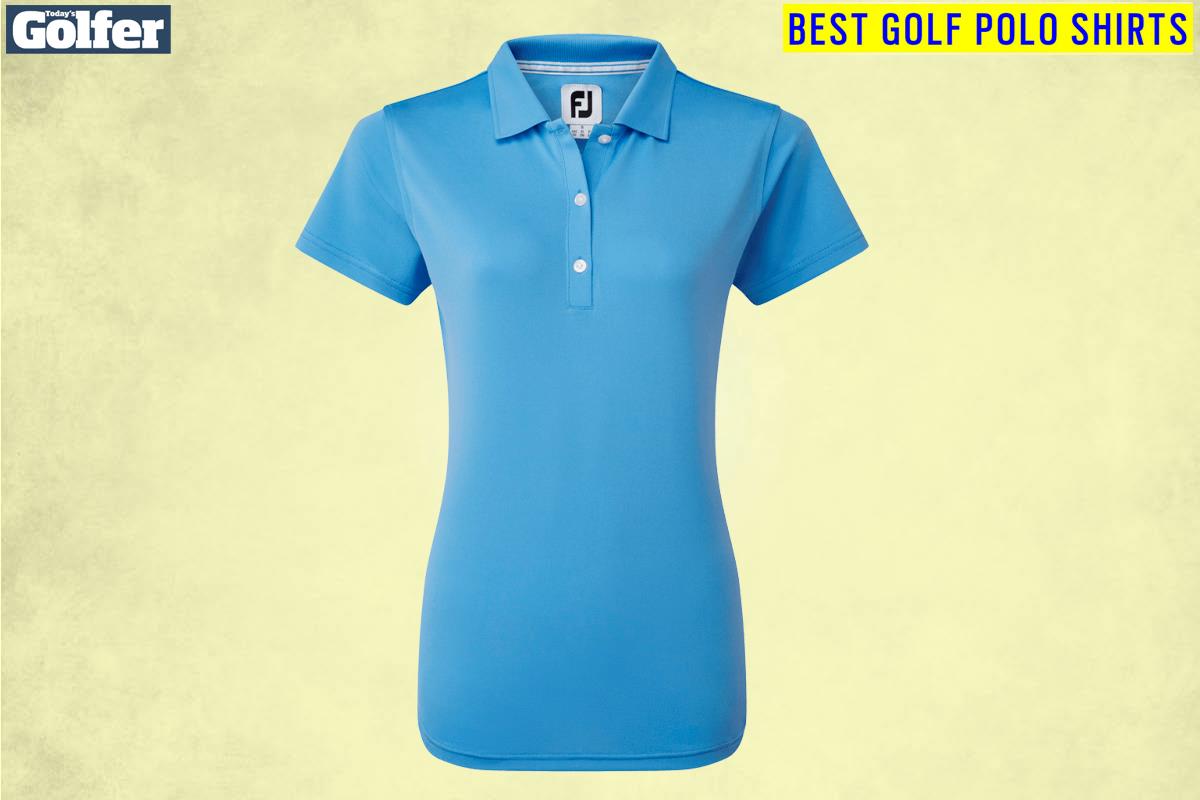 Footjoy Stretch Pique Solid Ladies Golf Polo Shirt
RRP: £39.99 | VIEW OFFER
Colours: Cobalt; Hot Pink; Light Blue; White | Sizes: XS-XL
A very unfussy and clean offering from Footjoy which is made with its own ProDry Stretch Pique fabric so a nice combination of clean lines and freedom of movement.
It is also treated so you get 30 UV protection and moisture wicking and the easy-care fabric means no ironing required. Always a bonus!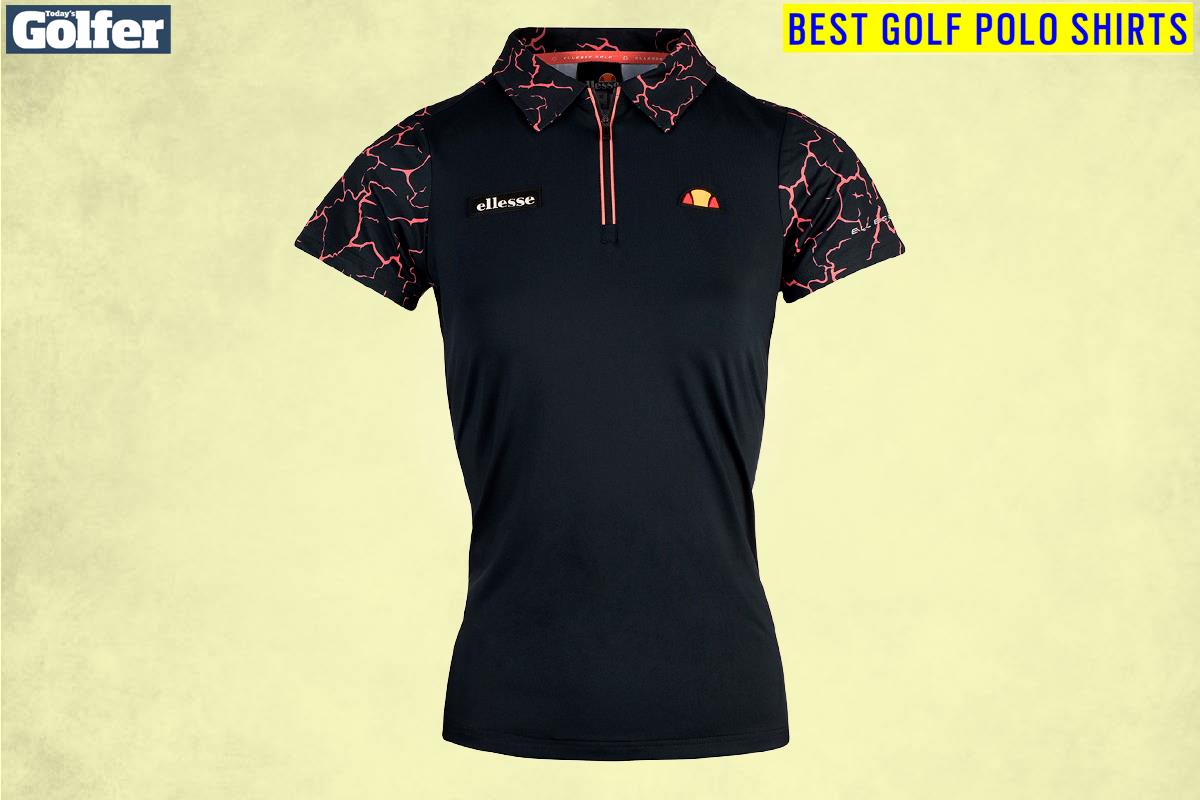 Ellesse Rique Zip Ladies Polo Shirt
RRP: £39.99 | VIEW OFFER
Colours: Black | Sizes: 8-16
Ellesse is a brand that has had a strong female following for a long time and it is easy to see why with garments like the Rique Zip polo shirt.
The zip feature plus eye-catching lava pattern on the sleeves and collar give this offering real oomph. The unusual placket is not just for apperarances. The ability to tweak the breathability is very helpful
It is also incredibly stretchy and lightweight so great in terms of no issues re swing resistance.
RELATED: Best Ladies Golf Shoes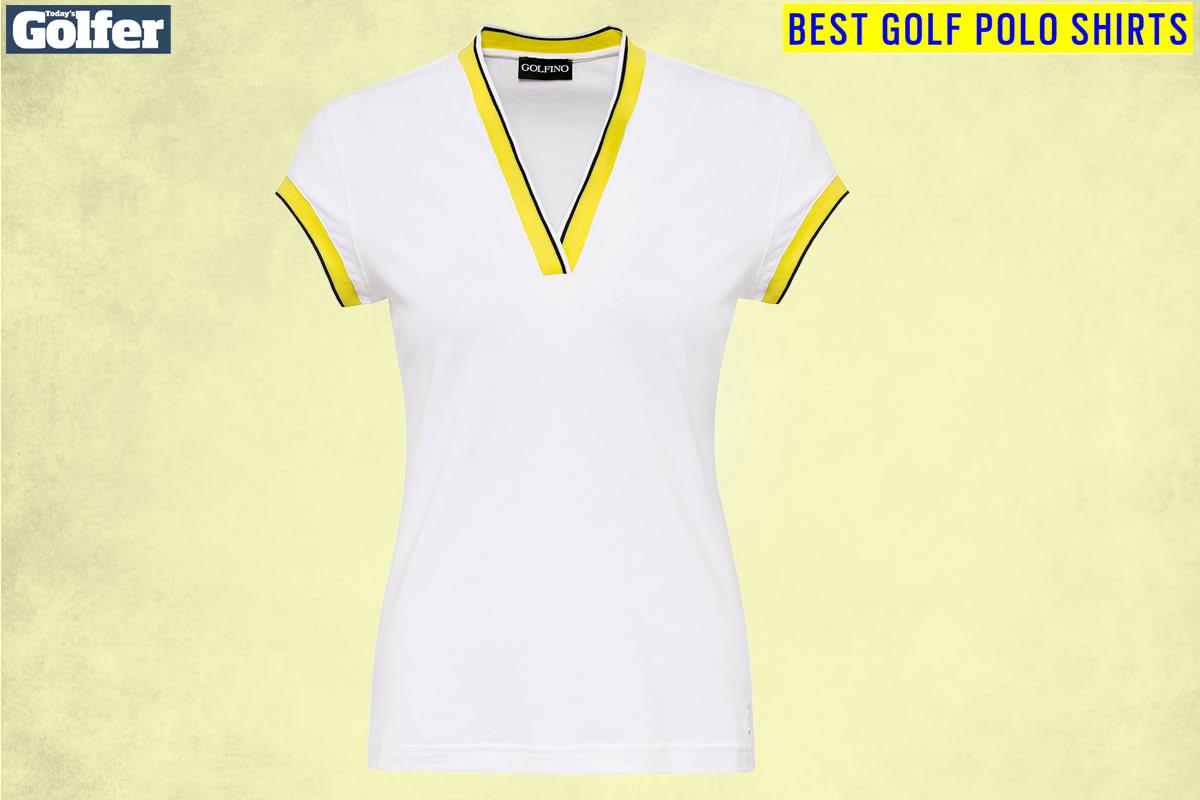 Golfino Atlantic Cruise Cap Sleeve Ladies Polo Shirt
RRP: £89.95 | VIEW OFFER
Colours: Insignia Red; Pink; Seven Seas; Optic White| Sizes: 6-16
Another stunning looking polo shirt from Golfino which tips it hat to an earlier time. Also definitely has a bit of a Bille-Jean feel to it but the short sleeves and rounded, troyer-style collar give it a timeless look.
The main features are the strong protection against sun damage (up to SF 50) plus there is a larger-than-normal elastane element so lots of give in all the right places.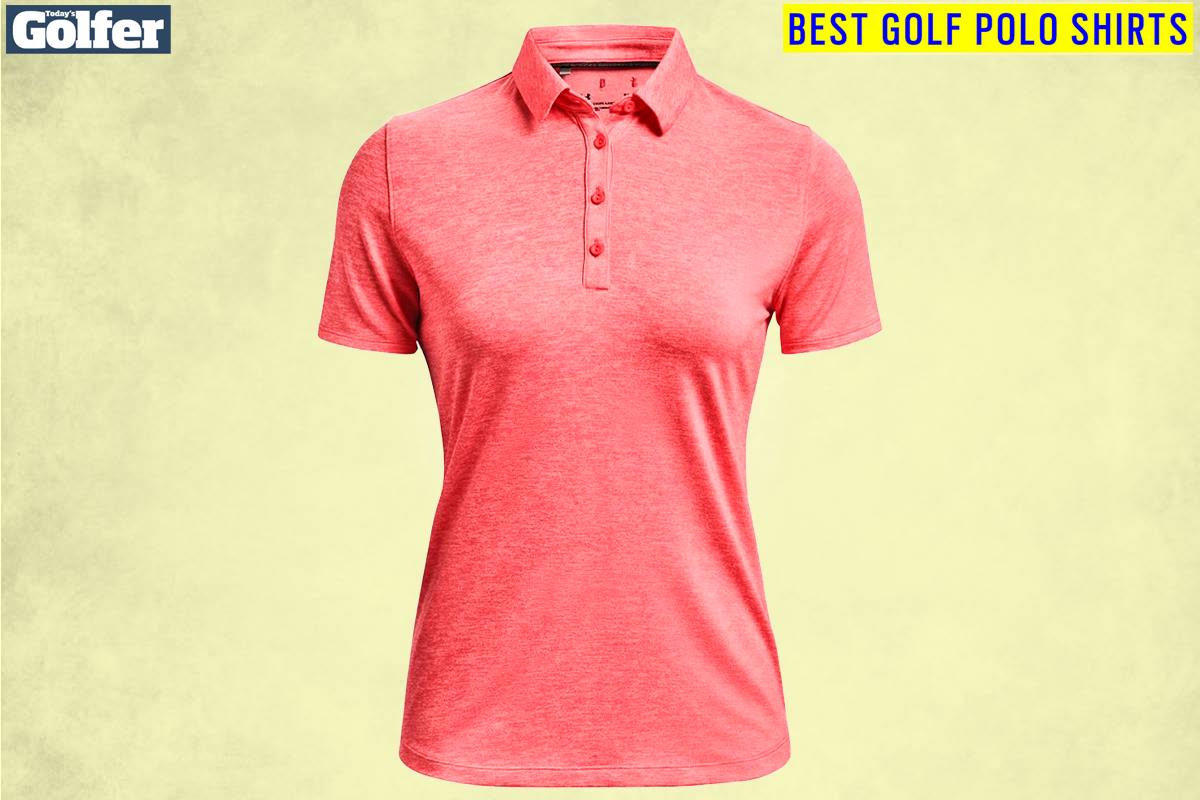 Under Armour Zinger Ladies Golf Polo Shirt
RRP: £40.00 | VIEW OFFER
Colours: Vermillion + Metallic Silver; White + Metallic Silver; Neptune + Metallic Silver; Midnight Navy + Metallic Silver; Brilliance + Metallic Silver; Vermillion + Metallic Silver | Sizes: XS-XL
Call a product Zinger and it better be good but fortunately for Under Armour this is a genuine stand-out polo shirt.
Your eyes are drawn to the five-button placket but the anti-pill material is the real ace in this pack. It is incredibly stretchy (4-way), lightweight and breathable and will also take on the sun's harmful UV rays with its UPF 50+ protection.
RELATED: Best Golf Belts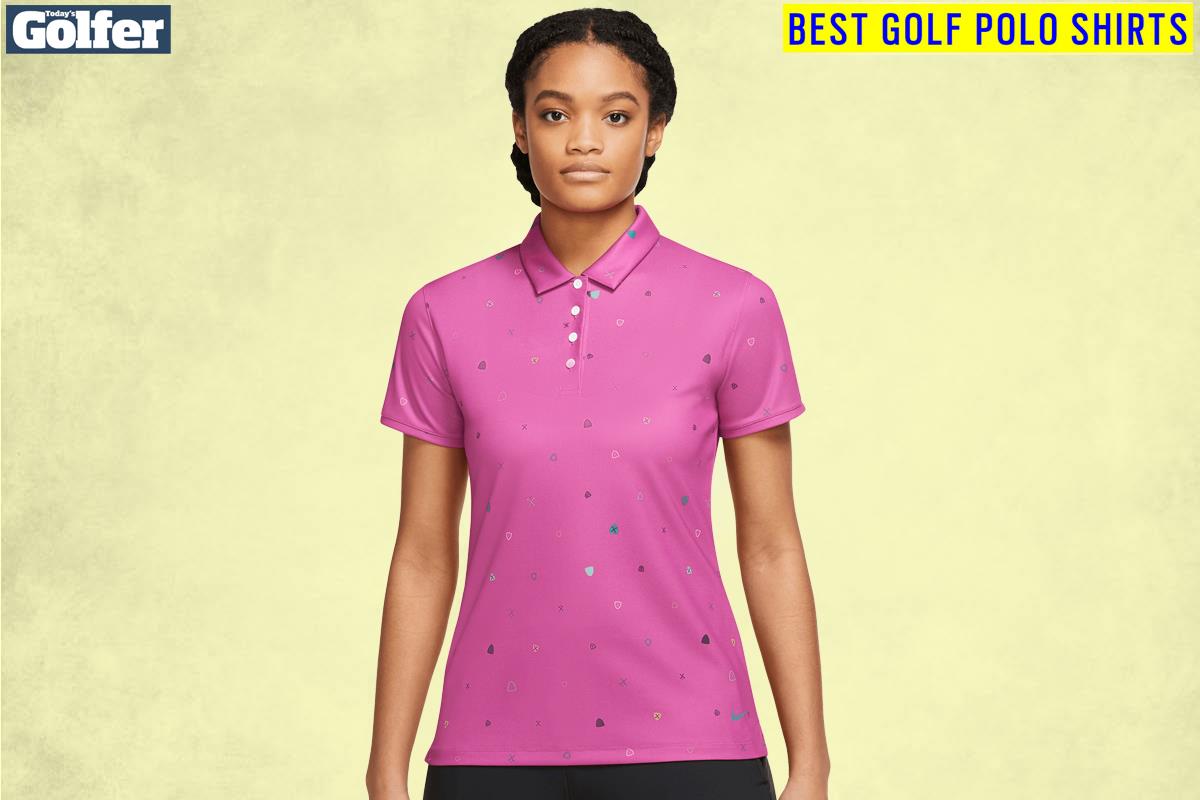 Nike Dri-Fit Victory Ladies Golf Polo Shirt
RRP: £39.99 | VIEW OFFER
Colours: Active Pink + Washed Teal; Active Pink + White; Bright Spruce + White; White + Black | Sizes: XS-XL
Nike are really starting to come to the sustainability party, typified by this polo shirt which is made from 100% recycled polyester.
Another golf garment which works really well in the heat with Nike's Dri-Fit technology keeping you cool and dry in the worst of the hot sun.
Styling is understated but the modest design touches are very Nike. Looks pretty simple but the overall effect is hugely positive.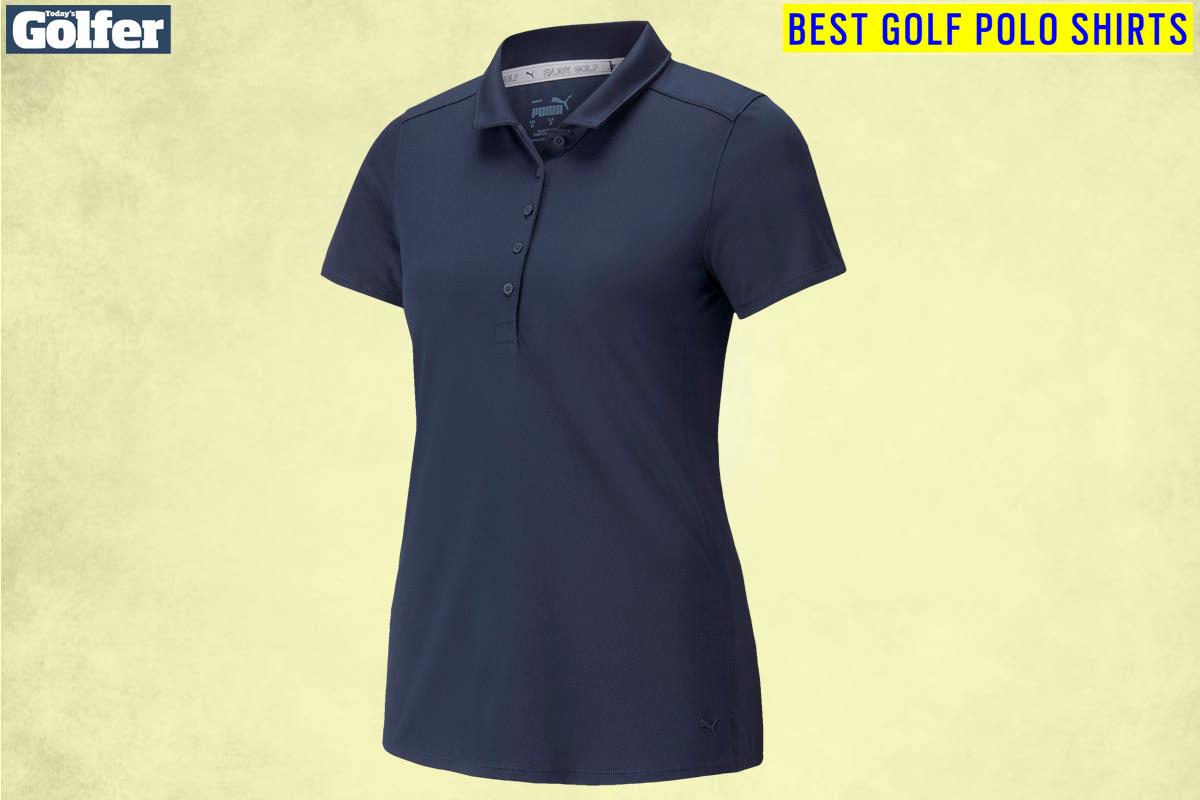 Puma Ladies Gamer Golf Polo Shirt
RRP: £29.99 | VIEW OFFER
Colours: Navy Blazer; Bright White; Festival Fuchsia | Sizes: XS-XL
Puma always offers good value for money and this Gamer range will be a hugely popular option. It is understated but still fresh looking.
The four-way stretch and five-button placket embellish the feeling of comfort and breathability plus you get moisture-wicking to help you feeling dry and fresh for the duration of the round.
RELATED: Best Golf Trousers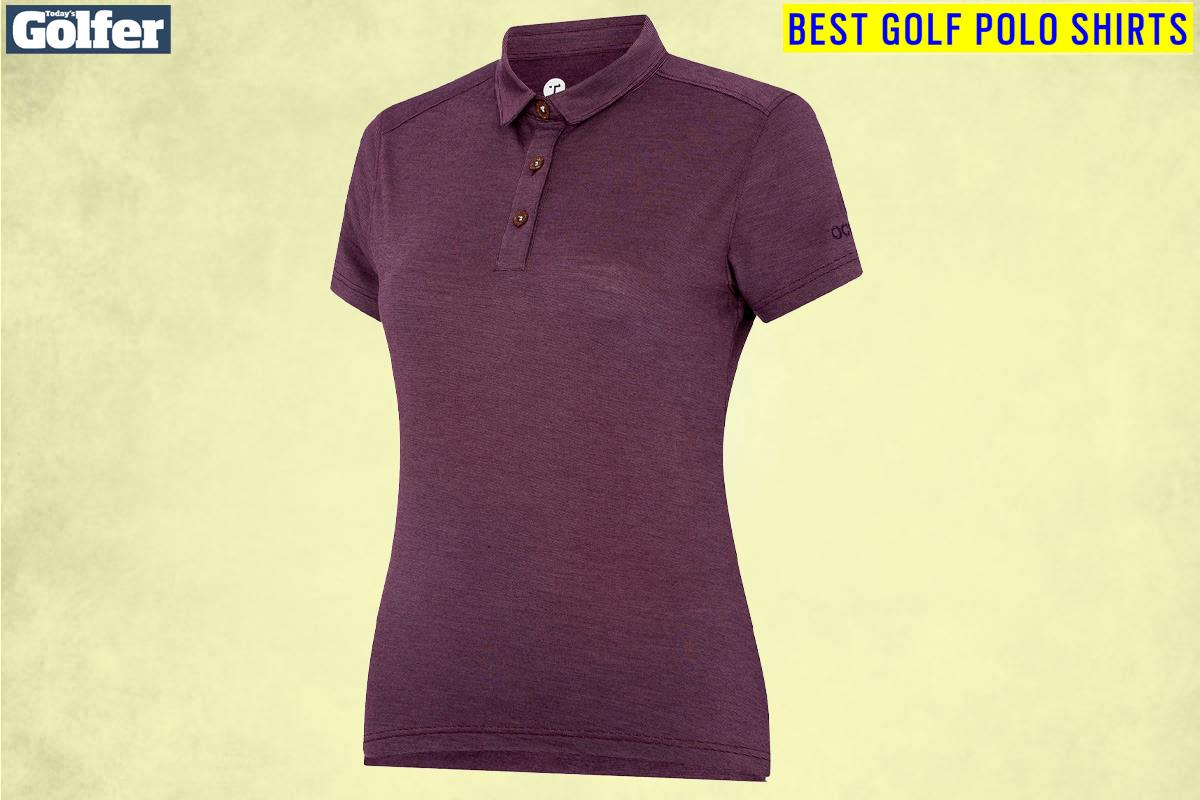 OCEANTEE Reef Ladies Polo Shirt
RRP: £89.99 | VIEW OFFER
Colours: Black; Purple; Teal | Sizes: S-XL
Probably the most sustainably-made golf shirt in the world, the combination of Merino Wool and Tencel gives you a great looking polo shirt that won't cost the earth in the most important sense.
Tencel is a remarkable wood-based product that has incredible absorption properties and is less susceptible to odours caused by bacterial growth.
It means it is naturally quick drying and anti odour and also manages to be highly breathable thanks to the production process.
RELATED: Best Golf Gloves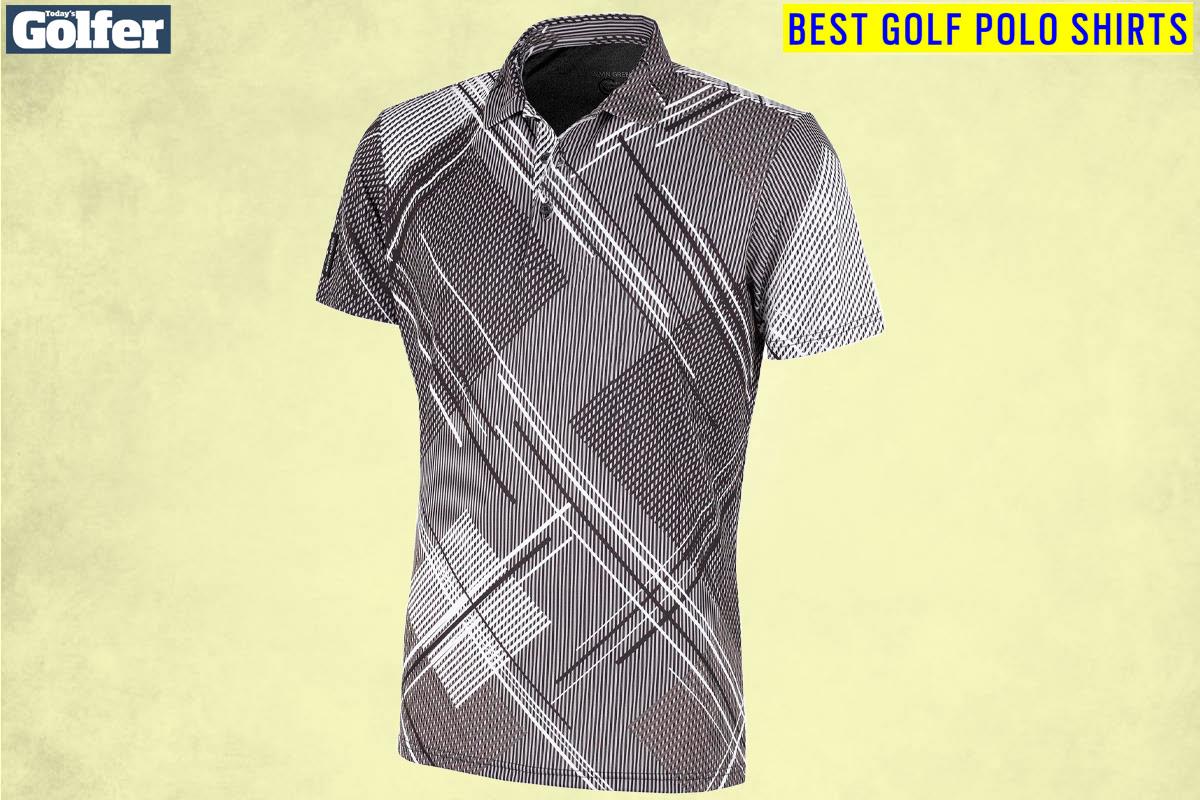 Galvin Green Mitchell Ventil8 Plus polo shirt
RRP: £79 | VIEW OFFER
Colours: Navy + Red, Black + Yellow, Blue Bell + Navy | Sizes: S-XXL
Galvin Green have been at the top of the polo shirt game for well over a decade, it's nice to see prices have dropped a fraction just recently too. We're also huge fans of the Galvin Green Links-inspired collection.
Extremely breathable, the Mitchell gives a classy look for when the sun is shining. The shirt features a Cool Layer with Ventil8 Plus Technology and an anti-bacterial design to keep you comfortable on the course.
Made from 97% polyester and 3% elastane the Mitchell allows you complete freedom in your swing along with UV Factor 20+ protection to keep you safe in the sun and a quick dry feature for those really warm days or if you get caught in a shower.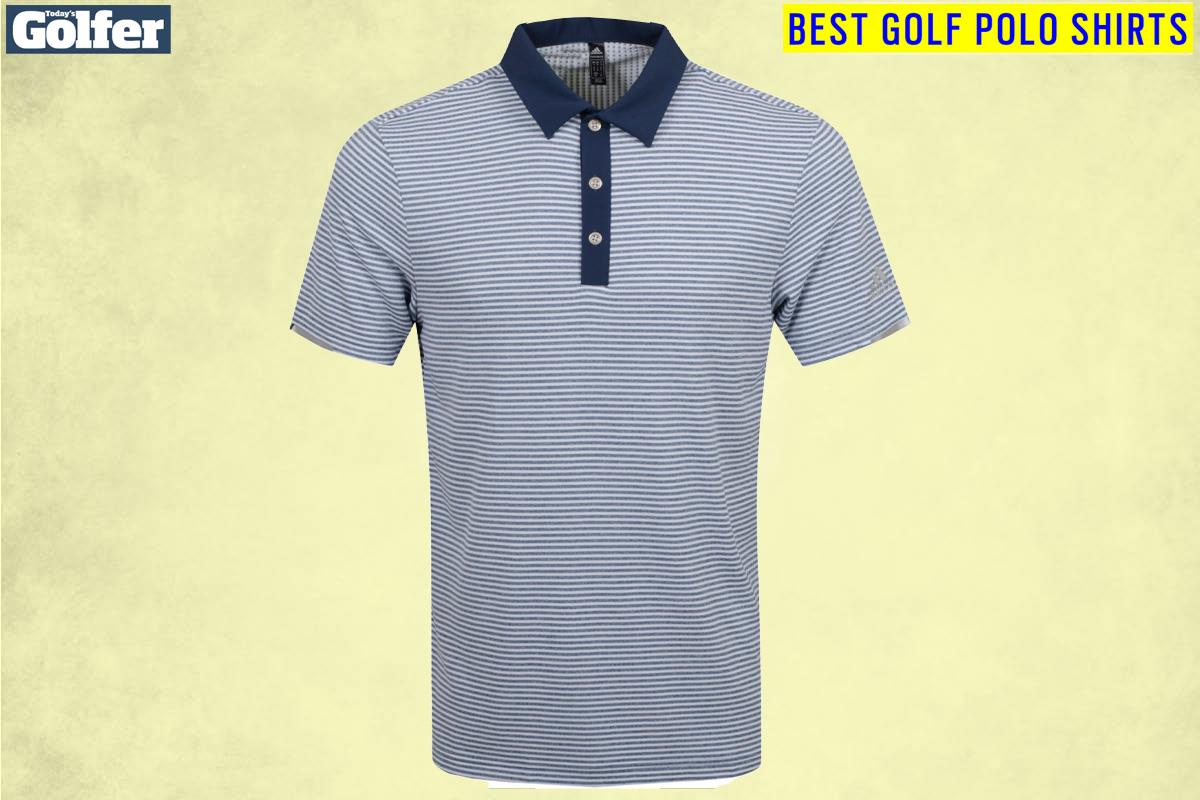 Adidas HEAT.RDY Micro-Stripe golf polo shirt
RRP: £50 | VIEW OFFER
Colours: Carbon + Black, Crew White + Navy | Sizes: XS-XXL
When it comes to taking care of the environment, adidas seem to be doing more than any other golf brand.
They've pledged to not have any virgin polyester in their clothing or shoes by 2025, which is exactly why the Micro-Stripe is made with Primegreen, a series of high-performance recycled materials.
The HEAT.RDY polo maximises airflow to help keep you cool and dry on the course.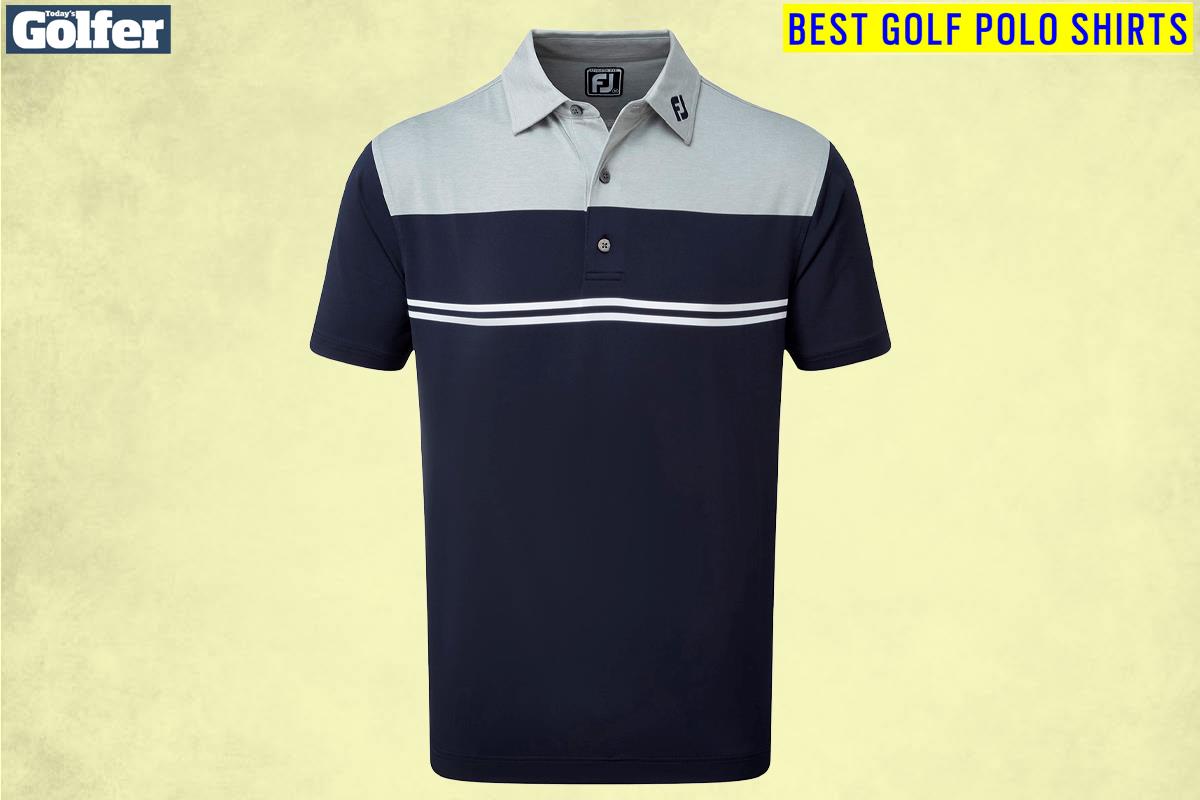 FootJoy Block Lisle golf polo shirt
RRP: £55 | VIEW OFFER
Colours: Blue + White + Navy, Grey + Navy + White, Red + White + Charcoal, Charcoal + Black + White, Navy + White + Red | Sizes: S-3XL
FootJoy are kings of the relaxed country club look, with 25 different polos on their website this year. The Block Lisle is just the sort of smart-casual most golfers are after on the golf course and we love the variety of colour combinations on offer.
Made from lightweight twill weft stretch fabric, the polo has a modern, tapered fit cut and uses moisture wicking technology to keep you dry.
Combining 88% polyester and 12% spandex ensures the Block Lisle lets you swing with freedom while the easy care fabric minimises creasing and provides SPF 30 UV protection.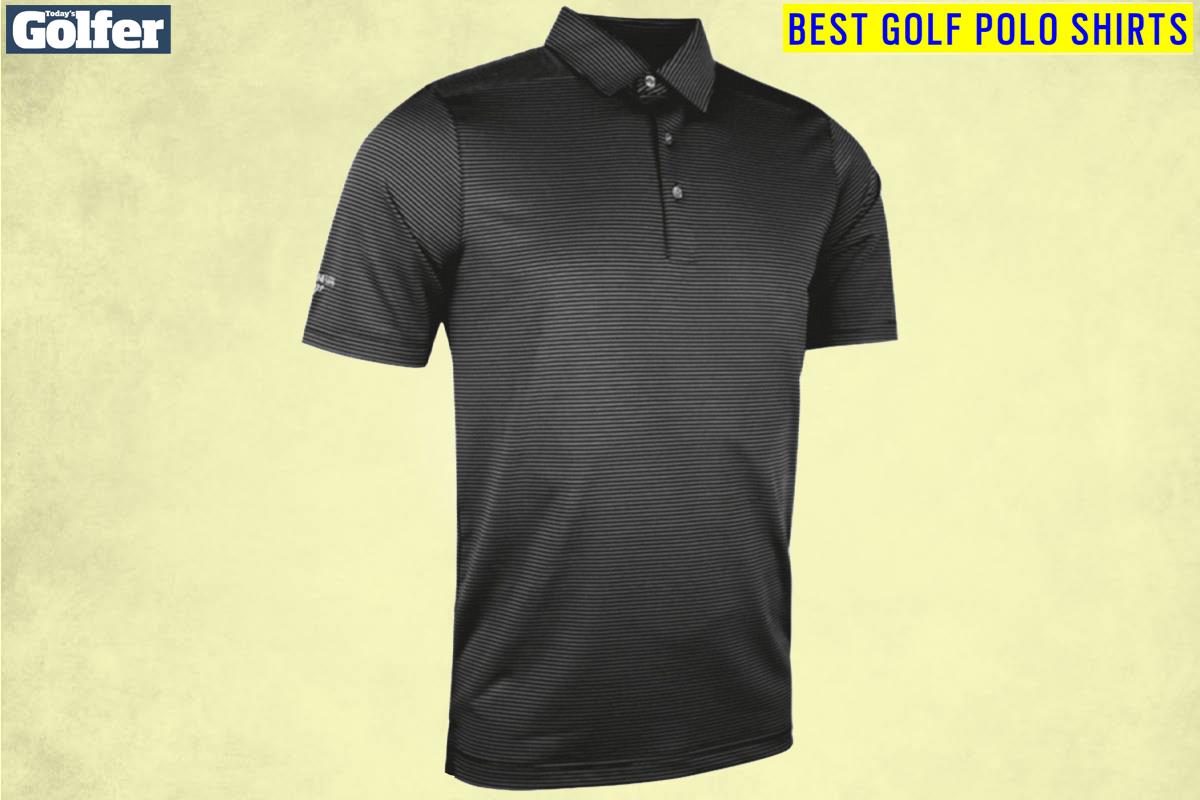 Glenmuir Torrance golf polo shirt
RRP: £55 | VIEW OFFER
Colours: Navy + Magenta, Navy + White, White + Tahiti, White + Grey Marl, Ascot Blue + White, Black + Light Grey Marl, Light Grey Marl + Spring Green, White + Navy | Sizes: S-XXL
Glenmuir had a cracking range of Ryder Cup-badged shirts for 2021. They're available in eight colourways, so no matter what your taste, you can match it to a favourite outfit.
The Torrance is one of our favourite Glenmuir polo designs and is available without the Ryder Cup badge should you wish.
Made from 88% performance polyester and 12% elastane, the shirt is comfortable and moves freely with your swing. We like the micro-stripe design and Glenmuir embroidery, while the anti-curl tailored collar keeps the shirt looking smart, even if it's been in a travel bag.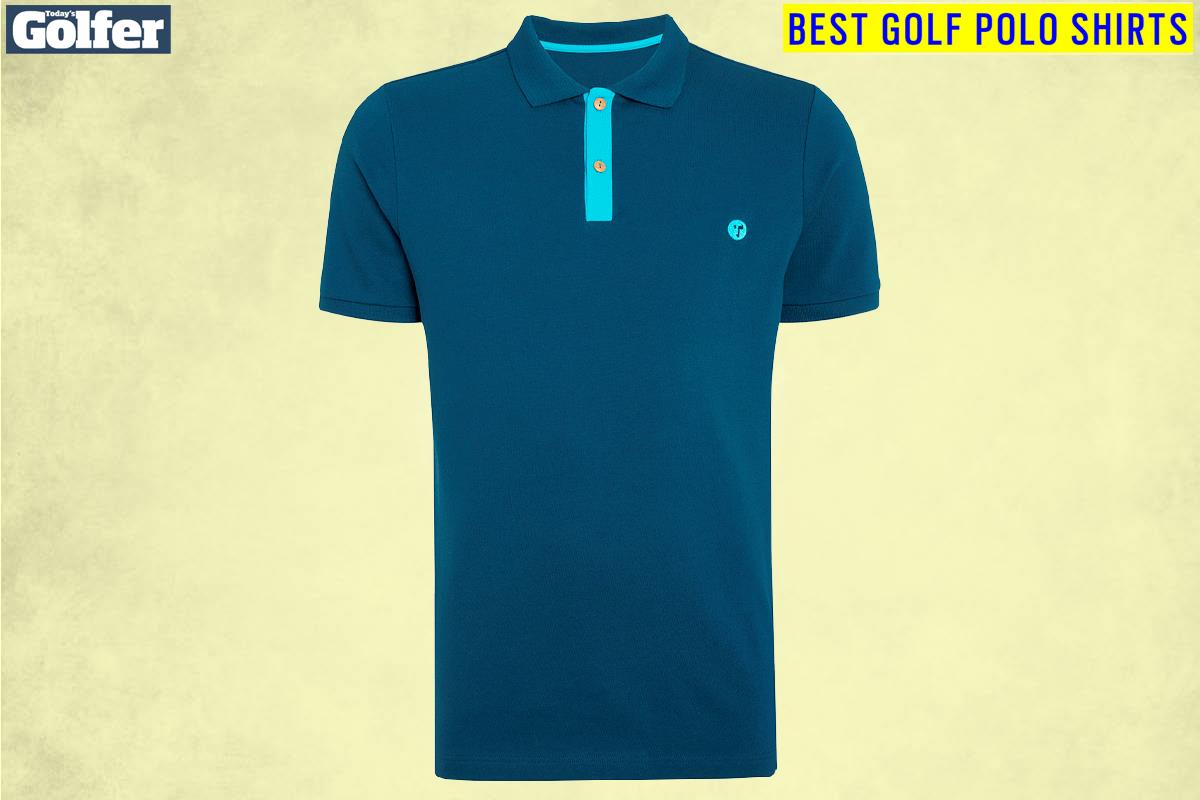 OceanTee Mako polo shirt
RRP: £49.99 | VIEW OFFER
Colours: Navy, Aqua | Sizes: S-XXL
The Mako is made from Ocean Tee's unique fabric blend of 97% GOTS certified organic cotton and 3% biodegradable elastane, meaning buyers of hit polo help to protect the environment and get a lovely soft, luxurious feel shirt.
It is the only elastane worldwide to be certified as non-eco toxic under the Hohenstein Institute and to hold the Cradle-to-Cradle Innovation Institute GOLD Standard.
A classic looking polo available, unsurprisingly, in two shades of blue.
ABOUT THE AUTHOR

Mark Flanagan has been a golf journalist since 2008 having worked at a number of daily newspapers before that as part of the sports teams.
He's been playing golf since the age of 11, starting out at Olton in the West Midlands and has also been a member at Hull, Waterton Park near Wakefield and Hollins Hall in Baildon. He currently plays off a nine handicap.
You can get in touch with Mark, here.
- Just so you know, whilst we may receive a commission or other compensation from the links on this page, we never allow this to influence product selections.